As a small business, you don't have the budget and resources of your larger rivals.
You can't afford to drop millions of dollars promoting your latest product launch. And you don't have an office (or should that be a Slack channel?) full of graphic designers, copywriters, paid media experts, and strategists busily planning every minute detail of your next campaign.
But you've got one thing in your favor: agility.
Without the lengthy decision-making and approval processes of larger brands, you're free to try pretty much anything (within reason). Test any platform; trial any messaging; chase any customer segment.
Of course, all that freedom can be intimidating. Where to start?
To help you out, we've collated our favorite strategies, ideas, and tools that can be plugged straight into a marketing plan for small businesses…
5 Free Small Business Marketing Ideas
Roughly one in six small business marketers say their #1 marketing challenge is a lack of budget.
Even if it's not your biggest problem, I'm willing to bet you've been held back by a lack of money or resources at some point. So wouldn't it be good to have some tried-and-trusted free ideas for marketing a small business online?
You've come to the right place. 
Use the tactics in this section to grow your brand, engage your audience, and boost your conversion rate—all without spending a single cent on ads…
Create Video Tutorials
I know what you're thinking: "Video is complicated, and we can't afford it."
You're not alone in those feelings. According to Wyzowl, 30 percent of marketers say they don't have the time to create video content, while 10 percent say it's too expensive.
But video marketing doesn't have to involve cinema-worthy production values, tons of high-tech equipment, and months spent editing your raw footage.
In fact, one of the best ways to increase conversion rates with video is through a product tutorial, like this one from camping gear brand Kelty: 
There are no special effects or animations here; just a simple explanation of how the product works and why you'd want to buy one.
Best of all, it takes no more than an iPhone, iMovie, your product, and decent lighting conditions to record your own video tutorial.
Nail Your Email Marketing
Email marketing delivers a return of $36 for every $1 invested, making it one of the most cost-effective marketing channels. 
You can even do it totally free, with tools like Brevo and MailerLite offering generous free plans (although if you're looking for ecommerce-specific functionality, it's well worth upgrading to a dedicated platform like Drip).
Follow these three steps to build a basic email marketing strategy for generating and nurturing ecommerce leads:
1. Implement Email Capture Tools
No email marketing program can succeed without a quality email list to target.
For that reason, the first step in your email marketing journey is to implement email capture tools on your website, just like this lead generation popup from bridesmaid dress brand Revelry: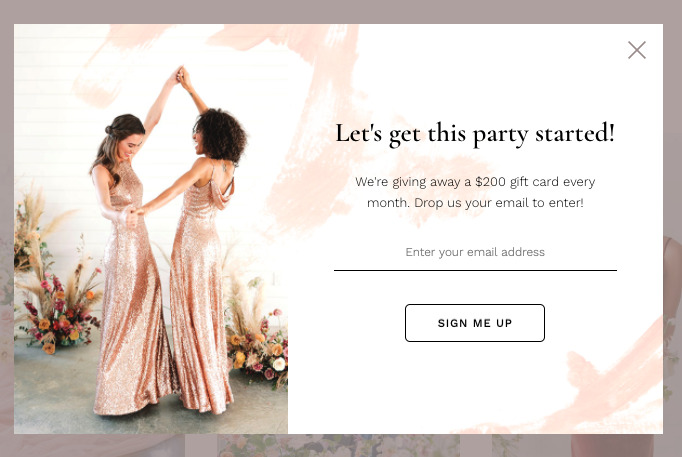 Research from Google and Boston Consulting Group reveals that about 30 percent of consumers are happy to share their email address with brands without receiving anything in return. 
But this proportion triples to 90 percent when they're offered an appealing incentive, with "hard-value" offers like free samples and discounts proving more attractive than "soft" alternatives such as free access to games or newsletters.
Revelry strikes the right balance with the above form by offering the chance to win a prize.
It gives consumers a clear reason to sign up—and it only costs the brand the price of a $200 gift card to generate all the ecommerce leads it requires. Sounds like a good deal to me!
2. Set Up a Killer Welcome Automation Workflow
Capturing email addresses is all well and good, but you need to give your ecommerce leads a reason to stick around once they've signed up.
In short, you need a killer welcome email series.
An automated welcome workflow is your way to introduce people to your brand, making it one of the most important touchpoints in the customer lifecycle. And it's also one of the most engaging, with our in-house data showing that welcome emails can see four times higher open rates and five times higher click-through rates than regular emails.
Let's take a look at a simple but effective two-email welcome series, courtesy of sunglasses brand Pit Viper.
Immediately after signing up to their email list, you receive an account confirmation email welcoming you into the fold and prompting you to log in next time you visit the Pit Viper store: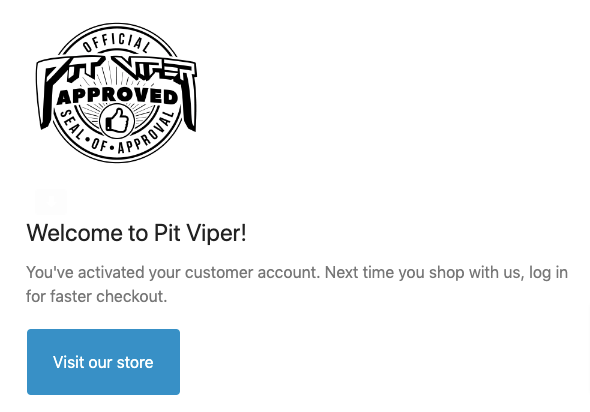 This is followed by a second email setting out Pit Viper's brand proposition and somewhat unique tone of voice: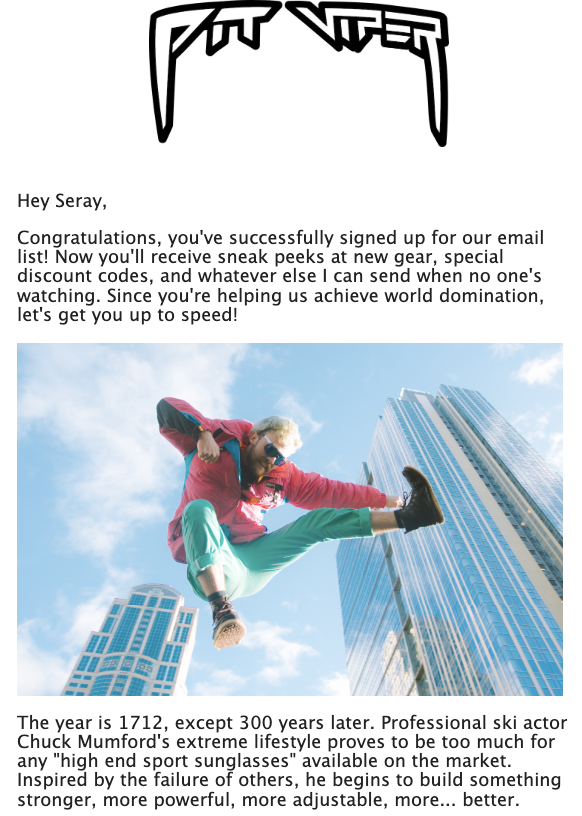 These emails aren't about driving immediate sales; they're designed to immerse you in the brand and compel you to learn more. 
The second email even includes a link to a "training seminar" starring co-founder Chuck Mumford, who explains the advanced technology behind the brand's eyewear: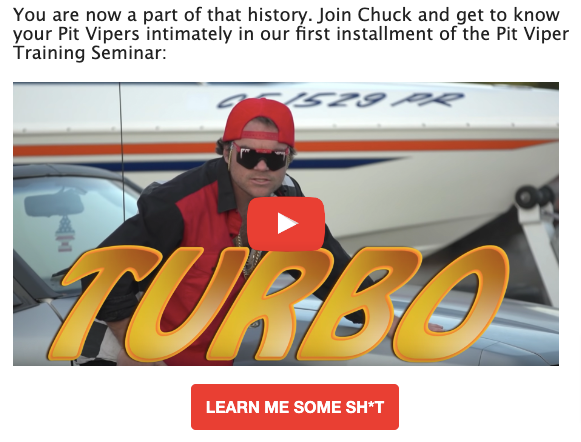 And you could easily add a third step to this workflow offering new subscribers a limited-time discount or free shipping on their first purchase.
3. Nurture Your Customers
Maybe your new lead placed their first order immediately after reading your welcome email.
Or perhaps they're not quite ready to buy yet.
Either way, they need nurturing with a variety of emails designed to foster a deeper connection with your brand. This might include:
Explaining your mission, vision, and values
Discussing the good causes you support
Offering a sneak peek at new products
Promoting your latest sale
Encouraging subscribers to follow your social accounts
There's really no limit to the types of engagement-driving emails you can share. For more inspiration, check out our roundup of 28 must-try email marketing ideas!
Share Your Brand Story and Purpose
We've already mentioned that sharing your brand story can form an integral part of your welcome email series.
But it needn't stop there. 
Consumers love storytelling, with 94 percent agreeing that "good content tells a good story", according to research from Google and Talk Shoppe. 
What's more, communicating your brand story can demonstrate the values behind your business—crucial in a world where four-fifths of shoppers prefer a brand's values to align with their own.
All of which means there's never a bad time to discuss your brand and purpose. And best of all, it won't cost you anything to do it.
Recycled bracelet brand 4ocean is a master at reiterating its mission to end the ocean plastic crisis and build a more sustainable future.
Tony Ernst, the company's Director of Cleanup Operations, shares newsletters highlighting its ongoing efforts to pull trash from our oceans: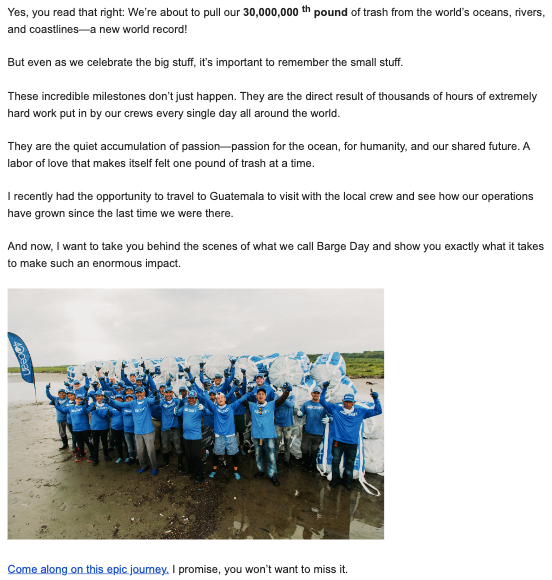 I love the simple, plain text aesthetic here, which contrasts starkly with the professional look of the brand's regular emails: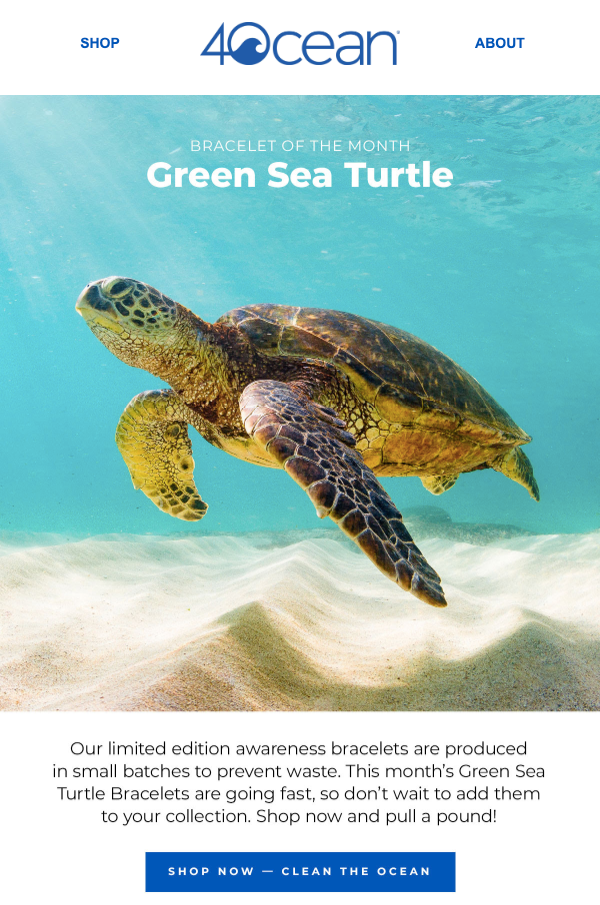 The lack of branding makes those newsletters from Tony Ernst feel much more personal and serious, which speaks to the importance of the brand's mission.
Create a Loyalty and Rewards Program
Research shows that repeat customers are responsible for 44 percent of the average ecommerce brand's revenue and 46 percent of orders—despite representing just 21 percent of total customers.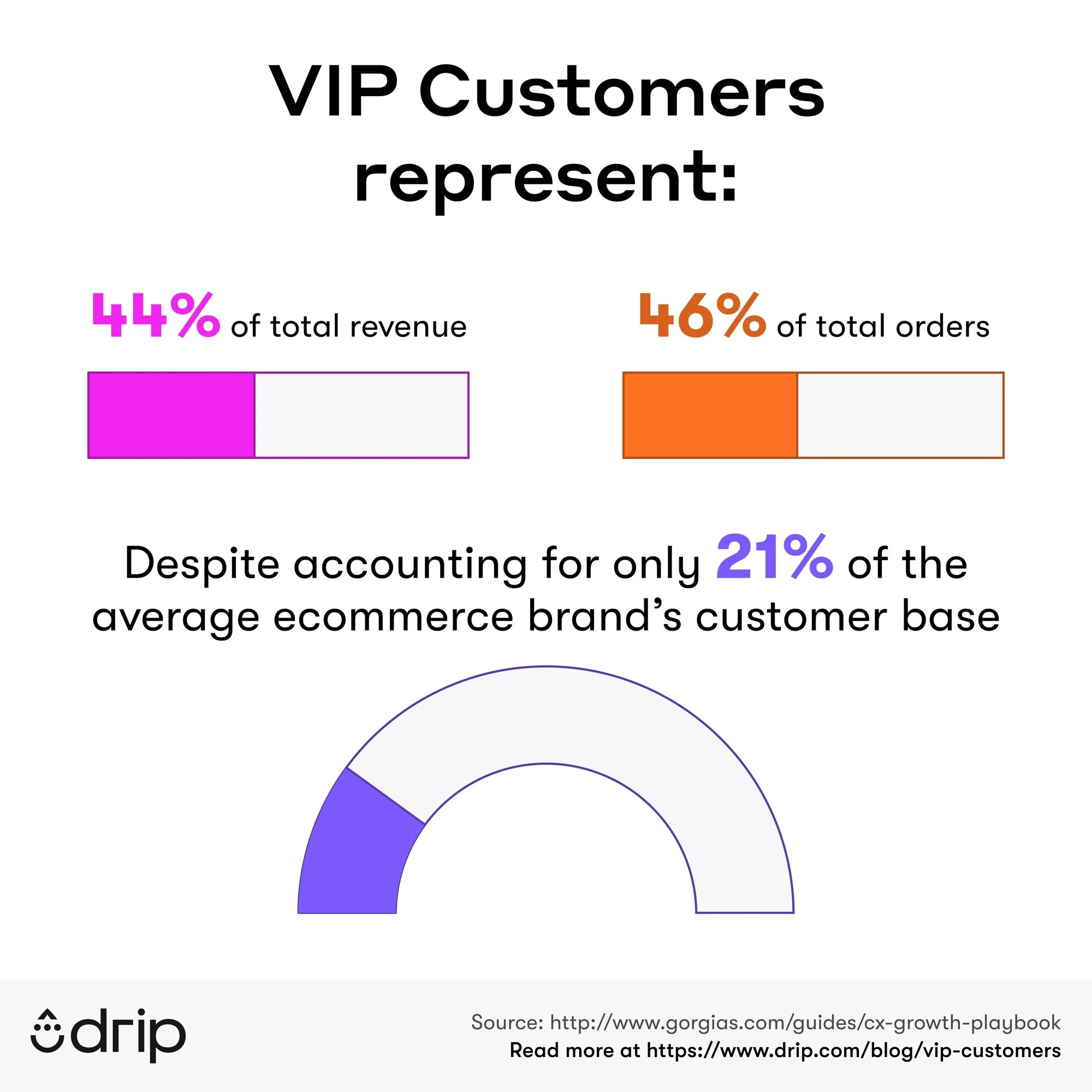 So it's clearly in your interests to build a community of loyal repeat customers.
One of the best ways to do this is through a loyalty or rewards program. According to McKinsey & Company, top-performing loyalty programs can boost revenues from points-redeeming customers by up to 25 percent annually by increasing purchase frequency, basket size, or both.
Most successful loyalty programs share two key characteristics:
They give customers a compelling reason to keep buying from a brand
They're simple to explain, making it seem like the rewards are easy to unlock
Skincare brand Three Ships got it right with an email introducing its new rewards program. First, it offered a low-touch way for customers to get their first points on the board: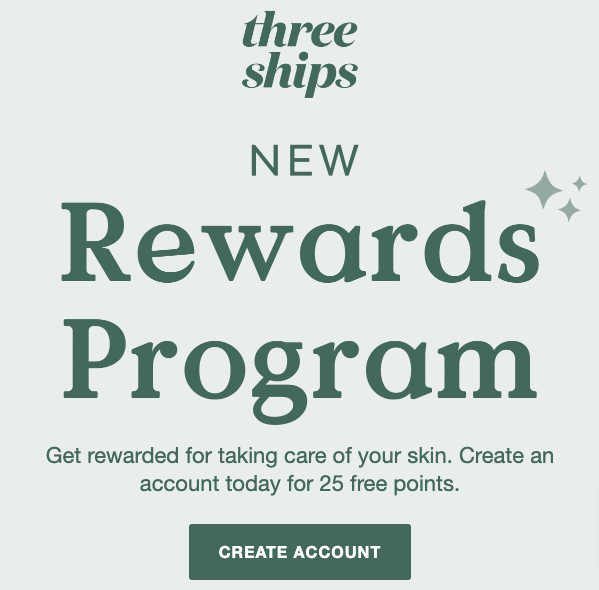 Given that customers had to have signed up to the brand's marketing list to receive this email, it's a safe bet that most of them would also be happy to create an account with Three Ships.
The same email also broke down the rewards available at each tier of the program…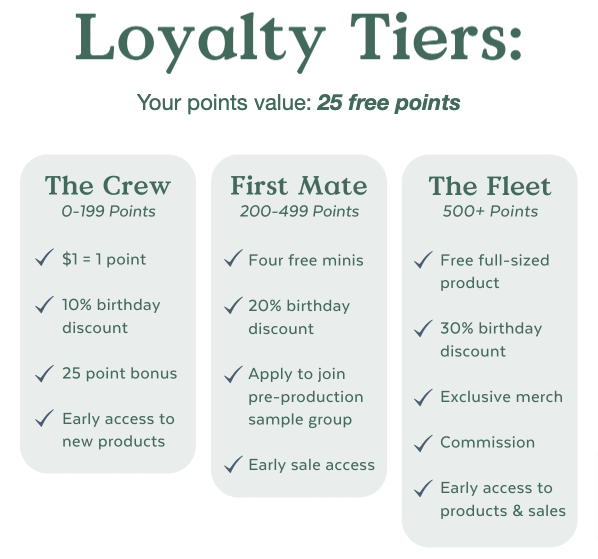 …before highlighting some of the ways members can accrue points: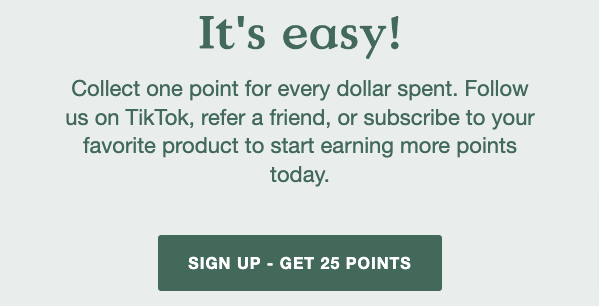 Importantly, Three Ships explained that customers can earn points without spending money, which makes them feel easily accessible.
Once a customer gets within reach of First Mate level, there's a good chance they'll feel compelled to buy something to unlock those exclusive benefits.
Talk to Your Current Customers
Your existing customers are an untapped—and totally free—source of invaluable market research.
Picking their brains can help you understand who they are and why they bought from you in the first place. Which, in turn, enables you to tailor your marketing strategies and messaging to target more people like them in future.
Check out some of the key elements of a successful customer feedback email, courtesy of beauty brand Skandinavisk: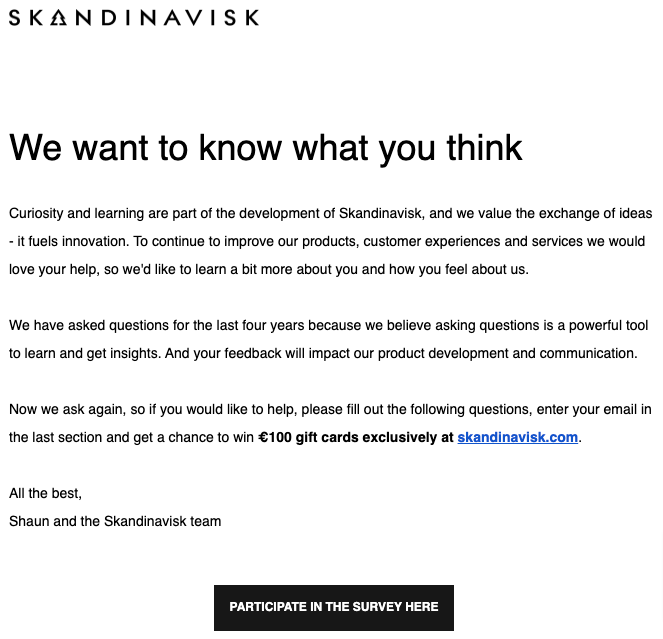 There are three things I'd like to highlight about this email:
It explains the

 

purpose

 

of the feedback survey (to help the brand learn and innovate).
It spells out the benefit to the recipient (helping to improve Skandinavisk's products, customer experiences, and customer support).
It provides a clear incentive for completing the survey (the chance to win a €100 gift card).
Pro tip: This strategy is most effective when combined with audience segmentation. If your goal is to find similar customers, it makes sense to only solicit feedback from your most valuable existing customers. Learn how to find them in my guide on how to treat VIP customers!
8 Small Business Marketing Strategies (That Work)
1. Learn How to Create Killer ToFu Content
One of the best ways to drive visitors to your website is by creating content that targets top-of-the-funnel, informational keywords specific to your market.
Men's grooming company Beardbrand illustrates the power of leveraging content to grow its business. In fact, according to Ahrefs, the company drives over 117,000 visitors a month from organic alone. 

To do that, the brand solves how-to-based search queries. For instance, if you google "how to grow a beard," you will see Beardbrand's guide ranked position #2.

And when you click the link, it's not hard to see why. At 7,906 words in length, it's an outstanding article, offering thorough advice on how to grow a beard.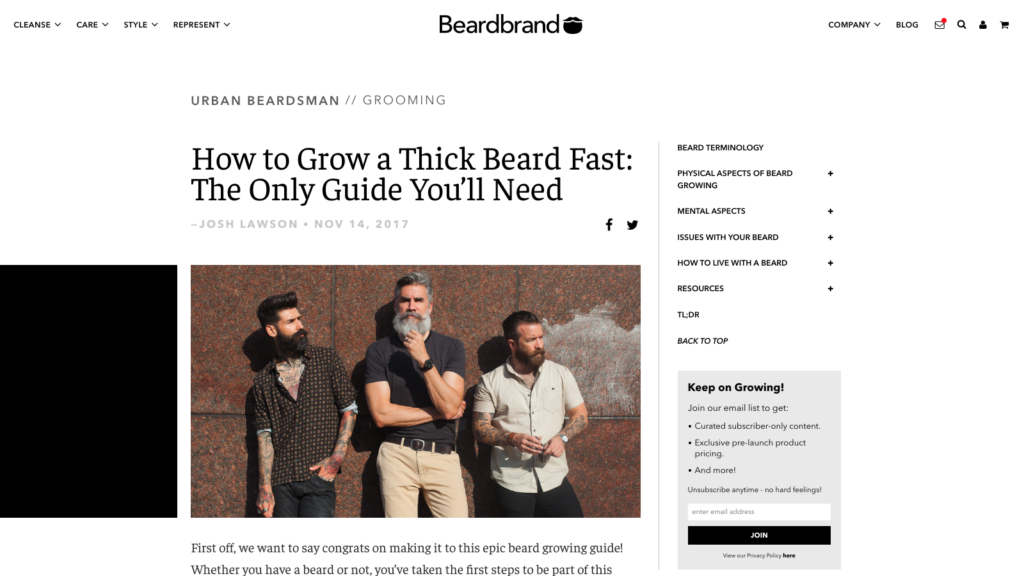 But the post also ranks for 3,329 other keywords. In other words, it ranks for similar keywords like "how to grow facial hair" and "what makes a beard grow."

Beardbrand's goal isn't to convert these visitors into customers upon their first visit (although a small percentage will likely buy on a whim if interested). 
Instead, its goal is to raise brand awareness and invite visitors to join its email list for the brand to market to later. This leads me to small business strategy #2.
2. A Data-Driven Way to Capture More Emails
If you want to collect more emails on your website, you need an email popup. With a popup, you can capture the visitor's email and market to them later in your email marketing.
There are many ways to capture the visitor's email with a popup, but the easiest is to offer a discount on a future purchase. In fact, this is precisely what Calvin Klein does.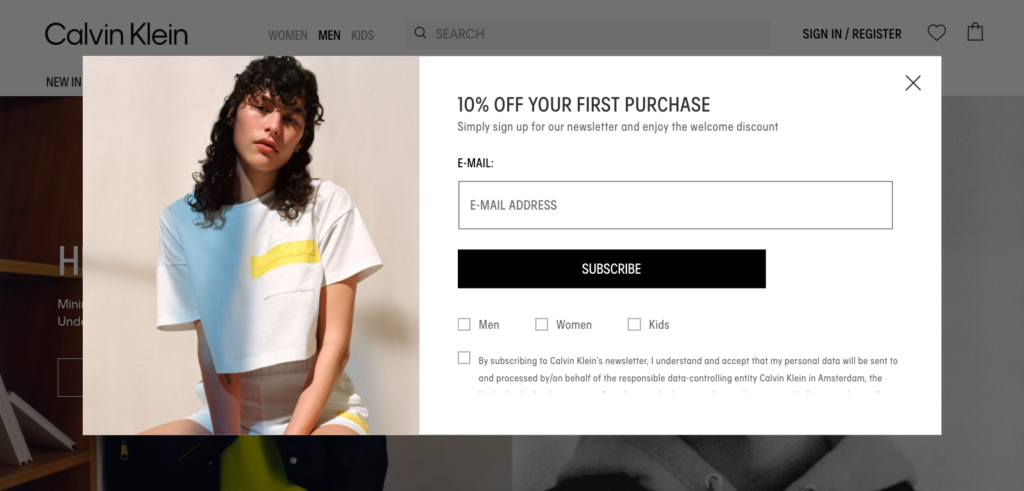 The brand offers "10 percent off your first purchase" before asking the visitor to enter their email and choose a gender. (You can use this information to send better-targeted email campaigns later.)
If you don't want to discount your products and services, another incentive is entry into a giveaway, as Danish brand Ny Form tried with its recent popup.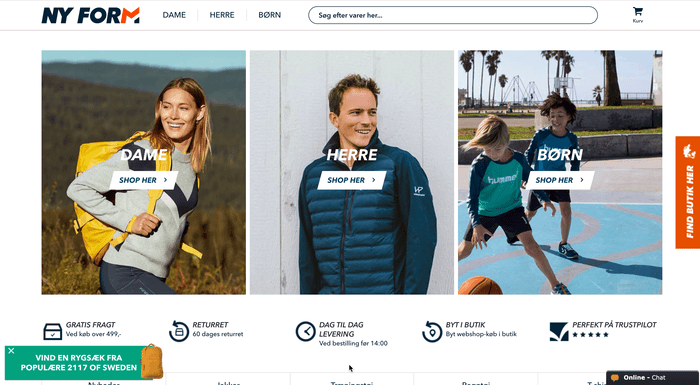 The brand first used a teaser to bait the visitor into clicking before showing a popup promoting a giveaway to win a free backpack in a preferred color.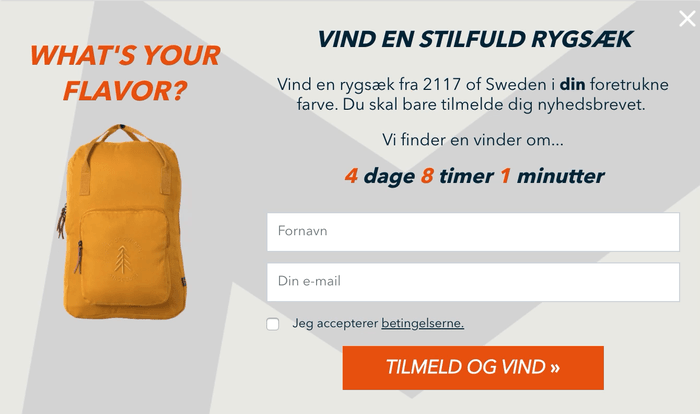 By using GIFs in its teaser and popup, Ny Form differentiated itself from other brands using popups, driving more engagement and optins in the process.
Of course, if you wanted to go a step further and enrich your email leads without losing conversions, you could create a multistep popup to collect more information in a follow-up step, like this: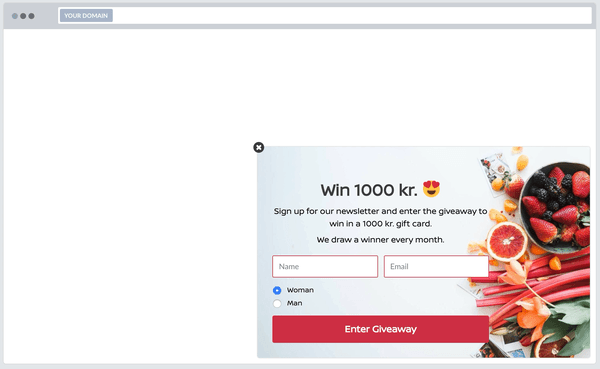 In our research of 1+ billion popup views, we found that popups with a second step see 76 percent of its subscribers input further details.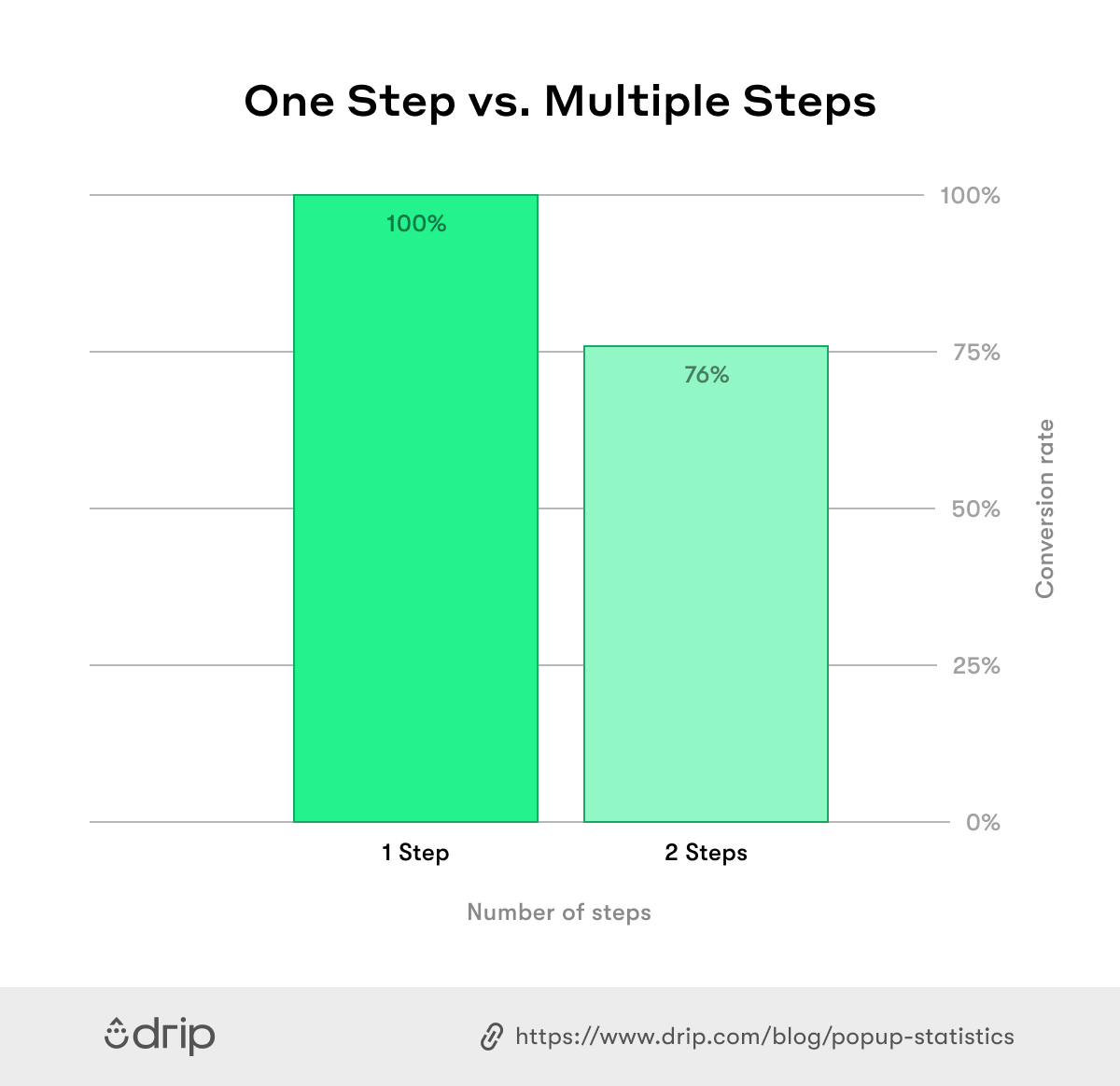 Bottom line: using multistep will give you more details on new subscribers without costing you conversions on-site.
Given that we're a popup company, Seray and I have written ad nauseam about popups and how to optimize them for each stage of your marketing funnel. If you're interested in learning more, browse our resources on Website Popups.
3. Leverage The Power of Email to Sell More
Once you have the visitor's email address, you will want to email them a welcome email, followed by any relevant emails that pertain to your marketing goal.
If you're in e-commerce, you will likely want to notify your audience of your bestselling products, and especially any promotions that you're running for them.
One brand that recently did that is Banana Republic. The brand first caught attention with a clear and specific subject line, "40% off is happening now!"

Within the email, Banana Republic used a GIF to justify the offer ("Colder Days Ahead") as well as animate "Featuring 400+ New Arrivals" to draw the reader's attention further.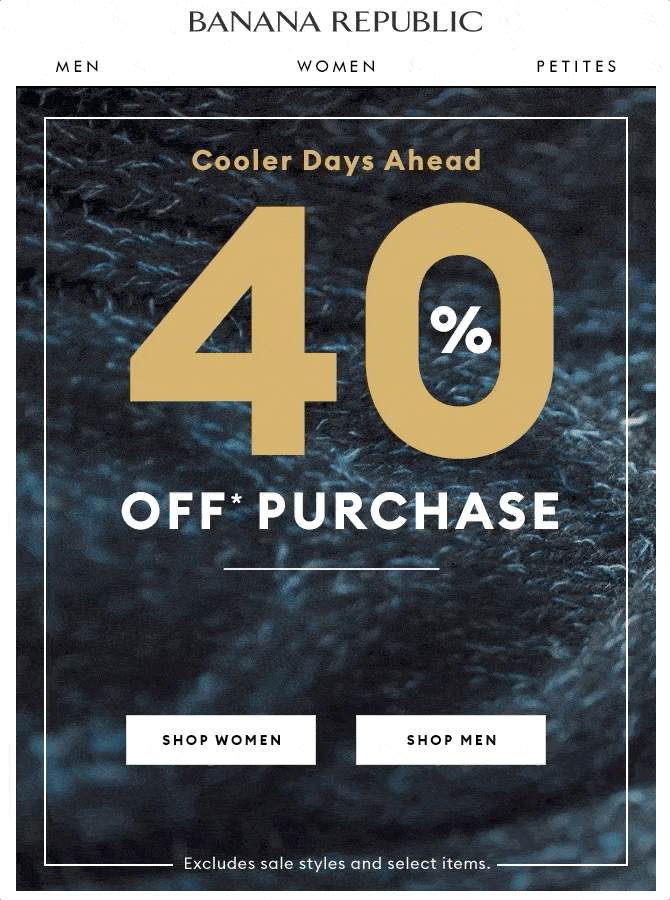 Of course, there's more to email than promoting existing products. Other brands, such as Casper, use email to introduce potential buyers to new products.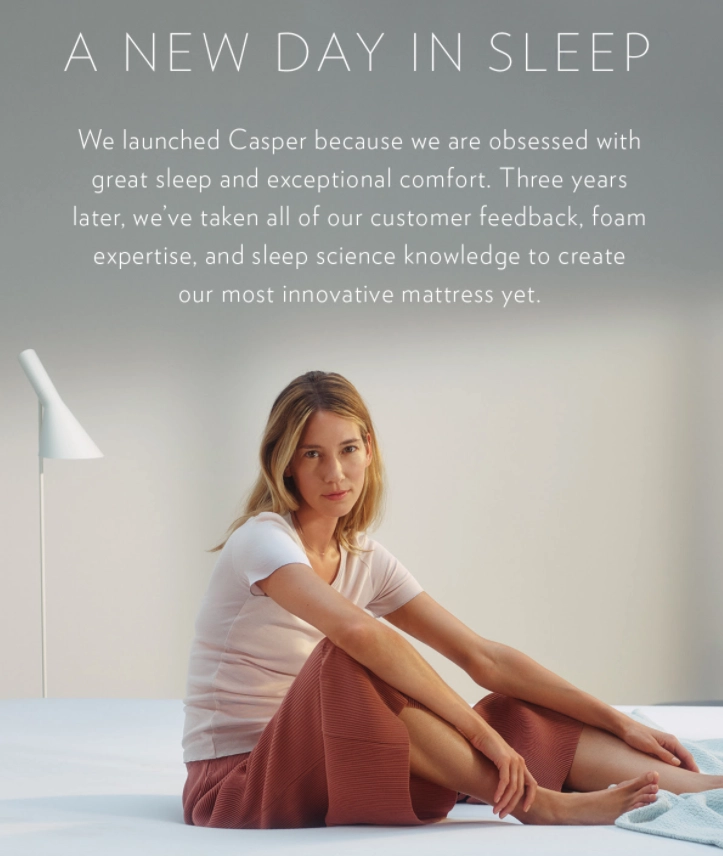 Prefaced with the subject, "They said we couldn't do it…" Casper used an email to introduce a new mattress, complete with a GIF illustrating its construction.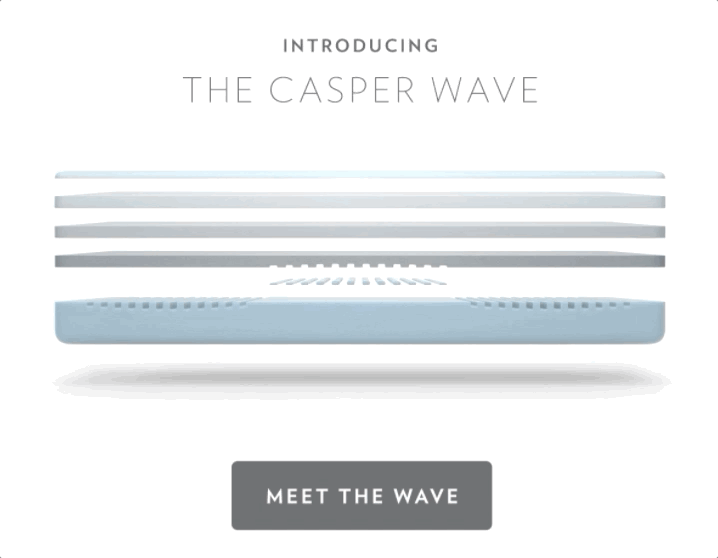 We've written at length about the many different types of email campaigns to use in your marketing. To get more inspiration, read our in-depth guide.
4. Steal Two Tactics to Optimize Your Product Page
An average of only 2.42 percent of e-commerce visitors converts into buyers, according to research. And in many cases, the reason is a poorly optimized product page.
One common reason visitors leave a product page without converting is not understanding which product is right for them. In fact, this is the very reason why Away offers guidance on its product pages.
For instance, when you visit the product page for "The Bigger Carry-On," there's an option to "Compare to The Carry On," the product's alternative.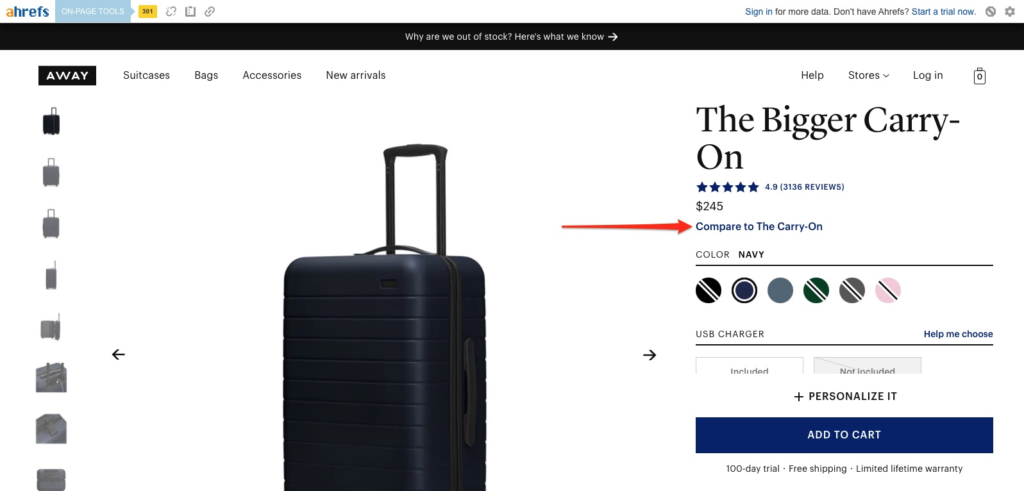 When clicked, Away uses a popup to compare the two products based on dimensions and other details, including price, sizes, and length of stay.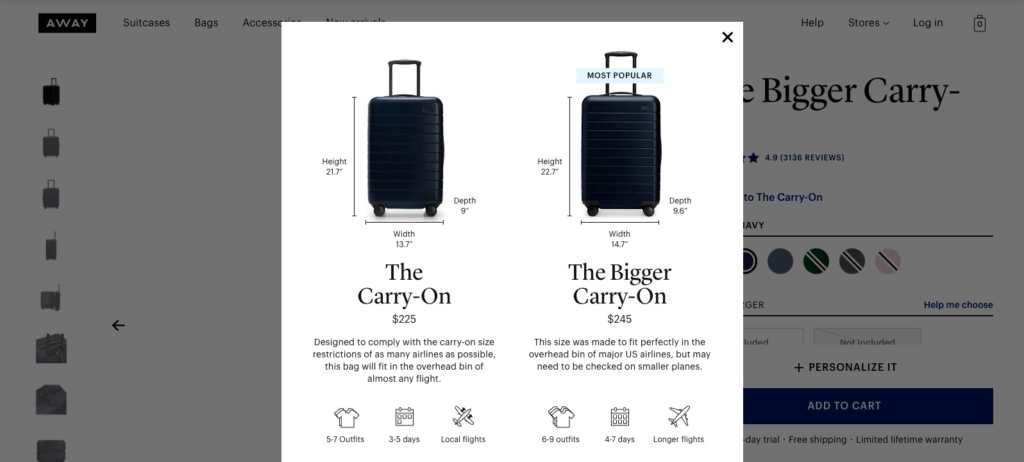 What's more, to eliminate any risk of analysis paralysis, Away annotates its larger, more expensive option as "Most Popular," assuring the prospect in the process.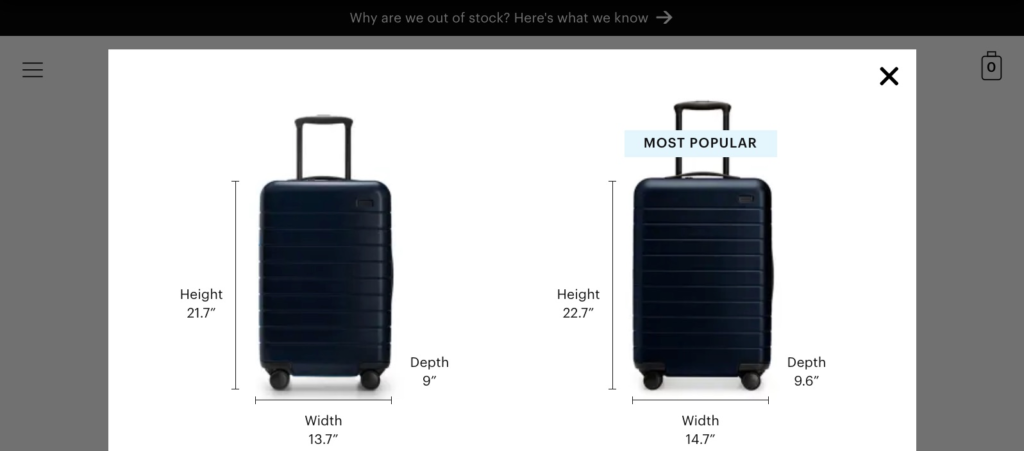 Another brand worth praising for optimizing its product pages is Fabletics, which prides itself on "affordable, high quality and stylish workout clothes for women & men." 
When you visit a product page as a new visitor, the brand invites you to become a VIP (i.e., loyalty club member) by asking which new VIP offer you want.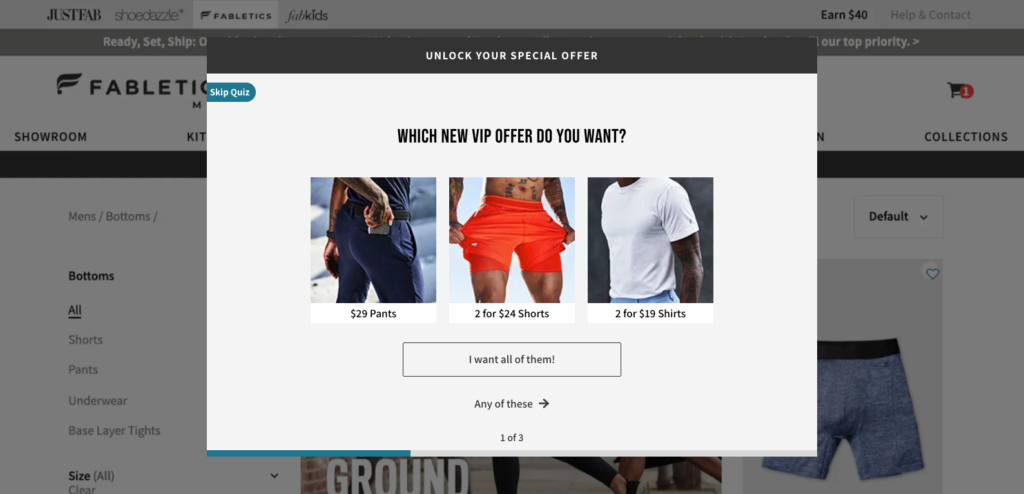 After playing the part of an ambivalent browser and choosing "Any of these," Fabletics asks you to "Create Your Profile" with the option to add your birthday (presumingly, to send a happy birthday email.)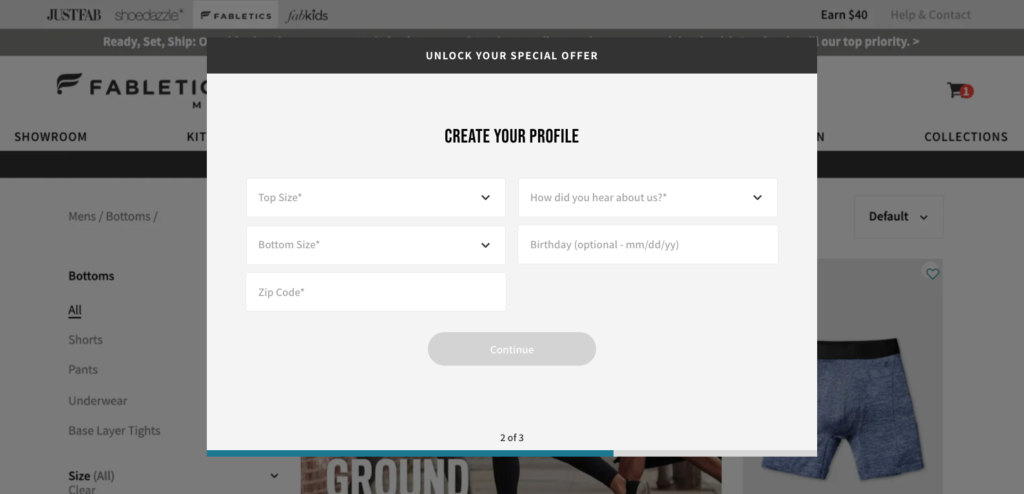 After entering your details, the brand asked me to create a username and password to become a VIP member and unlock my special deal promised in the first step.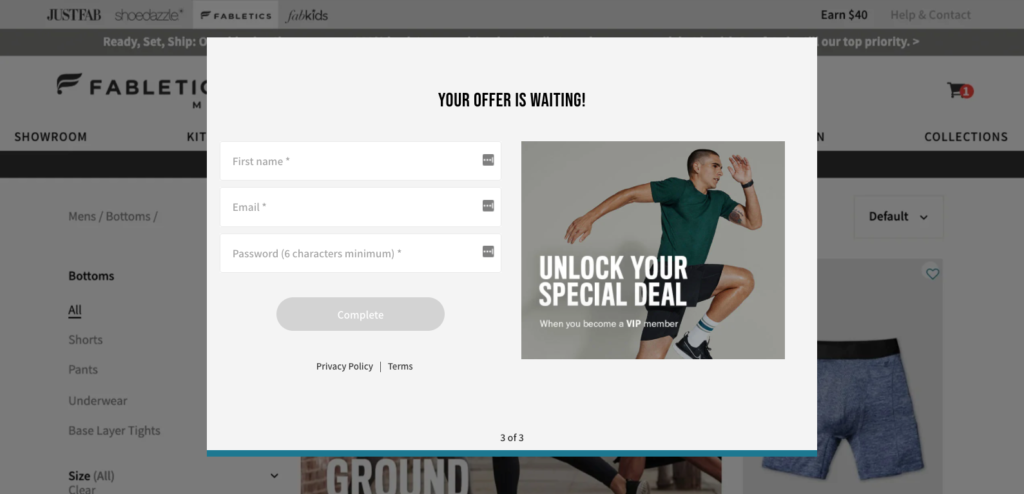 After creating an account, Fabletics employs a countdown timer in the bottom right corner of the page to drive urgency and nudge me to make my first purchase.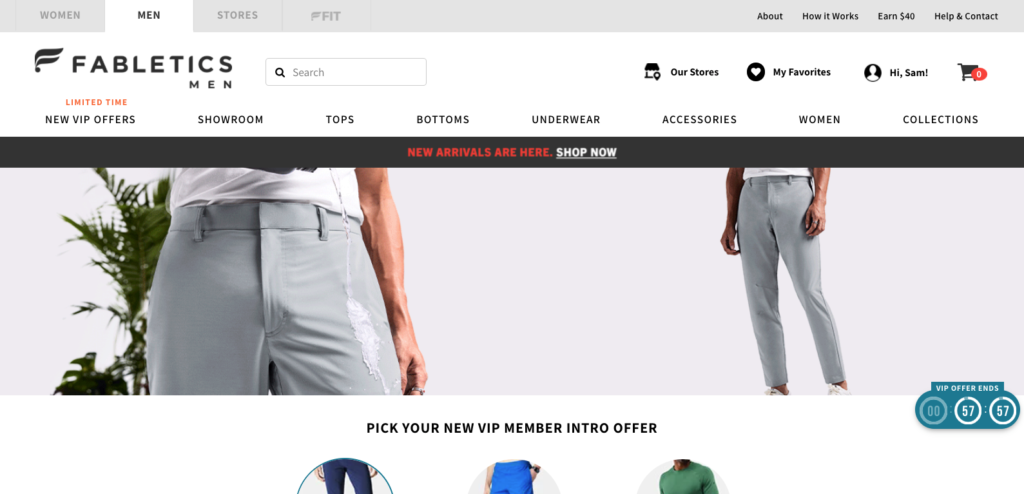 Away and Fabletics' examples contrast the importance of doing everything you can to optimize your pages. For the former, it's removing friction. For the latter, it's doing more to nudge visitors to buy. For you, however, it might be the best of both. 
5. Simplify Your Checkout Page
There are many reasons shoppers abandon their carts during checkout. But the most common, according to research by Baymard Institute, is unexpected shipping costs.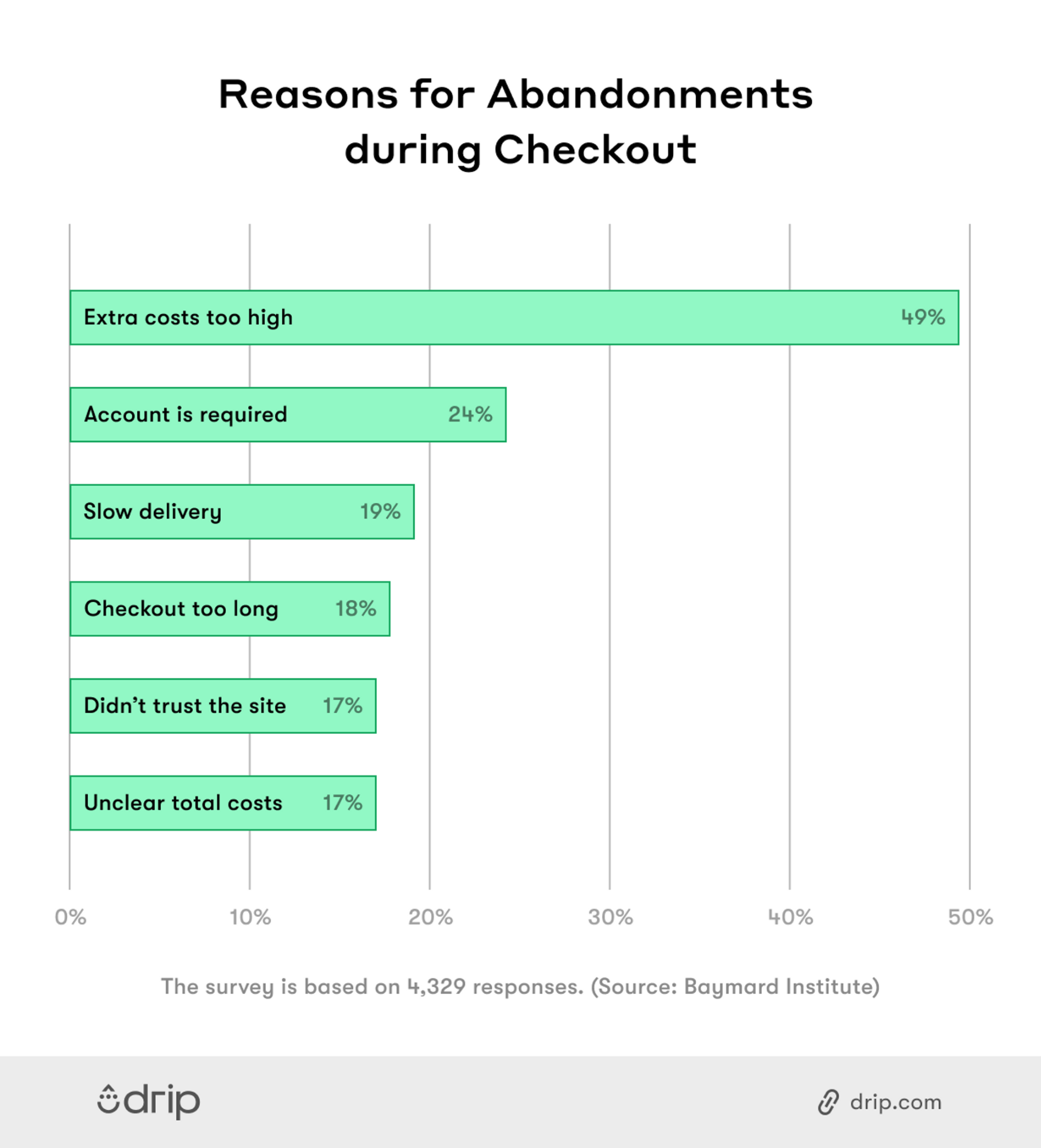 Does that mean you need to offer free shipping? Not necessarily. Many brands, including David's Tea, are now inviting buyers to add more to their cart before checking out to avoid shipping cost surprises later.
After visiting one of its product pages, I added an item to my cart, and the brand invited me to add an extra $4 worth of items to qualify for free delivery.
Another way to optimize your checkout, addressing the above "account is required" reason for cart abandonment, is to give buyers multiple ways to pay.
Suppose you're using Shopify, like direct-to-consumer fashion company, Rothy's. In that case, you can offer an "Express Checkout," with the option to buy via PayPal, as well as other payment processing services.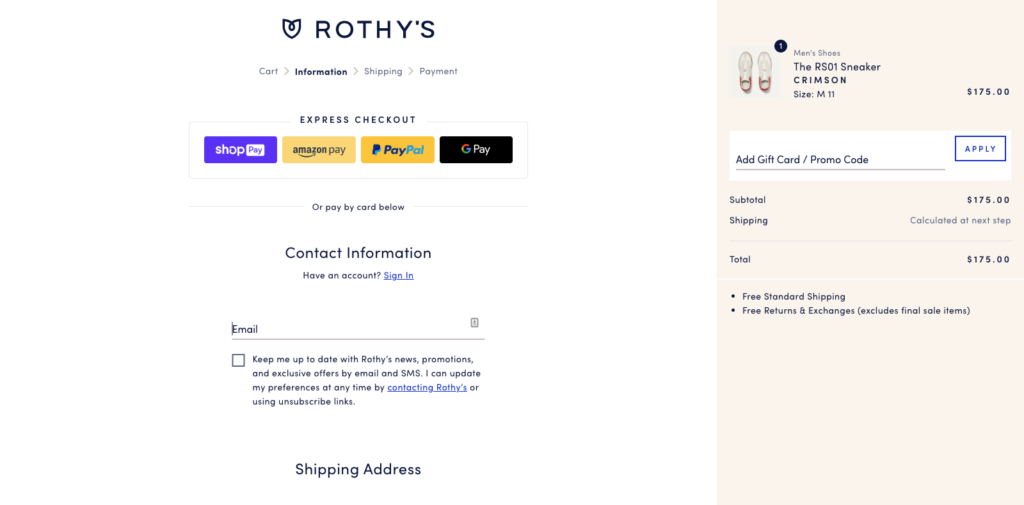 I would be remiss if I wrote about checkout optimization and didn't mention using a cart abandonment popup (a topic that deserves an article of its own). Fortunately, Seray's written about it at length here.  
6. Use This Underused Email to Drive More Sales
Many online retailers make the mistake of thinking that its order confirmation email is nothing but a means to, well, confirm a buyer's order.
But to the more experienced retailer, it's a prime opportunity to engage the buyer and perhaps even nudge them to buy more, which makes perfect sense after making a purchase moments earlier.
After buying from Zalando recently, I got an email confirming my order, as expected.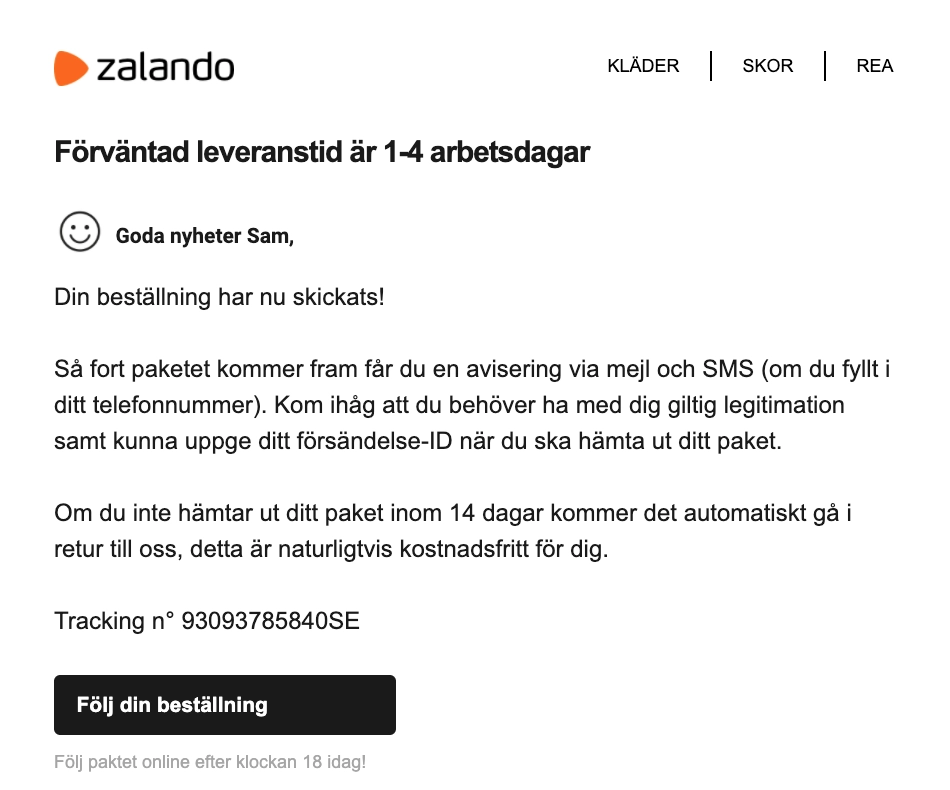 However, after scrolling further down the email, I noticed that Zalando recommended similar items based on my purchase. (Translation: You Might Also Like…)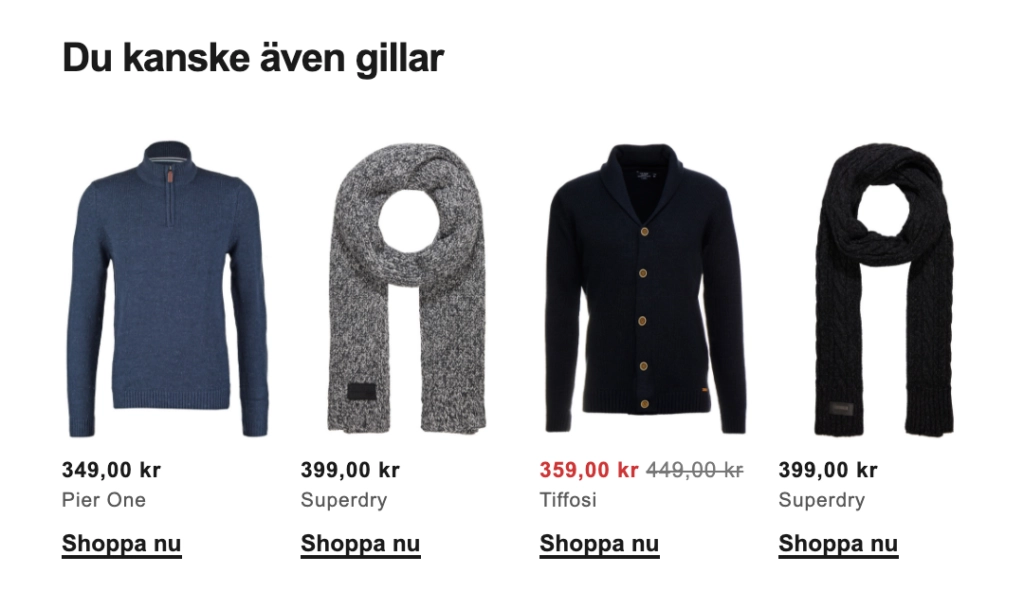 Of course, it's not always possible to deliver a buyer's goods on time—things come up that can delay shipping. That's why it's a good idea to use your order confirmation email to set clear expectations.
Glossier illustrated this lesson nicely in its recent email to Seray. After placing an order, the brand used humor to address the higher than normal processing times.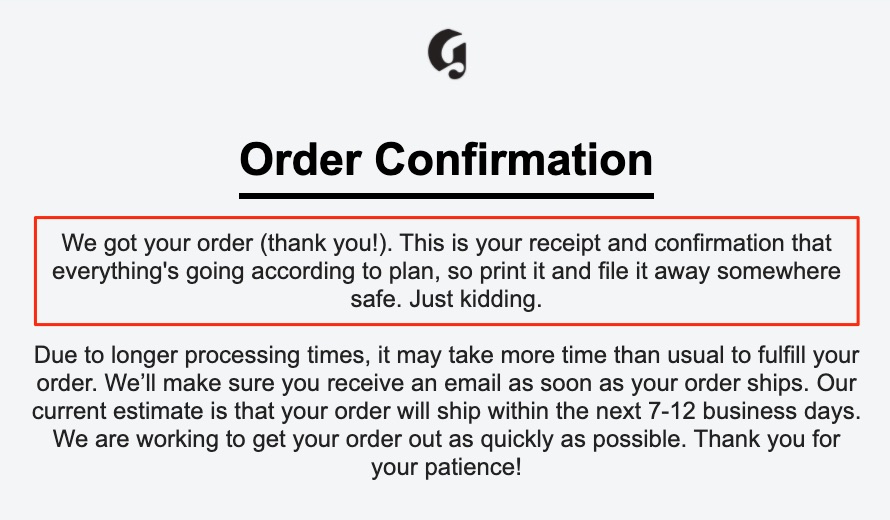 The copy sets a very clear expectation and goes a long way in building trust with the buyer. Monki, meanwhile, goes a step further, promising to email when it ships the item.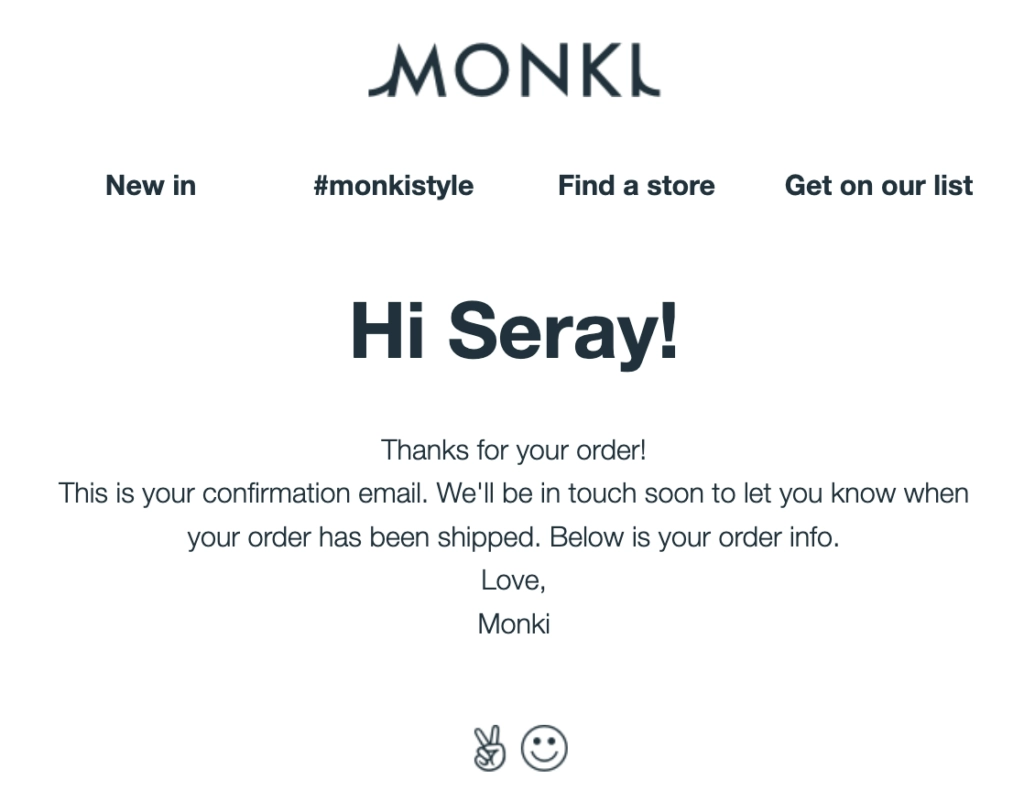 Getting more mileage out of your order confirmation emails isn't always about driving more orders; sometimes, it's enough to reassure new buyers they made the right decision buying from you over a competitor.
7. Continue Nurturing Prospects Over Time
Not all new visitors will buy the first time they land on your website. And that's only to be expected. Capturing their email is crucial for that very reason: with it, you can remarket to on-the-fence buyers.
One of my favorite examples of a brand nailing their remarketing comes from Casper. 
While writing about them for another article, I saw a curiosity-evoking Facebook ad with the headline, "This Startup is Leading a Sleep Revolution."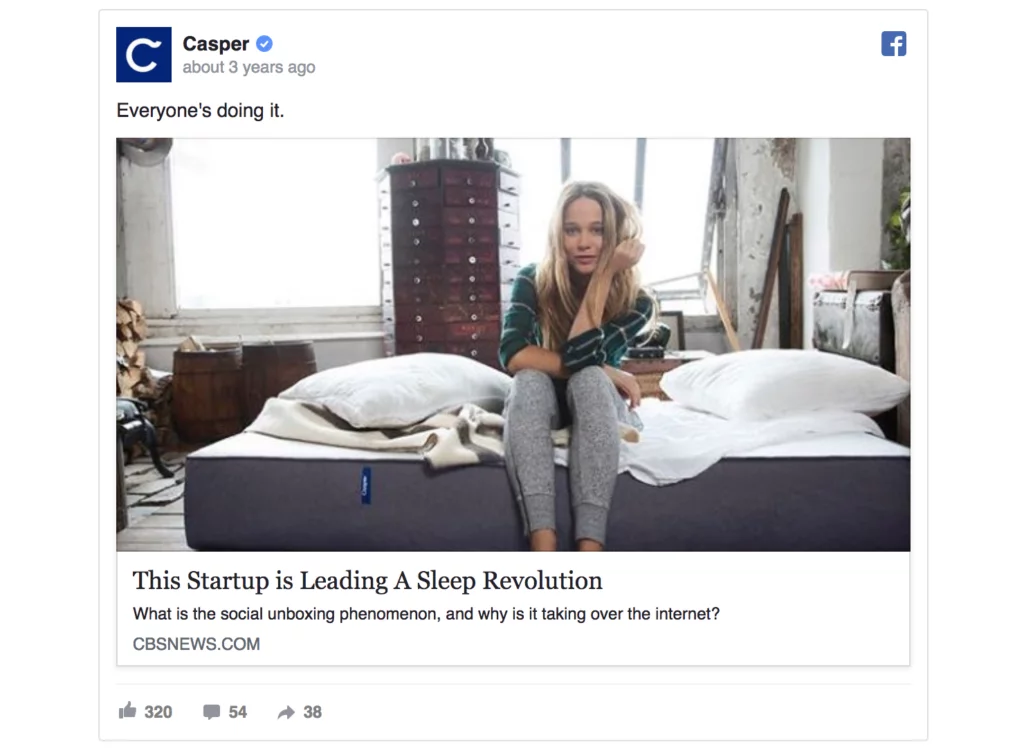 Nothing new there. That is until I scrolled to the bottom of the page and saw a native ad linking back to Casper's product page.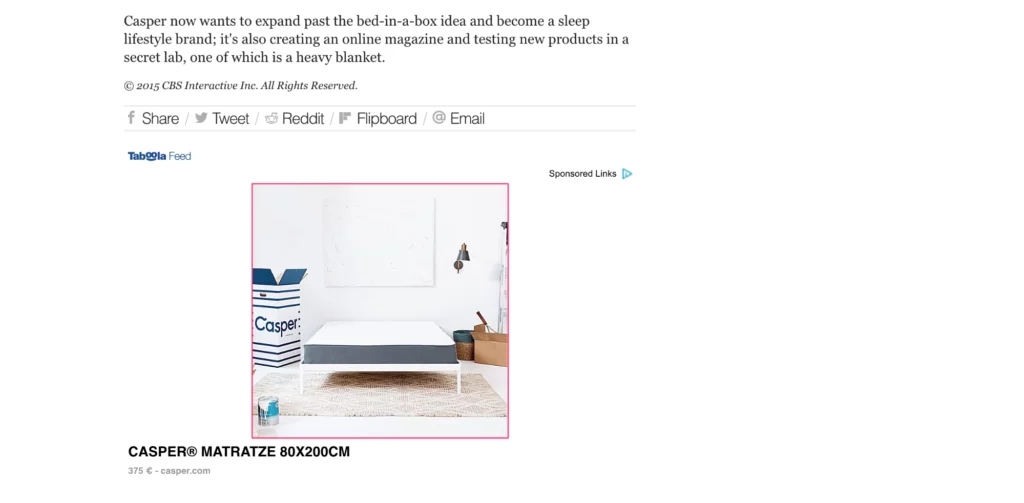 Native ads might not be within your budget, especially if you're a small business. But you could easily copy the strategy by driving traffic to a review page on your website and then remarketing with Facebook ads.
8. Run a Social Media Giveaway
Growing your social media following isn't about chasing a pointless vanity metric.
When people follow your social profiles, they're more likely to build an affinity for your brand. That matters, with research revealing that when they feel connected to a brand:
57 percent of customers will spend more with that brand
76 percent will buy from that brand over a competitor
One of the most effective ways to grow your following organically (i.e. without investing a ton of money in paid ads) is to run a social media giveaway, just like this one from Haute Hijab: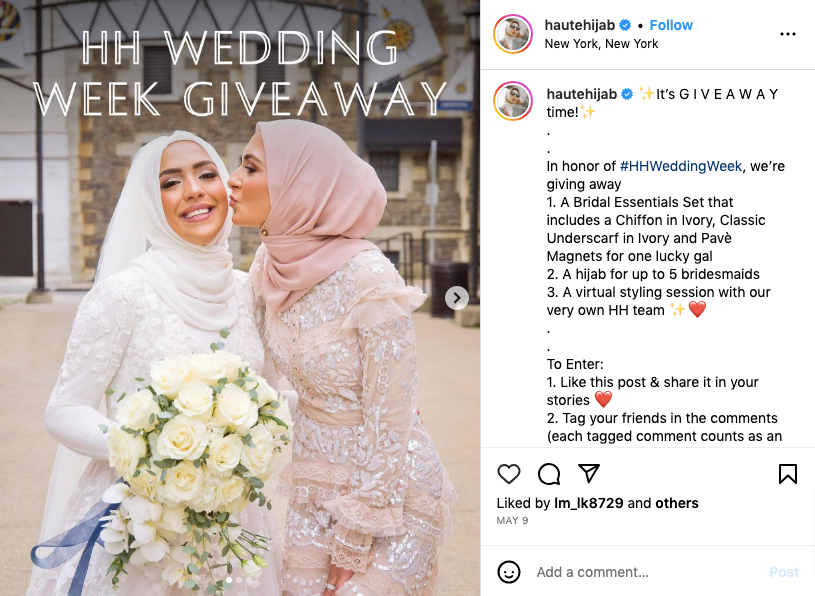 Image source
Typically, these sorts of contests prompt existing followers to enter by liking and sharing posts and tagging friends in the comments.
That way, you get to reach a far wider audience comprising your existing customers' friends and family.
Like the sound of social media contests? Check out our roundup of the best giveaway ideas you can start using today!
5 Essential Marketing Products for Small Businesses
As we've demonstrated, marketing a small business online needn't be expensive. 
But while it's possible to do everything yourself for free, you can be a whole lot more efficient by investing a little budget in the right marketing tools, such as:
1. Drip
What Is It?
Drip is a marketing automation platform that helps brands grow, engage, and convert their audiences through email and onsite marketing.
What Can You Do With It?
Share highly personalized messaging in emails and popups

 

through dynamic segmentation that combines your store, visitor, and marketing data.
Run multi-channel marketing campaigns on autopilot

 

with our prebuilt workflow templates (including welcome series, abandoned cart sequences,

 

post-first-purchase emails, and much more).
Build on-brand emails, fast

 

using our professionally designed, prebuilt email templates and our intuitive, point-and-click email builder.
How Much Does It Cost?
From $39 per month for up to 2,500 contacts and unlimited email sends. Or you can test-drive all our tools and features free of charge by signing up for your 14-day trial.
2. Google Analytics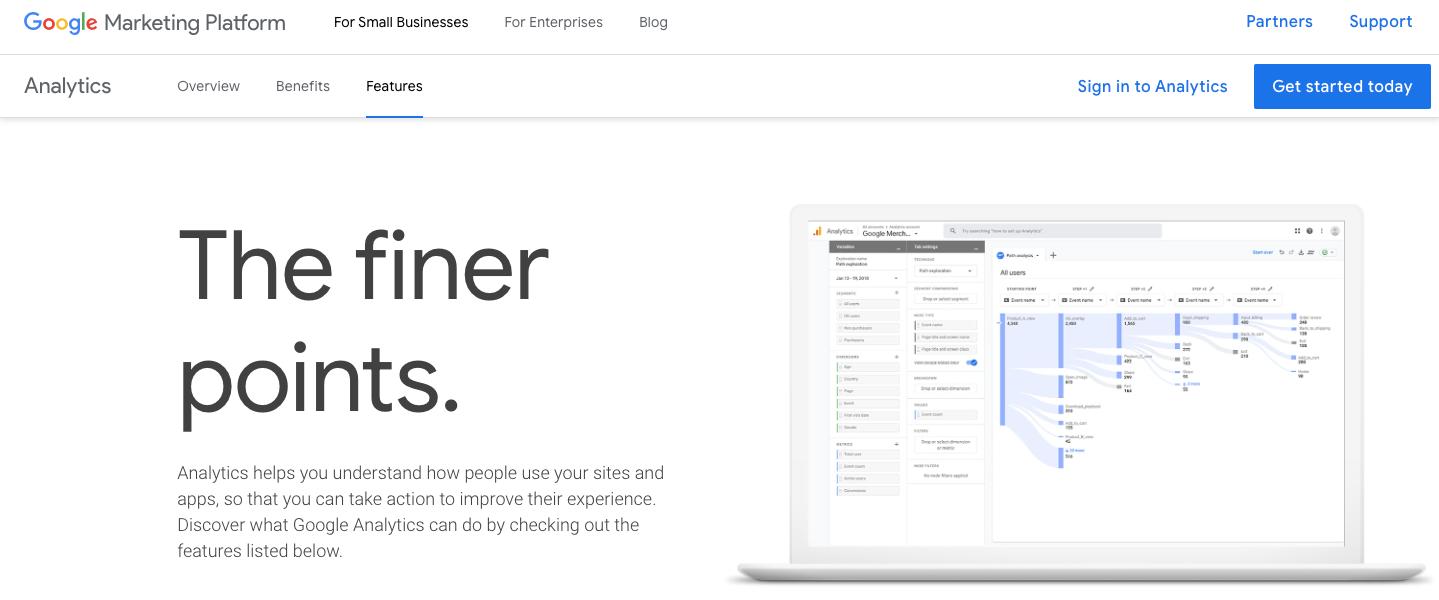 What Is It?
Google Analytics is a website analytics platform that helps you understand who's visiting your site (and what they do when they find it).
What Can You Do With It?
Discover how users reach your site

 

through different marketing channels, and which traffic sources are most likely to generate leads and sales.
Find your most popular website content

 

in terms of traffic and conversions.
Easily identify key marketing metrics

 

by asking questions in natural language through the Google Analytics search bar.
How Much Does It Cost?
Google Analytics is totally free for small businesses, although the enterprise-grade version—Analytics 360—starts out at $150,000 per year.
3. Hootsuite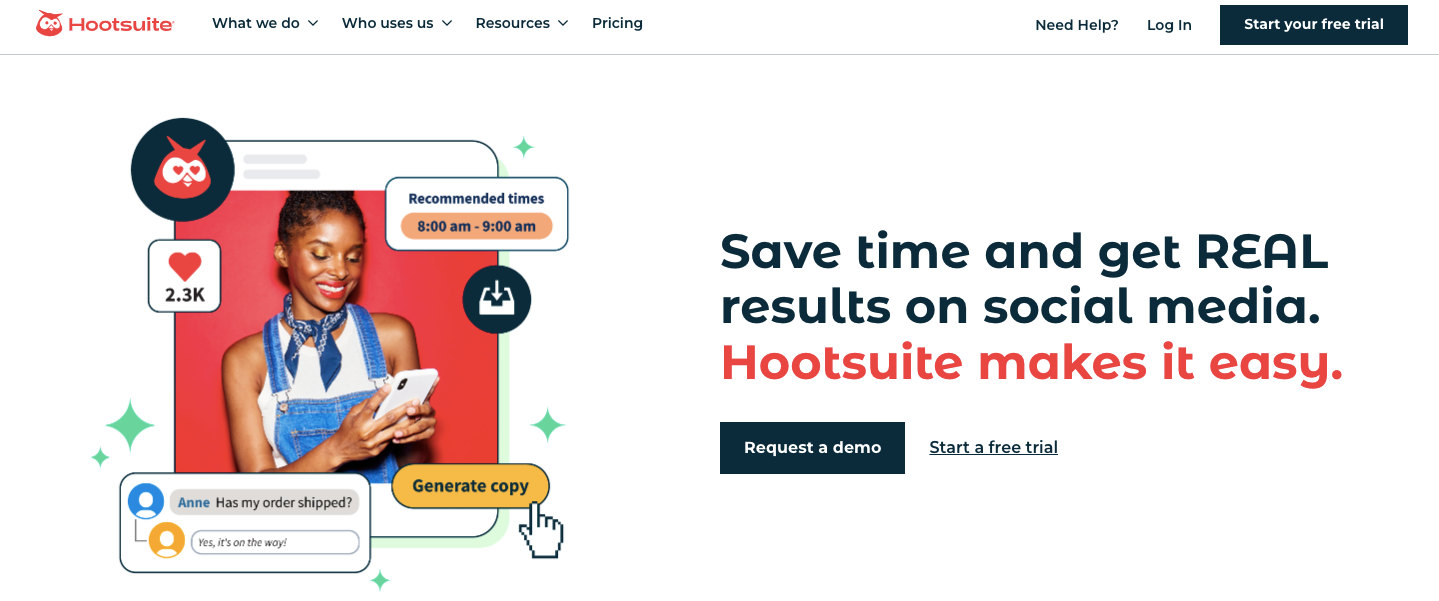 What Is It?
Hootsuite is a social media management tool trusted by 22+ million users in over 175 countries.
What Can You Do With It?
Schedule hundreds of posts at once across multiple platforms

 

with Hootsuite's bulk social media scheduler.
Discover the best times to post

 

to help you generate more likes, comments, and shares.
Generate post ideas and captions instantly

 

based on a simple prompt using Hootsuite's generative AI tool, OwlyWriter AI.
How Much Does It Cost?
From $99 per month for one user managing up to 10 social media profiles.
4. TopicRanker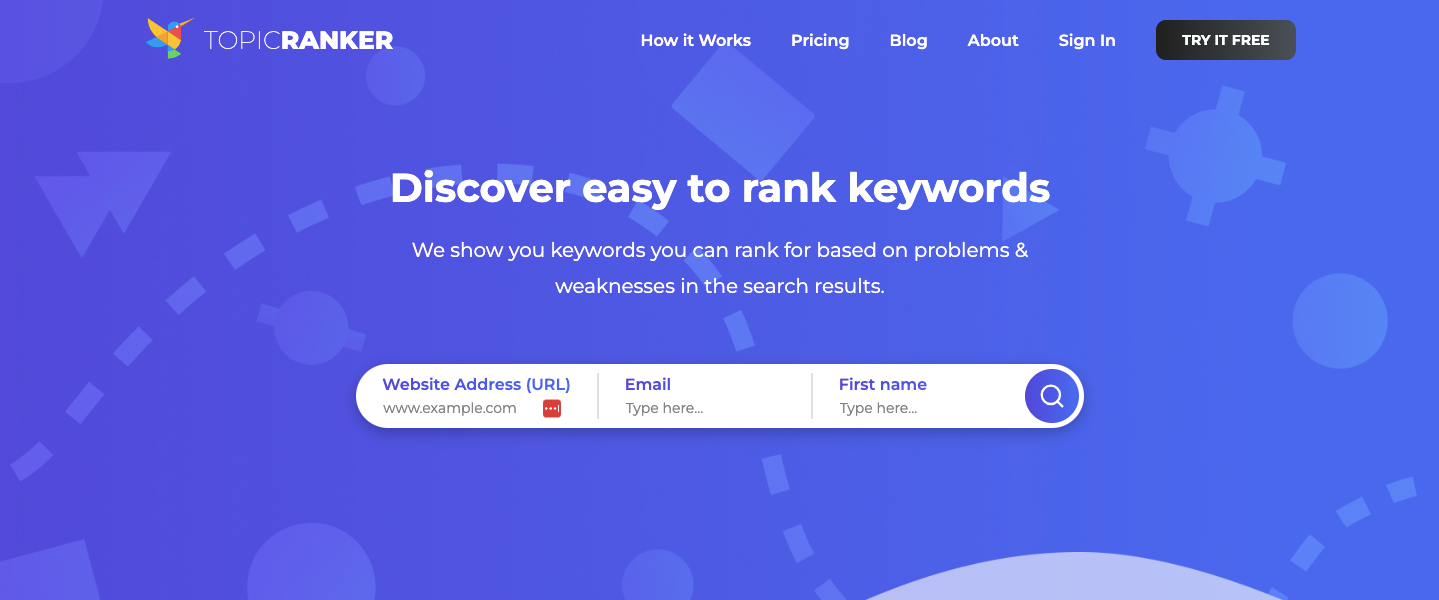 What Is It?
TopicRanker is a keyword research and content optimization tool that helps brands identify potential target keywords based on problems and weaknesses in the search results.
What Can You Do With It?
Find keywords you can easily rank for

 

based on existing search engine results page issues such as poor readability scores, low word counts, and slow page load times.
Uncover keywords you rank for but aren't actively targeting, giving you the insights to boost your current rankings.
Discover search results in your niche delivering a poor user experience, helping you outperform your competitors.
How Much Does It Cost?
TopicRanker is free for one domain, offering one monthly analysis report with three suggested keywords. Paid plans start at $47 per month.
5. Less Annoying CRM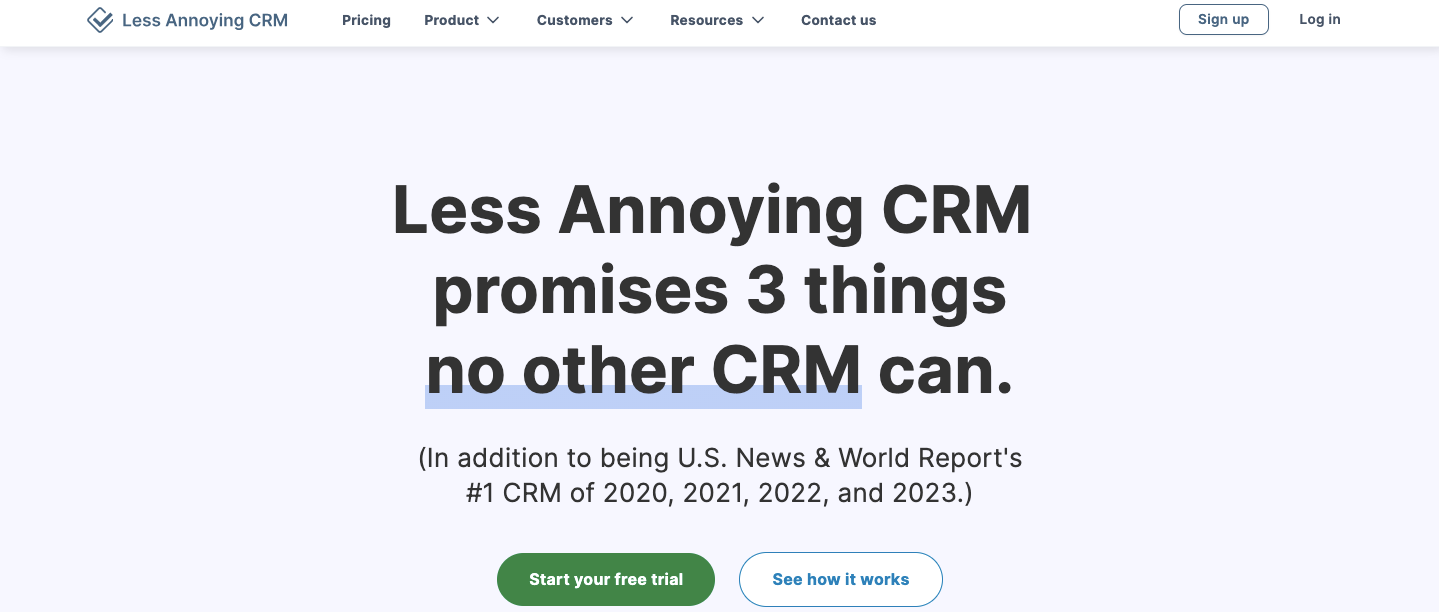 What Is It?
Less Annoying CRM is a simple contact management platform for small businesses, with an intuitive interface and an easy-to-understand pricing model.
What Can You Do With It?
Store all your contact information in one place, encompassing all your notes, files, tasks, events, and pipeline information related to a contact.
View your team's events and tasks on a single calendar. You can even share it with other users and sync it with Google Calendar for easy access on your phone.
Access always-up-to-date lead reports

 

that show the priority and status of each lead in your pipeline, alongside their contact info and notes from your most recent conversation.
How Much Does It Cost?
Less Annoying CRM charges a flat fee of $15 per user per month, including 25 GB of storage per user and unlimited contacts and companies.
Conclusion
Roughly one in three small businesses say their biggest marketing challenge is a lack of time or money.
That's why you need to invest in low-cost marketing tools capable of doing all the legwork for you.
Tools like Drip.
Our platform makes it quick and easy to send highly personalized automated email campaigns that convert ecommerce leads into paying customers.
And with prices starting at just $39 per month, we're affordable for even the smallest businesses. No wonder thousands of brands trust us to power their email and onsite marketing.
Come see what all the fuss is about by signing up for your free 14-day trial!