You have been looking for ideas on how to make your hotel email marketing campaigns outstanding? How to design a perfect email template?
We have surveyed and analyzed emails for the hotel business. Found out what distinguishes famous hotels from others. Structurized the given information, and gathered the best examples to write a guide to email marketing for hotels. And now we are willing to share this information with you. We hope our tips will help you win new guests.
Types of the hotel email newsletters
Hotel business, like any other, needs to send out both promotional and event-triggered emails.
Hotel business is not the one where you just collect email addresses to grow your contact base. Typically, you send out emails to the guests. Which is why it is not utterly important to create welcome templates.
Reservation confirmation email
This is probably the most important kind of emails to have in your collection.
Your customers need to know for sure that you are aware of their reservation.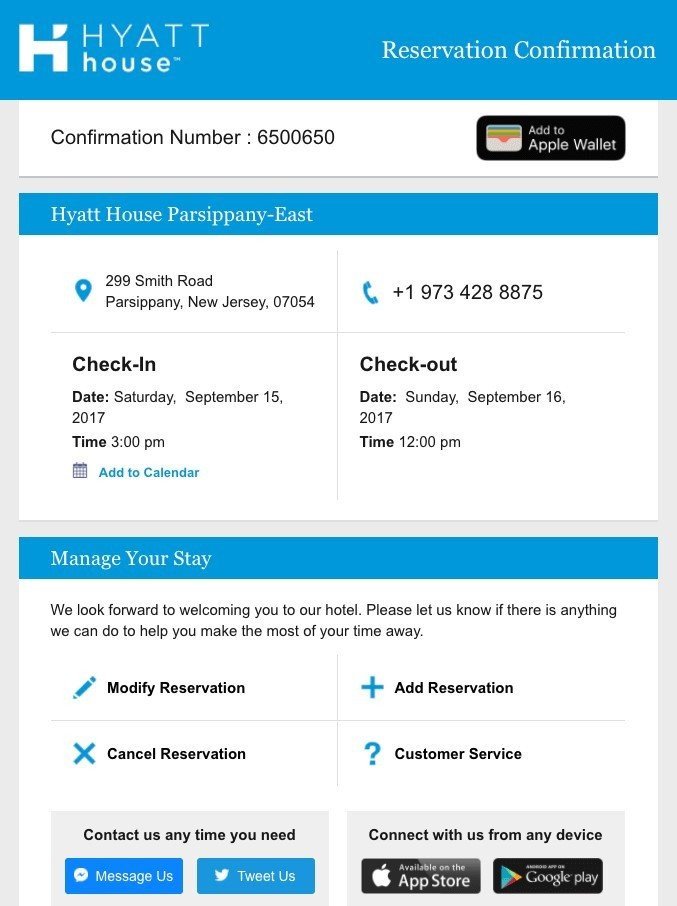 What is so great about this message: first of all, they mentioned the exact dates of check-in and check-out. Pointed out the exact time, the address.
They also allow the guests to modify their reservation. And reminded the customers that they may contact the hotel managers at any time they need.
I know this is Hyatt, the Gods of the hotel business, but in my opinion if they had mentioned the day of the week, it would have been much more convenient for the customers.
If you are not a hotel, but an agency like Airbnb or Hipmunk, you may ask the registrants to download an app. This is pretty convenient, as it is much easier to keep in touch with you via the application.
Reminder email
Here, on our blog, we have mentioned many times that there should be a reminder message. Same for the hotels.
With the first email you confirmed the dates, and now you need to remind the customers that you are expecting them to come.
Why? Because:
they may have forgotten about it, and now you do them a favor with your kind reminder;

because they may have changed their minds or decided to stay at another hotel. This way you will know a few days prior to the check-in date that the guests are not coming. And of course, you may offer this room for other people;

if the guests are about to come, you prevent them from being worried if anything has been changed on your side and if you are still waiting for them.
What information should a proper email contain:
dates;

number of days;

total price;

services included in that price.
It would be really nice of you to include the following additional information, as well:
what extra services your hotel offers;

customs and traditions of your area/town;

calendar of local events for the very period of time;

activities, like Airbnb does in its emails.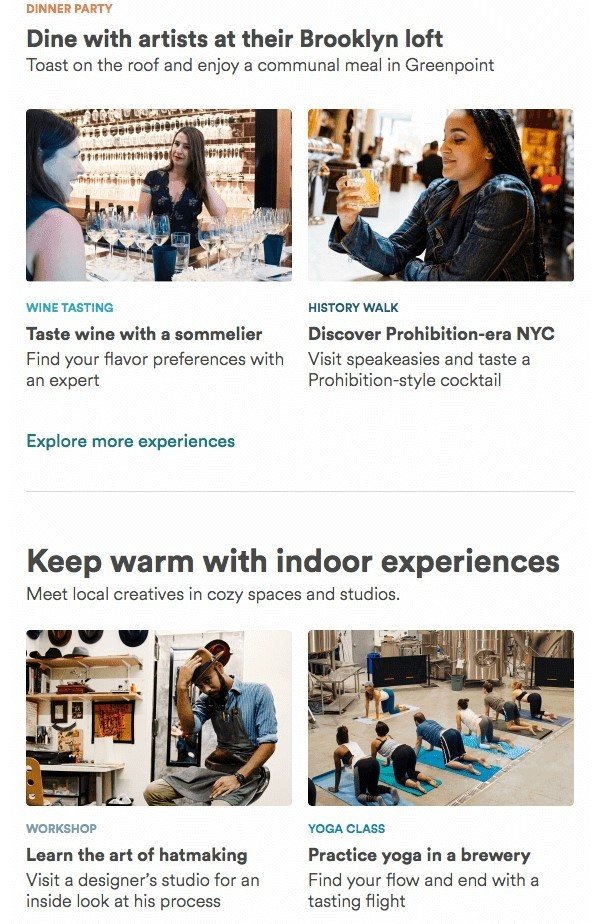 What is so great about this message: they have gathered the most unusual events to visit in NYC, and divided them into indoor and outdoor groups. Provided preview images and brief description.
Tip: ask the guests to make a screenshot of the contact information you provided them with in case the lose internet connection.
Feedback email
Feedback emails are an essential part of all hotel email marketing campaigns.
It is utterly important to know if the guests were pleased with the hotel and the service you provided them.
Tip: staying at a hotel is not like wearing a new T-shirt. This is our comfort. Which is why most people would find time to give you a complete answer. Please, don't limit yourself with a single-question quiz like "How would you rate us: how many stars".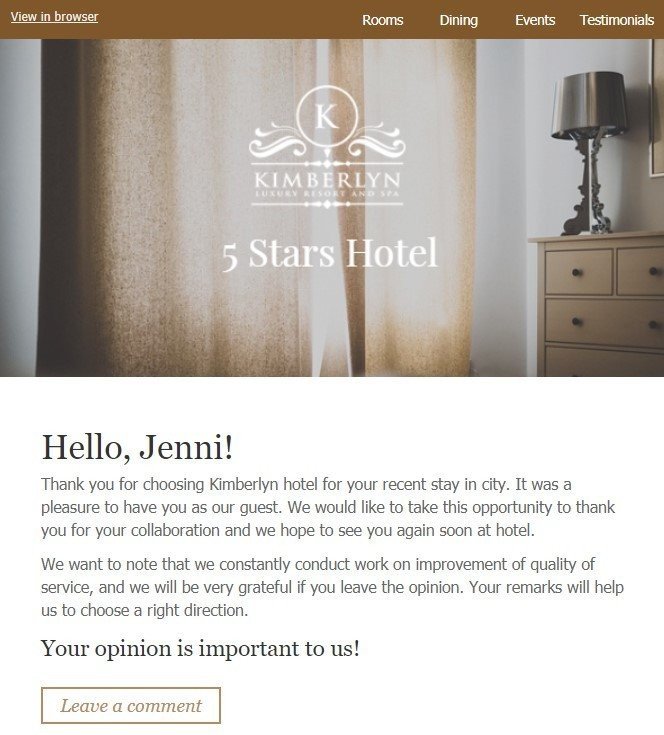 Leave the "rate us" surveys for the most loyal customers.
Tip: create a beautiful landing page, where the link "Leave a comment" will take them to.
What is the best time to send an email of this kind? The sooner the better. Maybe, the next day after checkout.
Don't forget to thank your customers for sharing their opinion with you.
Sales emails
When do people stay at the hotel? Mostly, when they are on a business trip. Consequently, the sales will not attract them to come to you whenever you give 25% off. But they will come when their business partners are ready for negotiations.
But definitely the situation is completely different for the summer resorts. In March, we start looking for a perfect place to spend our summer vacation at.
Thus, if at the end of February a person hears about your value proposition, they are likely to come to you in June.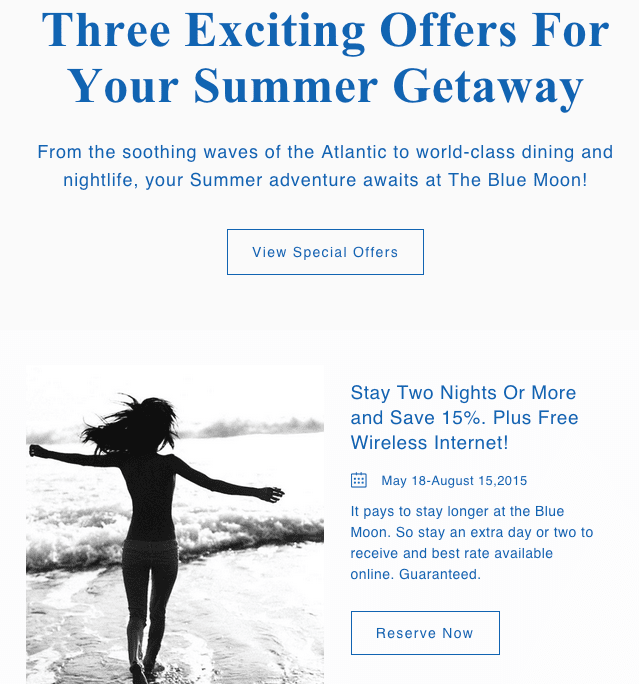 Promo emails
What kind of promo emails for hotel business you can send out?
Promote the services you are providing:
Spa;

Swimming pool;

Room-cleaning;

Room service;

Restaurant, etc.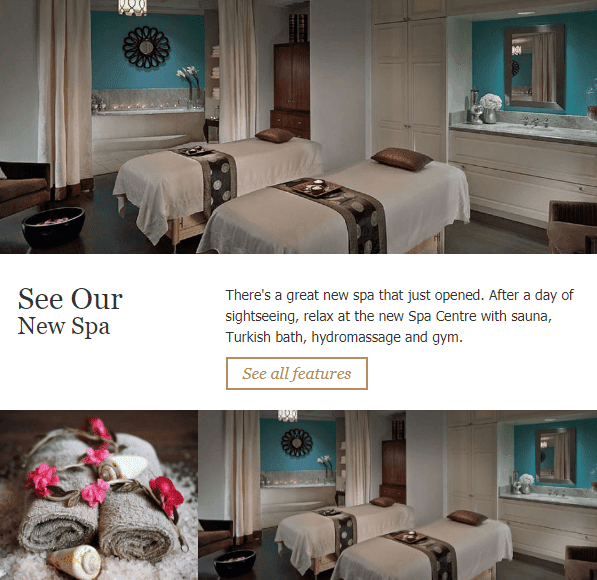 You can let your guests know that you are offering the dining rooms for wedding celebration and conference halls for big offline events.
Announcement emails
Hotels may announce an event or the start of a season.
Offline events
Most big hotels host offline events, arrange holiday celebrations. There are many reasons to organize a fest. Thus, you may call and invite your old friends — the guests who have stayed at your hotel.
The Hilton hotel is constantly hosting beautiful thematic events. They engage the cooks, the best Chefs… Why not announce such events via the newsletter?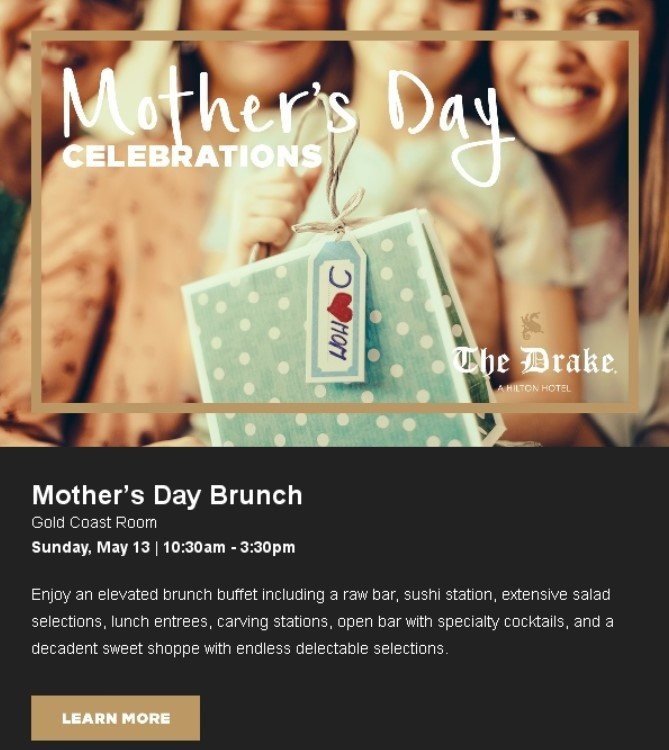 Start of the season
Nowadays horse races are only becoming more popular. Why not inform your guests about such event in your town and not invite them to come to you.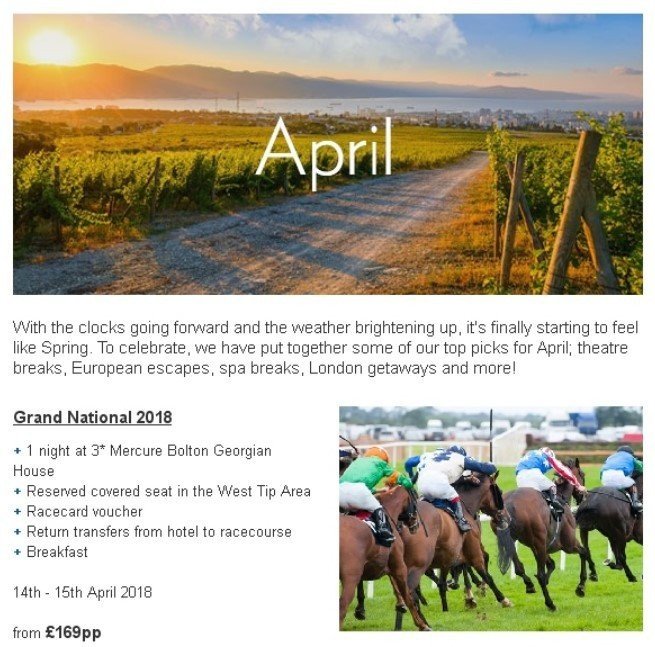 The guests of this company do not need to worry about the tickets, the hotel and food. Everything is included.
Great idea. I would say this is one of the hotel email marketing best practices.
When you run a big hotel, you are likely to provide your guests with delicious food and entertain them with various activities, like night performances and sports.
And the start of any season is a big event in lives of sports fans.
Is your hotel located next to the New York Yankees stadium? Then you can notify your guests that the team is about to start training soon. Real fans would love to see that, as they missed the game.
Or inform your guests about the start of the golfing season.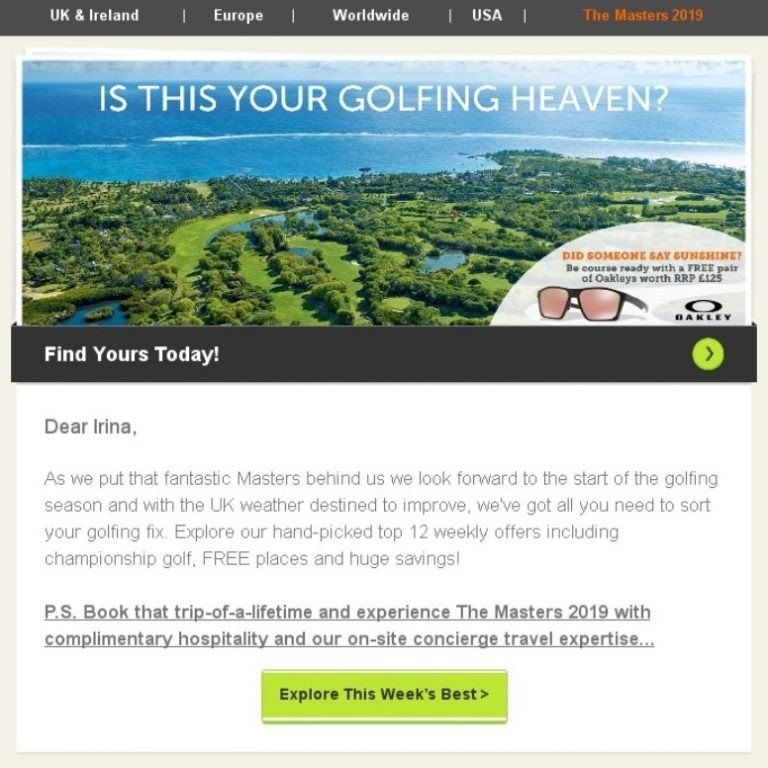 Membership emails
Honestly speaking, I love visiting the same line of cafes all over the world because I have a discount with them. It is called "platinum membership". I can't really say their kitchen is the best. But I love the fact that I possess the best card with them.
The same about hotels.
The Hilton hotels in their messages let the customers know how many nights or dollars they should spend in order to get the next level card.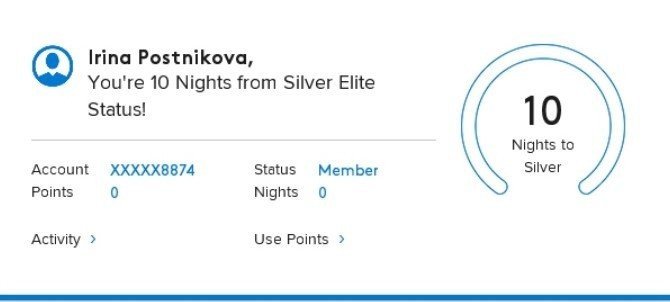 They also invite the new guests to join the membership club. Sounds like a good idea.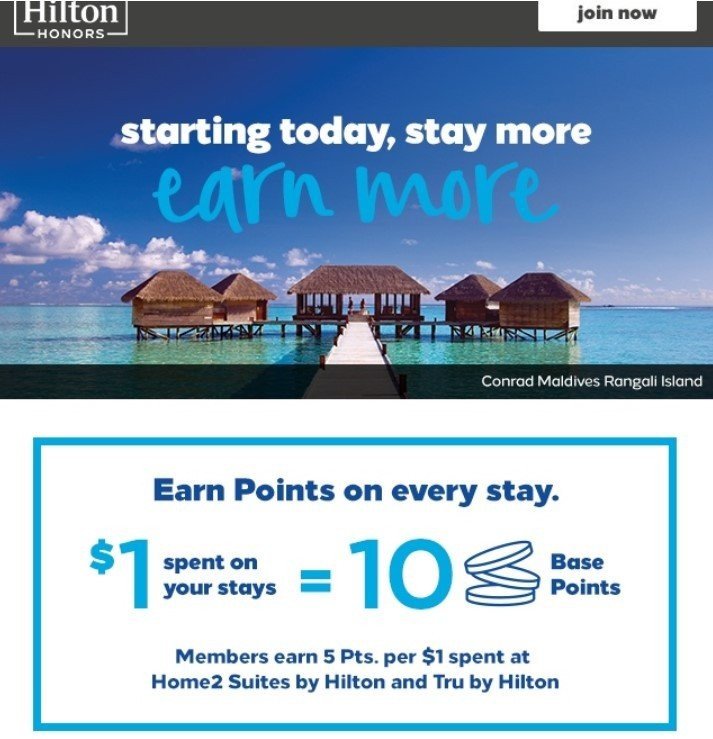 Once a person has joined this club, you may send him a special offer which you send out only to your most loyal guests. This will help you convince him to stay at your hotel again.
Design tips and tricks for hotel email newsletters
The design of successful marketing emails for hotels must mirror the website design;

Apply on-brand colors.
General tips and tricks for hotel email newsletters
Why? Yes, many of us would take a taxi to get to the hotel from the airport. But what if we go for a walk in the evening after a long tiring negotiations with our potential partners? Besides, maps show if there are any the cafes and movies nearby.
Where to place the map: in the footer.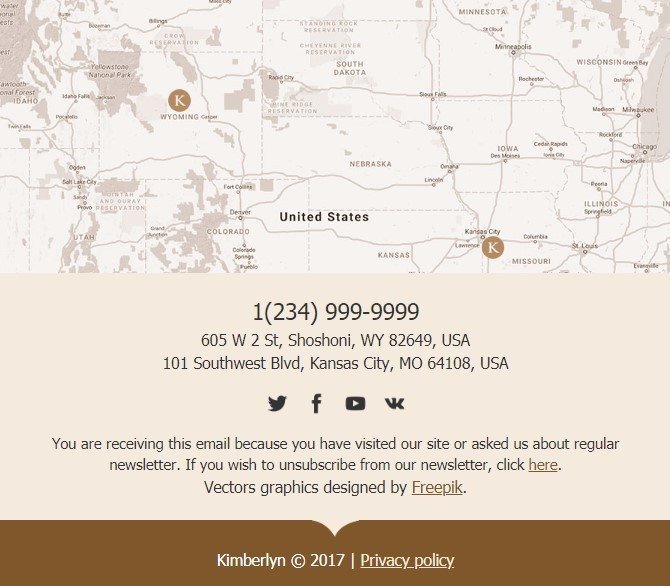 They also should be placed in the footer.
Either provide the customers with several numbers, or you are supposed to have a multi-channel phone.
Keep in mind, that people are new to your town. And probably, the concierge is the only person over there they may ask for help.
Always include them into your emails. This information may convince people stay at your place, if they were hesitating where to stay. Besides, the guests would love to hear they are staying at a highly-rated hotel.
Never skip the chance to boast ?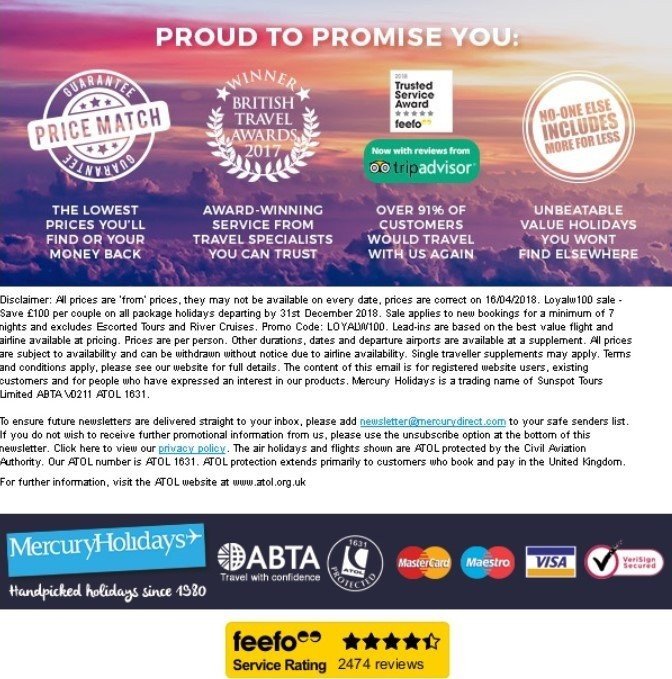 If your guests may have an account with your website, it would be logically to offer a "login" button right in the footer. The recipient will be able to go to his or her account and check his personal information/bonuses, discounts, etc.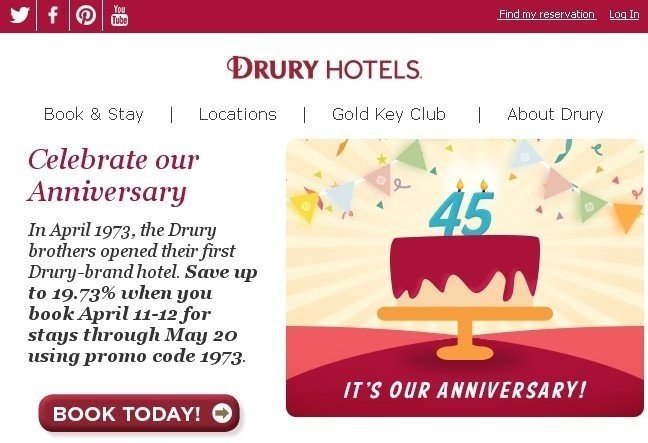 Note: create these blocks, save them to the library of content blocks, and insert to all of your hotel email newsletters.
Use Stripo Hotel Email Templates, choose the right one for you, customize it and send out to your loyal guests. For your convenience, all our templates are already sliced into blocks.
I sincerely hope that you will implement these ideas for the hotel email marketing. I do hope this will increase your revenue and will help you build stronger and closer friendship with your customers.
Have any questions — we will be glad to answer them. Find us on Facebook.