Why do emails go to the spam folder? Three pillars of email deliverability are domain reputation, email content, and relevance of content.
According to AccuWeb research, 23% of emails of total spam complaints are reported as spam because of email content. Just think that every fourth email of those that did not pass the email spam trap does not reach its goal, and ruins your reputation due to its content.
Definitely, the rest 77% depend on other reasons, but we are about to focus on improving the content to decrease the spam complaint rate and talk about best email deliverability practices to boost of your future emails and email marketing as a whole.
What is an email spam filter?
Hundreds if not thousands of spam emails end up in subscribers' inboxes every year. As of the end of 2021, according to analysts, Spam accounted for 45% percent of all e-mail traffic on the Internet. Of course, everyone wants to isolate themselves from intrusive advertising, and spam filters were created for this.
They typically use technologies such as artificial intelligence and machine learning to detect unwanted, virus-infected messages and prevent them from reaching the primary inbox.
While this affects where the email goes, it doesn't affect the speed of email delivery. A high level of spam affects not only the number of open emails but also the email sender's reputation, which can result in all subsequent legitimate emails being automatically sent to the spam folder.
Such filters evaluate one or more factors to determine whether an email should be sent to the main Inbox or the Spam folder. Among these factors are:
the subject line can be clickbait or false;

sender's IP address is blacklisted;

spam-related texts, phrases, and so on;

overall email sender's reputation and sender policy framework (which is an email authentication protocol that allows the domain owner (usually the store owner) to specify which email servers they're using to send emails).
It's impossible to avoid spam reports and spam folders for 100%, but you can increase the email delivery and open rate of your email marketing campaigns with our tips and best practices, which we'll talk about in a moment.
Email spam-proof content
First off, I need to remind you that email marketing content is divided into three groups:
     ● copy;
     ● design;
     ● technical features.
Here, we are going to name a problem and suggest a way out to prevent emails from going into the spam folder by using Stripo or any other editor.
Copy
No matter how good or untypical your email marketing design is, text performs the most important mission in newsletters.
Subject lines 
Text matters a lot when it comes to email subject lines.
If you want to maximize email deliverability of your messages, then you:
     ● should not use all caps in the email subject lines;
     ● make them catchy, engaging, and persuading.

The text in an email body
Make sure you always use email safe fonts and appropriate font sizes to make your emails legible. Let your customers feel cared about and cherished which is one of the best practices that helps to craft messages with a high email delivery rate. If they have to zoom in to read your value proposition, your messages are likely to be deleted no matter how generous the proposition is.
Irrelevance of email content
When the subject line says "Read world's latest news", and inside the email, a recipient is asked to buy something, he or she is likely to mark this message as spam.
Email content should comply with the subject line.
Design
The design of email newsletter is the face of the entire company. Pay very close attention to it.
Image-to-text ratio
The list of best practices for avoiding spam continues with the balance between images and text within your emails. Along with sticking to all recommendations given here, you should always remember about the image-to-text ratio. This is the golden rule to follow in order to pass all the anti-spam filters. Some spam testing tools still argue about the most effective coefficient. But they all agreed that 80/20% is the minimal proportion. More text in emails is preferable, while less is unacceptable.
When creating an email for the newsletter, it is worth remembering that there should be no more than one image per two small paragraphs of text
The text is not only the description of services, congratulations, etc., but also various menus, the "unsubscribe" and "change preferences" lines, the line in which you indicate the reason why the letter was sent to this particular recipient, and your contact information.
So, can Stripo really help you here? Yes, it can. Our editor allows using background colors or images for every text block. This way, unlike images with inscriptions created in a photo editor, all your texts will be recognized by email providers.
Now you may enliven your text emails with colors and images.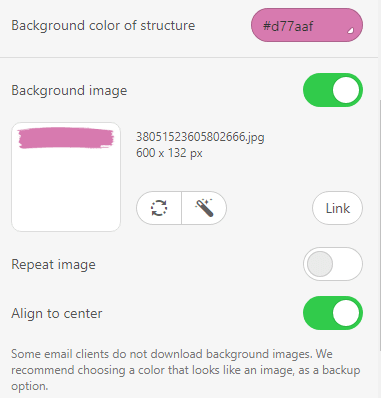 So, in this example, I set a background image, and as a fallback a respective background color for the entire structure. Here is what I got: my email contains text, is definitely legible, and hopefully spicy.

Please be advised that all the texts you have written on a banner will not be considered as a text, it will be considered as an image element.
How can you check if your ratio is within norms? I use Mail-tester. You may try out another spam testing tool.
Spacer/divider
It happens very often that you need to separate two blocks or structures to make your email more legible and elegant. And here rises an issue: spacer is an image. One more image in your template does not sound really good.
Our spacers will help stay within image-to-text ratio norms and avoid spam traps when sending emails as our horizontal dynamic spacer is a symbol but not an image.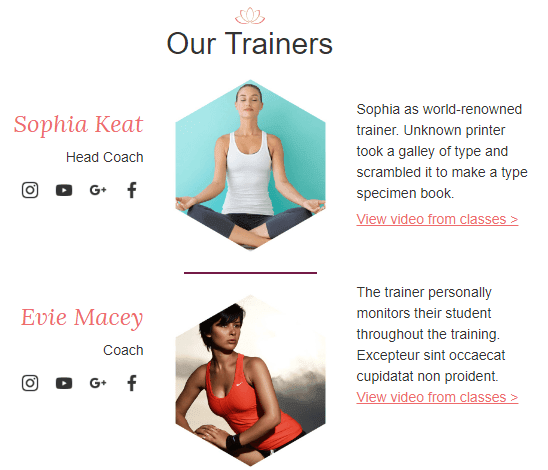 Interactive elements
These elements are the hottest trend and one of the best practices to create engaging emails. They are meant to spice up your newsletters and are currently passionately talked about at numerous email marketing summits. More and more companies develop various kinds of interactive elements. You can easily create and modify them with some special tools. But hey, are all email providers ready to deliver them? Well… Only some. Why so?
Some email service providers are technically not able to transfer and display those elements, so they block these elements or just show them as non-interactive images; while others, by the way, identify them as spam. Consequently, it ruins your reputation.
How can you change this situation for the better and raise poor email deliverability?
Rule 1 — stop using <i-frame> tags. Gmail delivers them a few times to your customers' inboxes, but if you keep sending them too often, this email client may mark you as a spammer. <i-frame> is mostly used for embedding videos. The good news is that there is an alternative — you may just insert the link to the video. An editor will show the preview image, so visually it will look like your video is actually embedded into an email.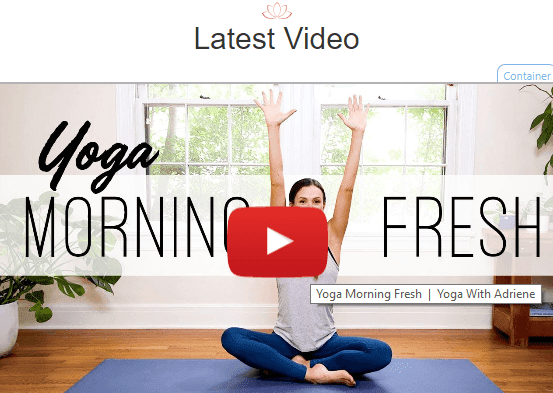 As you can see in the example, this video has a name and an alt text. They both were added automatically by the editor.
Rule 2 — avoid using JavaScript elements in emails. Currently, they are all considered spam.
Rule 3 — whenever and wherever it is possible, replace interactive elements with their web-safe alternatives. These latter are easily implemented with some responsive email template builders which provide their users with email open HTML code.
Rule 4 — if you still decide to entertain your consumers with interactive elements, be it email surveys or image carousels, just make sure you use one element at a time.
Click rate
Yes, this feature may impact your email reputation negatively, as the less subscribers click, the more chances not to pass blocking spam systems.
The less people like your content/value proposition, the less they click. It means that you send irrelevant content. Email clients know about it.
But it happens very often that recipients like what they read, but they do not see any buttons or links to click.
And even here we can help you. With Stripo, you can make big bright buttons that are pretty visible and legible. It is strongly recommended adding links to every image, brand's logo, and other extra elements, because sometimes customers may click a banner or a product's card image to get to your website to go shopping.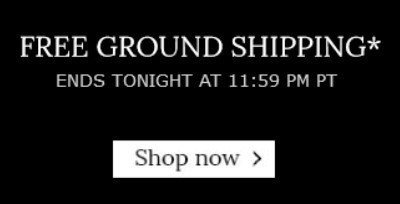 Unsubscribe and manage preferences options
One more way to keep your emails from going to spam is to add these options to all of your emails. For some dear readers, it may seem that I mentioned these links here mistakenly. No, I said it. Some recipients mark you as spam when they do not see the unsubscribe link.
The best solution here is to put it in a visible place, making it bright, and contrast. Once your customers are no longer interested in your emails, they will just unsubscribe. Don't force them to mark you as spam.
Note: make it a single opt-out. Subscribers do not need to click too many buttons or confirm anything if they wish to stop receiving newsletters from you.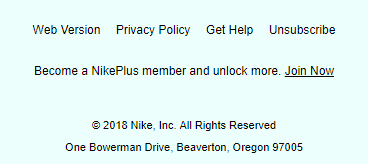 Or you can make it funny like Chubbies:

Not only is this crucial to help you pass all spam filters, but also is a requirement by the GDPR rules that came into effect on May 25, 2018.
If you do not want your customers to unsubscribe, suggest that they update their preferences — they might be interested in a more relevant content. This option may save you some loyal clients.
The best solution to stop emails going to spam is applying both buttons in your emails' footer like Pepsi:

Important: keep the weight of email HTML code below 100 kB. If it exceeds this norm, email clients are about to clip your email and add a button "view entire message". Users don't have time and desire to download anything. Email client cuts off the bottom part of your emails, thus recipients may not even see the "Unsubscribe" or "Manage Updates" buttons, and will definitely click "Report spam".
Technical features
The next aspect on our best practices list is the technical aspect of email delivery. The design stands for the visual elements, while technical features make it possible to set, transfer and display these visual elements on customers' screens; and help us pass anti-spam filters.
Email weight
Keep the weight of email HTML code below 100 kB. If it exceeds this norm, email clients are about to clip your email and add a button "view entire message". Users don't usually have time to do that.
Given that an email client "cuts off" the bottom part of your emails, recipients may not even see the "Unsubscribe" or "Manage Updates" buttons when they feel like unsubscribing from you. As a result, they might mark your email as spam.
Alt text
The absence of alt text can be literally catastrophic for an email and damage your sender reputation.
Because when an image has not loaded yet, or a user has blocked the display of images for their inbox, the alt text tells the subscribers what that picture is all about.
Moreover, the alt text performs one more useful mission — it helps your emails to pass email spam filters.
Did you know that all modern email service providers scan emails for the very alt text as they cannot "read" the images? If there's no alt text detected in your newsletters, different email service providers may consider it spam.
Your newsletter emails with this feature are likely to pass those filters and lower your sender score.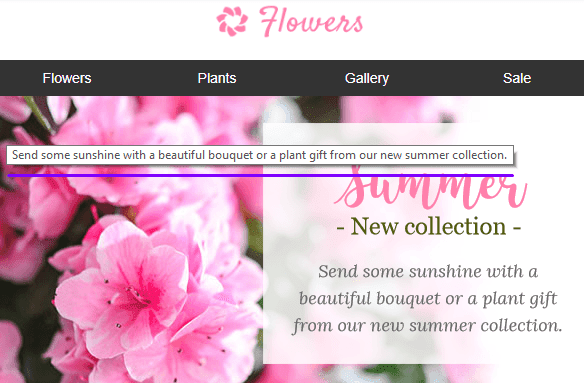 Keep calm: you can easily add them to images with Stripo. Once you've uploaded your image, in the settings panel you will be asked to enter your "Alt text".

Broken links
Google says that broken links may not cause any harm to your business, or affects email deliverability. Ok, let it be so. Yet, they cause frustration and can be really annoying. When clients click the magic button to get from an email to your website or read detailed information on a specific topic and see "error 404", they are unlikely to trust you any longer and are pretty much likely to mark spam emails and send them to spam folder.
So one of the best practices in email creation is to check your email links before sending emails to your audience. Definitely, if your marketing emails are short, you can test all the links manually by yourself. In case the email is too long and contains a big number of links, you should use special spam testing tools. They check your emails for broken links, as well.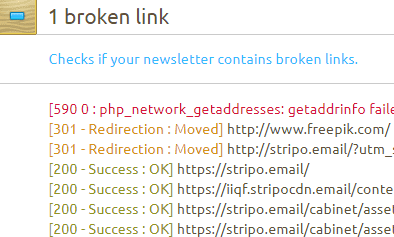 Attachments
The attached files are another point that can give you serious email deliverability issues. If you are used to attaching to your email campaign various documents with additional information, and special coupons then stop doing it.
Attachments not only mean the email takes longer to load, they often result in a soft bounce of the email or spam folder.
One of the best practices to get out of this problem is to create a separate landing page with this content, which will be linked-to in your email. Meaning, users will be just redirected to a necessary page for more information. This way you won't need to attach any files, the email will load quickly for recipients and you will get rid of email deliverability issues.
Inactive subscribers
Inactive subscribers are another aspect that negatively impacts email deliverability and can cause it to end up in the spam folder. Some subscribers will be inactive no matter how often you access their mailbox.
One of the reasons for this behavior may be a banal change in the user's email or a loss of interest in your content and business in general.
As a result, you must filter your subscribers in order to avoid poor email deliverability. All subscribers who have not interacted with your email campaign for at least six months should be considered inactive. Your email marketers must monitor this aspect and all these email addresses should be removed from your mailing list immediately in order for the next email campaign to be sent to an active audience without soft bounce.
This email marketing approach is on the list of the best practices for creating successful email campaigns. It will help you understand the real number of active business customers, avoid soft bounce and significantly improve email deliverability.
Spam-proof domain reputation
Now that you know the ways to avoid spam filters by creating proper email campaign content, I want to remind general yet highly important metrics that help your emails pass the spam folder.
Brand identity
Brand identity? Yes, your brand logo, company's name, and the sender's ID. I would like to start with this feature.
Some time ago I read on the web, that if the company name is made up and there is no such word in the dictionary, your email message might not pass spam filters.
I contacted our ESP, and they conducted research. So, the expert answer is: if the company's name is mentioned as the sender's ID, and this name is registered as a domain, there won't be any problem at all.

This is my favorite logo and company name combination: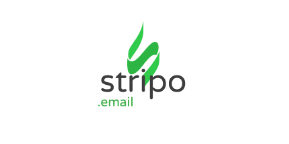 When a company becomes as famous as Nike, only logo may remain in its emails ? 
Don't hesitate to use your company's logo and name. Subscribers need to get used to your brand.
Double opt-in
Once you get a new email address from your offline visitors, or online ones, do not waste time — send an immediate request to verify the email address and to confirm consent to receive your newsletters. Implement double opt-in!
Firstly, double opt-in helps you stick to all the new GDPR rules as you will have a written consent given by your new subscribers. When needed, you will be able to show this proof. Secondly, when sending emails that request to verify e-addresses, you may notify your customers about how often they will receive your newsletters, and what it will be about. Thirdly, you check if the email address is correct and does not contain any typos. This means it will not go to "Black list" folder.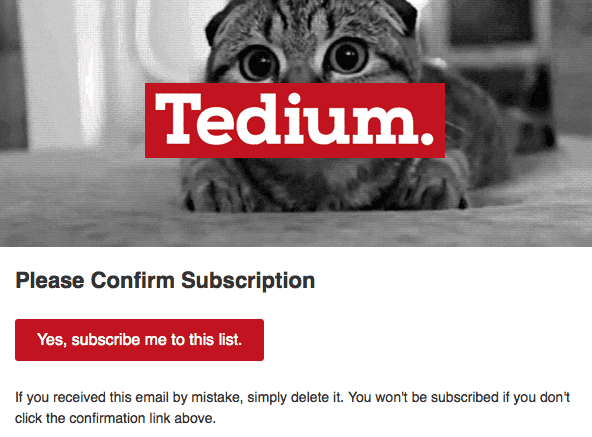 You can create e-address confirmation emails by using Stripo email templates.
Frequency
Emails that are sent frequently bother a lot. Emails sent seldomly allow the customers to forget you; and when you finally decide to remind people about yourself again, they may mark your message as spam, unless they are your staunch fans.
Case 1. Sending emails too often
Let's say you receive promo newsletters two-four times a week. Will you read them all? No, let me paraphrase… Will you like it? Definitely, no. In addition to it, you are about to get a few event-triggered emails the same day if you have bought something from this online shop. Sounds a bit irritating. That is why you should be looking for an ESP that provides the following feature: Annoyance level. eSputnik lets you set a desirable number of emails sent to a client per week. It is recommended not to overcome four.
This screenshot shows that I received 4 emails in four days from Adidas. I can tolerate this, however, the fifth one would certainly be superfluous.

Case 2. Sending emails too seldomly
Reaching out your customers too seldomly or not on a regular basis won't actually prevent your emails from going to spam either.
The best solution is sending them out on the same day of the week and at the same time. For example, every Thursday at 10 a.m. Make sure you are about to share some relevant information.
One of the several reasons why you don't send email newsletters on a regular basis yet is that you do not have enough time for creating new emails every time you are starting a new marketing campaign.
Stripo offers a solution — our Library of Content Blocks. You can save your footers, headers, menus, products' cards with replaceable links, etc. to it. This feature saves you tons of precious time. Whenever it comes to creating a new campaign, you just drag-and-drop this element from the library into your new email. Thus, it won't take you longer than 10 minutes to create a brand new professional email template.
For your convenience, you may name each of the blocks you save.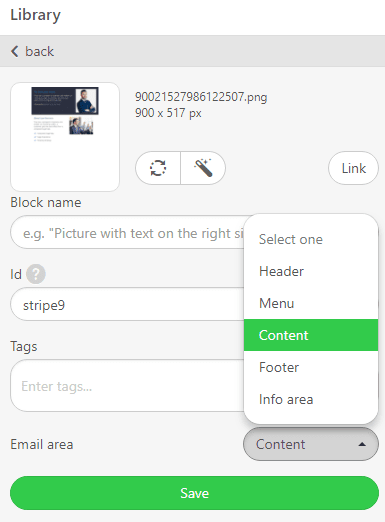 Domain reputation itself
All email clients work for their users. People choose the mail servers they trust. We rely and account on them. Thus, email service providers are supposed to protect us from emails that are sent by fishy senders.
And the first step for an email service is to make sure they transfer only legitimate emails. How can they be sure?
They judge by domain reputation. The latter depends on the number of spam complaints, which folder the emails are delivered to.
Approved senders list
This parameter has a rather strong effect on the sender reputation score. When new clients sign up, you can ask to add your store email addresses to their approved contact list, which will be on the main tab of their inbox providers.
If they add you to their contacts, it will help them and other subscribers see your emails and increase the number of emails delivered. By putting you on the allowed to receive list, this trust signal is automatically sent by inbox providers such as Gmail or Apple Mail, which lowers your spam score and increases your IP reputation. So if you want to have a good sender reputation score, send high-quality and only solicited emails.
Spam testing
Before sending emails out, always, please always! test them with an anti-spam tool.
It will give you a  total score, will show if all the links work, etc.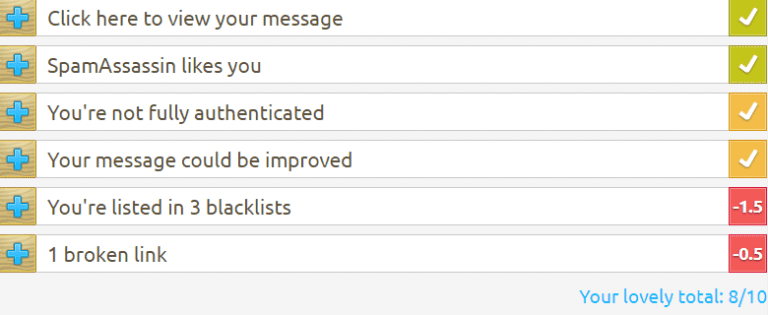 Summary
By sticking to these simple rules you can protect your emails from going to spam. And by only using our editor, you can decrease your spam rate by 23%.
In order to save you some time, we tested all our email templates. Their average image-to-text ratio is 70/30.
I sincerely hope all your emails will reach their goals, get into the recipient's inbox folders avoid spam folders and customers will enjoy reading them. And while you're avoiding spam and increasing email deliverability with email marketing platforms, you need special ones to create emails.
Stripo is an email design platform made to help you create unique emails with high email deliverability using no code if you will. And all this is wrapped up in convenient export options and a library with more than 1000 email templates for any occasion.
Create first-class emails for your email campaign with Stripo