September is a time of flux. The Labor Day weekend signals the end of summer, with fall wardrobes to the fore.
Students are back at school and university.
The new NFL season kicks into gear.
And it also marks the end of Q3, bringing an upturn in retail spending that traditionally keeps on climbing until the new year.

For brands, a strong September is about building momentum toward a strong Q4—and, hopefully, a spectacular ecommerce holiday season.
To drive the results you want to see in September, you need to nail every element of your marketing strategy.
Naturally, email marketing is an important component for many brands. According to one source, the average retailer generates 27 percent of their total revenue from email, with the largest brands achieving ​​an average revenue per recipient of just over $0.20. 
So a brand with a 50,000-strong marketing list could expect to earn about $10,000 in revenue per email campaign. Not bad.
But email marketing success doesn't happen by chance.
You need a constant stream of strong ideas and engaging content.
To help you out, I've compiled some of my favorite September newsletter examples.
Feel free to use them as inspiration for your own campaigns.
Example #1: Extend Your Labor Day Sale
I've got good news and bad news.
The good news is that Labor Day—AKA the first Monday in September—is a huge opportunity to drive sales.
Adobe Digital Insights found that Labor Day 2018 saw sales of more than $2 billion, of which roughly one-third came from email marketing—more than any other channel.
The bad news is that if you haven't already rolled out your Labor Day email marketing campaign by the time September comes around, you've missed the boat. Your competitors will likely have been promoting Labor Day messaging for a couple weeks by now.
However, that's not to say you shouldn't mention Labor Day in your September newsletters.
Quite the opposite; you've got one final chance to give your campaign a push before the big day passes you by.
One smart tactic I've seen a lot of brands adopt is to extend your Labor Day sale beyond the weekend itself, like KitchenAid does here: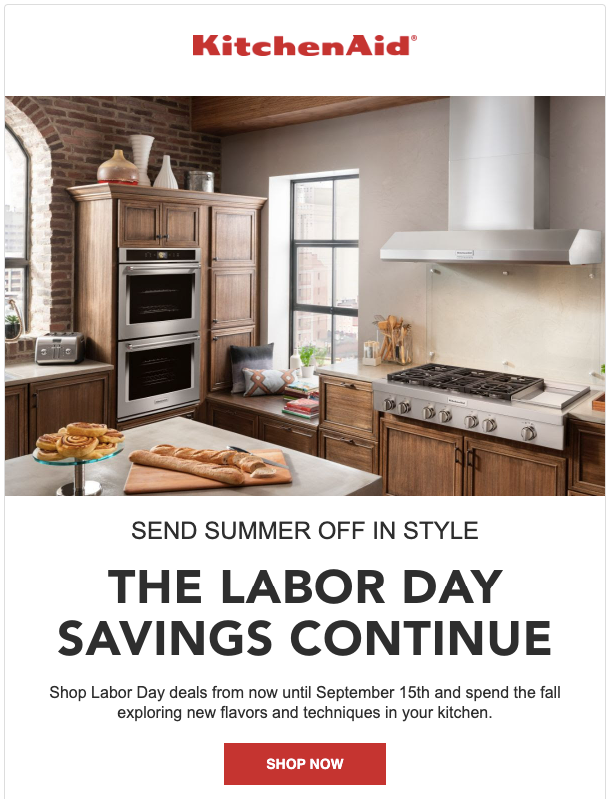 Admittedly, stringing a Labor Day sale out until mid-September is a pretty lengthy extension.
But why not? 
If you get your discount strategy wrong, you risk damaging your brand. Klarna found that 25 percent of consumers are less likely to regularly shop with retailers that always run sales, while 38 percent believe constant sales make brands look "cheap and unfashionable".
So it makes sense to run a longer sale, rather than dropping a separate promotion a week after your Labor Day event comes to an end.
Example #2: Push Fall Products
Chances are, you've already started promoting your fall catalog in your August newsletters
Now's the time to ramp up your activity in this area.
Not only should you be using fall-friendly messaging and visuals, but you should also promote specific fall products. The sort of stuff that no one in their right mind would buy at the height of summer, but that comes into its own when the colder months come around.
For instance, Google Trends data shows that searches for trench coats start to peak around September every year, before reaching their zenith in late October and early December: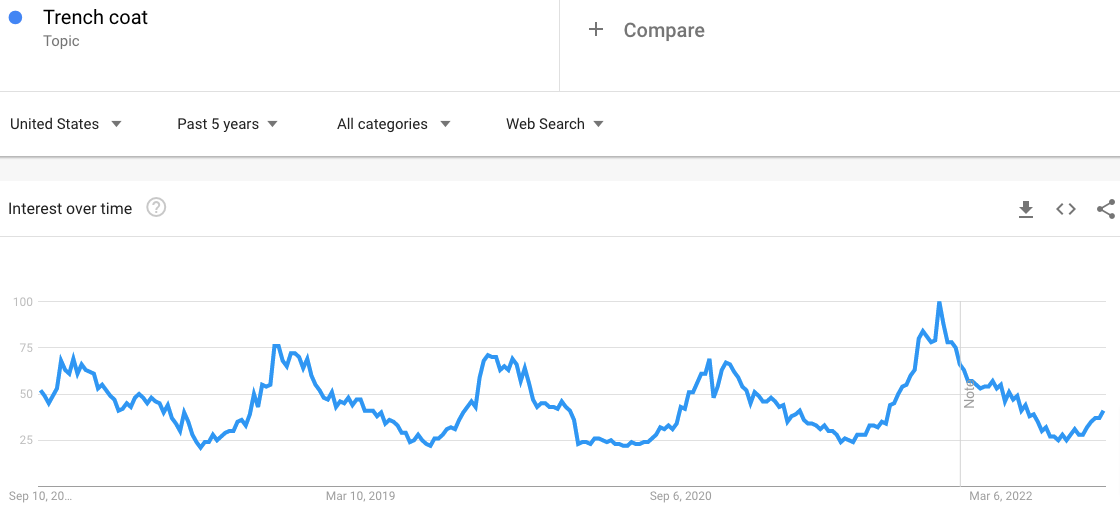 Banana Republic evidently understands this, creating an entire email dedicated to its new take on the classic trench: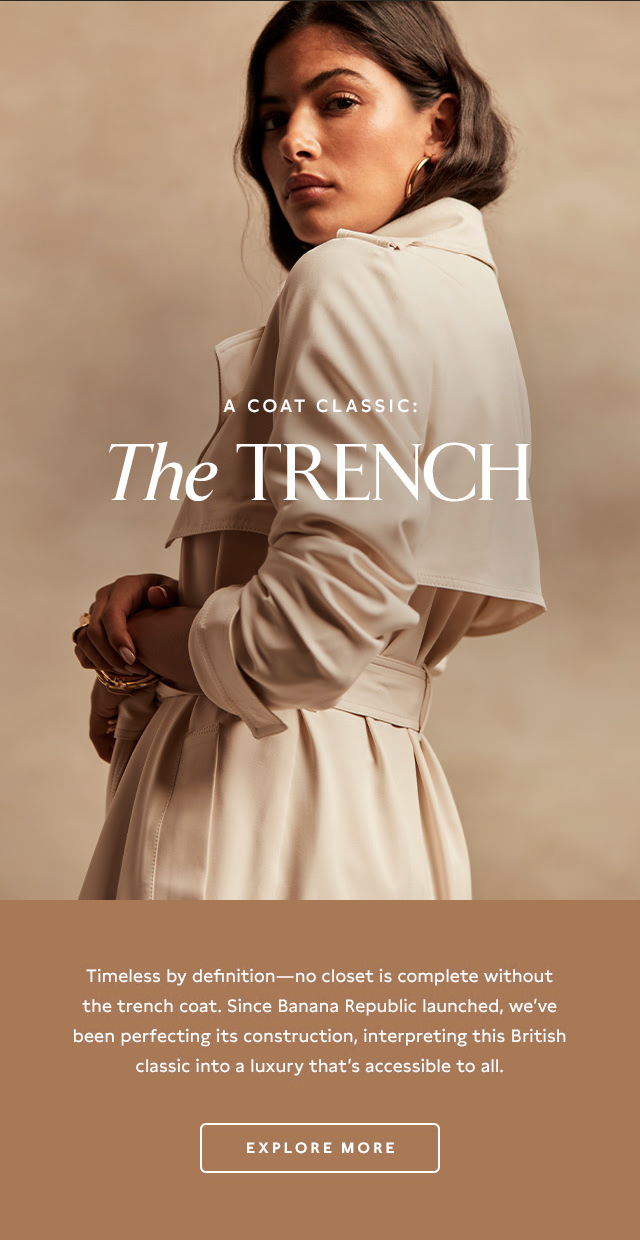 I particularly like the soft-touch copywriting on display here.
It's positioned as educational content, giving customers an opportunity to learn how Banana Republic has interpreted the trench coat.
The call to action to "Explore More" is a whole lot more compelling than a simple "Shop Now" CTA.
Example #3: Give Customers a Sneak Peak At Winter
I know, I know.
Fall has barely begun. Feels like only yesterday you were barbecuing on the beach wearing shorts and sandals.
But winter is coming.
Diving back into Google Trends, we can see that searches for "winter fashion" start to climb from their summer slump as early as late August, before peaking in mid-December: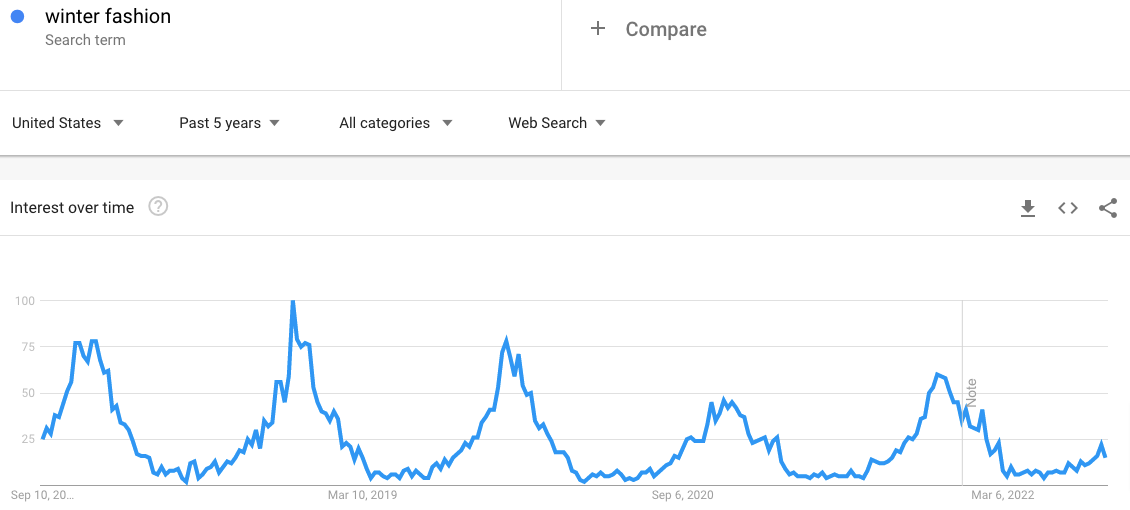 I'm not suggesting you should be showcasing wooly jumpers and cozy fleeces pre-Labor Day, but mid-to-late September is definitely fair game for a spot of winter marketing.
Rockets of Awesome leans into this with an email sent in late September promoting its winter collection: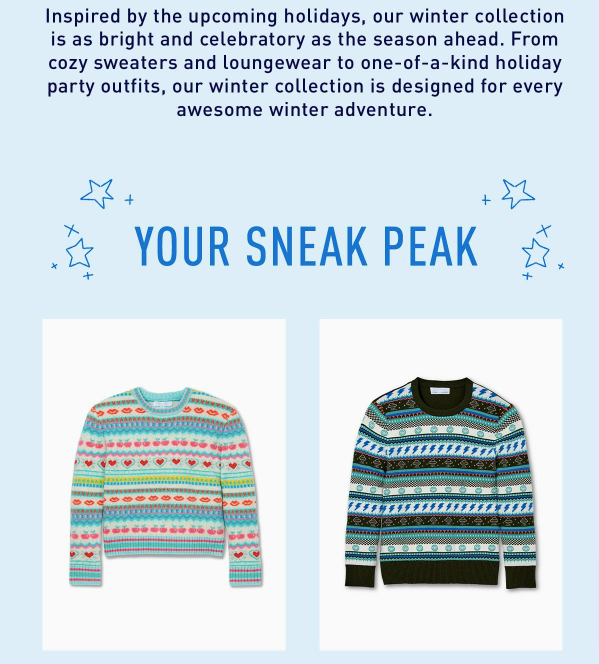 For me, this email strikes exactly the right tone.
Perhaps it's the Scandinavian in me, but I think the coldest season is something to celebrate, rather than endure until spring arrives.
And a burst of positivity that gives people a reason to look forward to winter is more likely to put customers in the buying mood.
Example #4: Push Pre-Fall One Last Time
September is kind of like that spot in Northern Arizona where four states intersect.
It's the meeting point for summer, fall, and that weird mini-season that the fashion world likes to call "pre-fall".
For obvious reasons, few—if any—brands are still going to be pushing their summer collections in September.
But you've definitely got one final opportunity to showcase your pre-fall merchandise.
Allbirds takes advantage with this early-September newsletter example: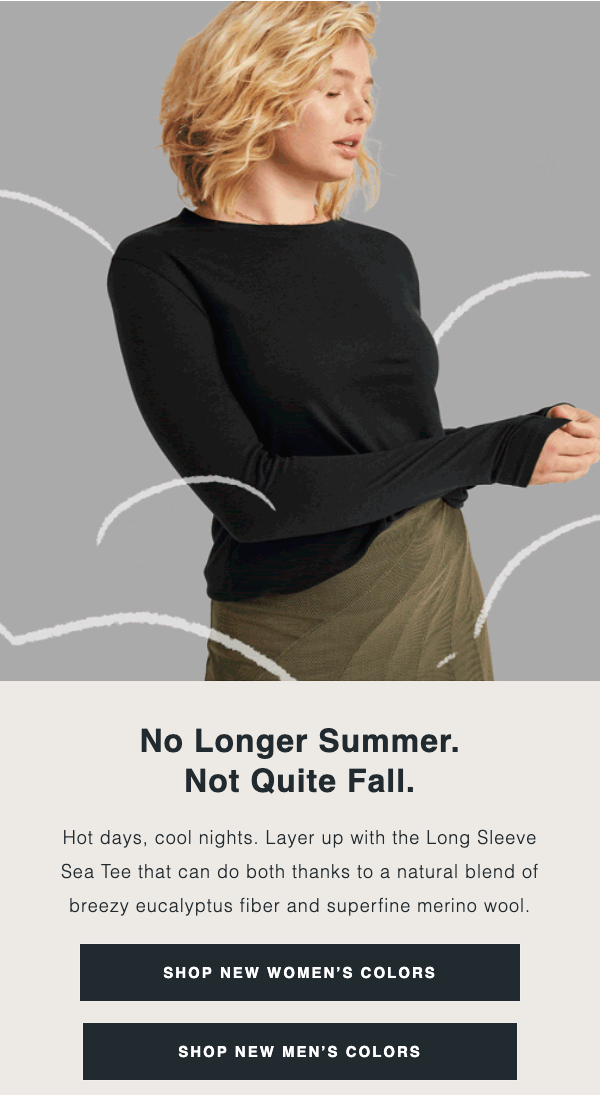 I like how it leans into the betwixt-and-between feeling you get at the start of the month, when summer is a recent memory and fall is yet to fully arrive.
Of course, this isn't just a chance to show off your email copywriting chops. It also helps you drive last-minute sales on your pre-fall collection.
That's definitely a good thing, because you don't want a bunch of leftover products clogging up your warehouse all winter.
Example #5: Offer Wallet-Friendly Recommendations 
The combination of rising energy prices and the global pandemic has made us all a lot more money-conscious.
According to the Affirm Consumer Spending Report, the average US consumer worries about money six times a day.
This attitude is reflected in our search behavior, with Google Trends data showing that searches including the phrase "under $50" have steadily increased in recent years: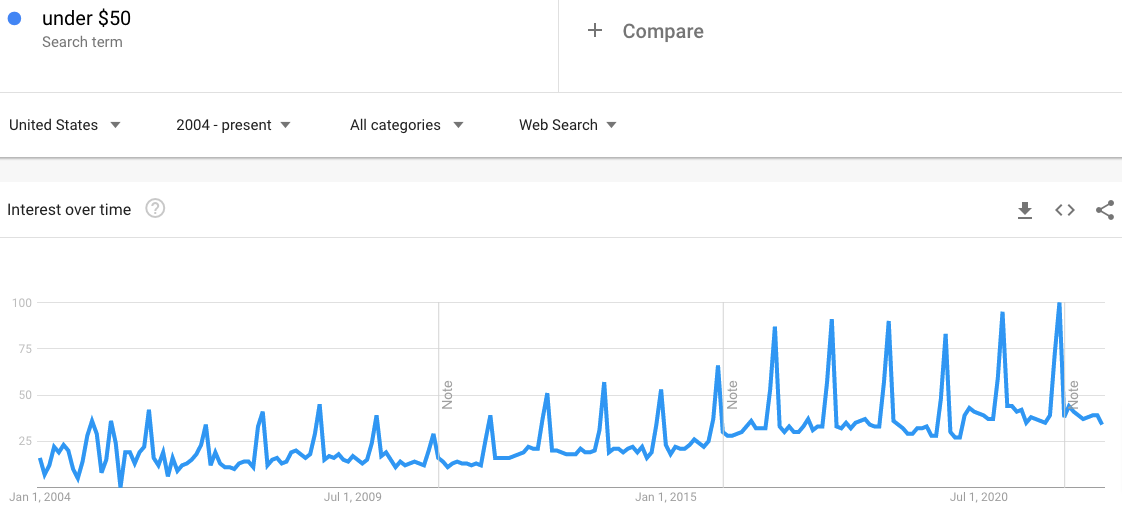 Many retailers are tapping into this growing trend in their email marketing.
And with search activity typically rising toward the end of the year, September is the perfect month to incorporate it in your campaigns.
That's exactly what Forever 21 did in this email newsletter, sent in September 2021: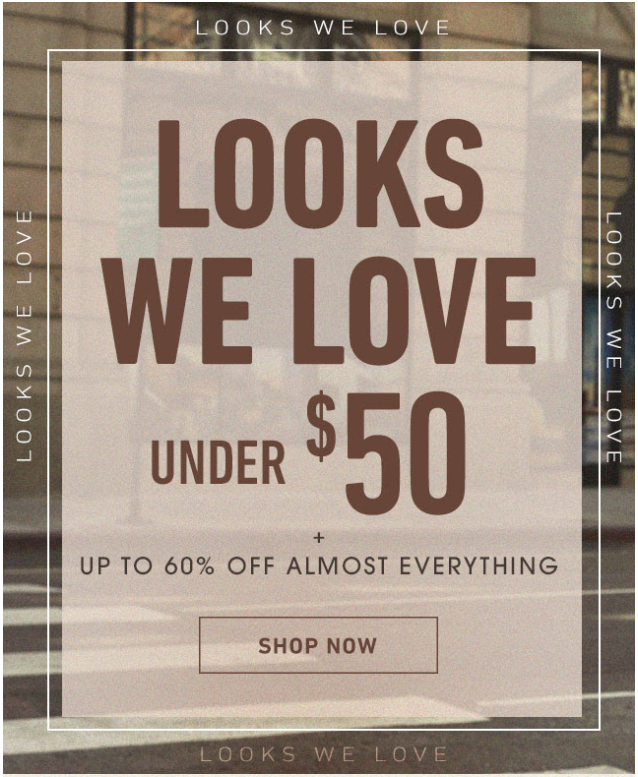 Product recommendation emails are always an effective tactic, because they come across as advisory rather than salesy. So it feels like less of a commitment to open them.
And when you know all the recommendations are going to be affordable, that gives you an extra incentive to click.
Example #6: Embrace Routine
As I've already noted, for many of us, September is a return to routine.
With the summer holidays over, it's a case of getting back to the grindstone—whether that's school, college, or the office.
Which gives brands another valuable trend to lean on in their September newsletters.
Apothékary shows us how it's done with an email newsletter that leans into the return to routines.
As is the case with all the best email marketing examples, it starts with a strong subject line:

In four words and two emojis, Apothékary spells out what the email is all about. If that's a message that resonates with you, there's a good chance you'll open it.
But winning the click is one thing; driving the desired action from your customers is a whole other issue.
Apothékary gets it right by continuing the return to routine theme throughout the email body, incorporating lots of positive messaging: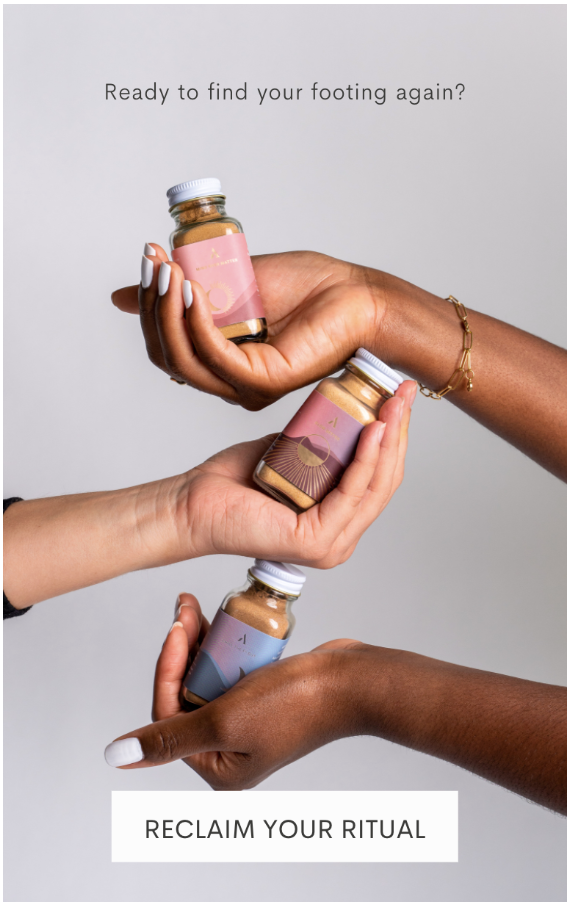 This is another example of a creative CTA that inspires action.
Sure, there's a time and a place for "Shop Now". But "Reclaim Your Ritual" is a far more powerful and compelling message, and it's a perfect fit for the wider campaign.
Example #7: Stand Out With Fall Emojis
Every marketer is looking for ways to improve email open rates.
On an email marketing list of 10,000 people, a one percent upturn in open rate means an extra 100 people reading your emails. That's another 100 opportunities to sell something.
Which is why I'm always talking about email subject lines.
The better they are, the more people will open your emails. It's that simple.
A strong subject line stands out in a busy inbox. For that reason, many brands have seen success by sprinkling their subject lines with emojis.
Admittedly, emojis aren't for everyone. But when used wisely, they can turn an otherwise ordinary email subject into an eye-catching, must-click statement. Indeed, research from one study found that brands using emojis see a 56 percent upturn in unique open rates.
EyeBuyDirect understands this. See how these three emojis elevate a simple, question-based subject line:

Not sure if emojis are the right approach for your brand?
There's a simple solution: A/B test it.
Split your list in half. Send two email variants using the same subject line, but add emojis to one. Then see which one generates the higher open rate.
If emojis win, use them a whole lot more.
Example #8: Support a Monthly Cause
Okay, I'll level with you: this example isn't specifically September-related.
It just so happens that the brand in question, 40cean, sent this email in September. And it caught my eye, so I'm sharing it with you.
First, some context.
There's lots of evidence to demonstrate how much consumers—and particularly those in younger demographics—want to buy from brands that support causes they agree with. 
One study found that 83 percent of Millennials say it's important for the brands they buy from to echo their values and beliefs. 
Another revealed that Millennial and Gen Z-aged customers are significantly more likely to consider environmental, social, and governance-related issues in relation to: 
Brand trust
Brand advocacy
Purchasing decisions
In other words, it's no longer enough to bury your head in the sand and say: "We're just a brand selling a product, nothing else concerns us."
If you're not prepared to take a stand about the stuff that drives you, consumers are going to look elsewhere.
Which brings us back to 4ocean. It champions a different "cause" every month. For instance, in September 2021, it pointed customers in the direction of Hawaiian coral reef conservation: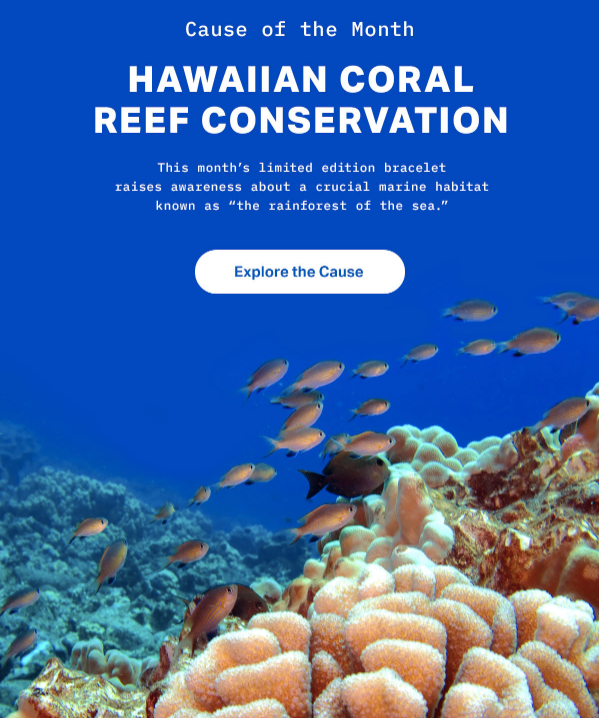 The important thing to note here is that 4ocean sells bracelets sold from recycled materials, so coral reef conservation is a natural fit for the brand.
If you're going to back a cause yourself, make sure it aligns with your brand values and beliefs.
Otherwise you risk looking inauthentic and cynical.
Example #9: Use Evocative Language
Whether or not they've heard of legendary salesman Elmer Wheeler, everyone  knows the phrase: "Sell the sizzle, not the steak."
It all boils (or should that be sizzles) down to the fact that people aren't innately interested in products. They're interested in meanings and outcomes.
Uniqlo has clearly bought into that message, as demonstrated by this September newsletter example: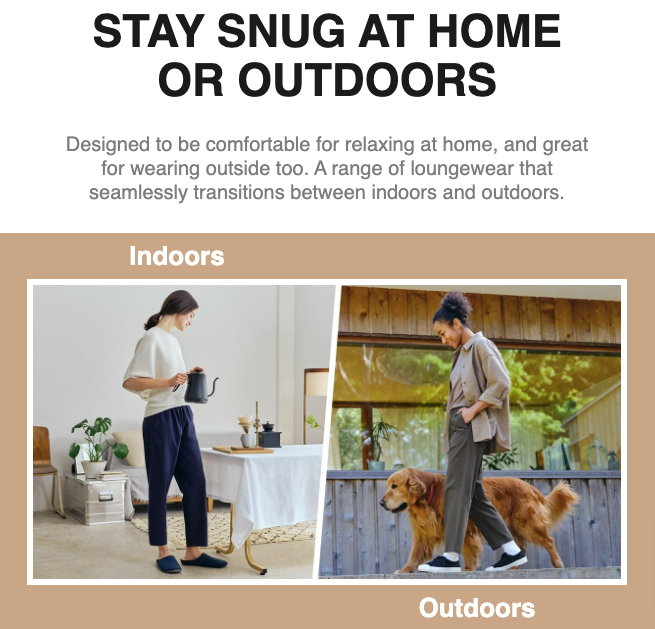 The easy, unimaginative approach to this email would be something like: "Shop our new loungewear collection."
Uniqlo takes a different tack, choosing to emphasize the feeling of snugness—which many of us look forward to after all those long summer days.
Send Better Newsletters, Now, With Drip
If you're like most marketers we speak to, you'd love to spend less time "doing emails", and more time building stronger, more profitable customer relationships.
Drip can turn your email marketing dreams into reality.
Our library of pre-built templates makes it quick and easy to craft stylish, eye-catching emails.
And you can still sprinkle your own particular brand of stardust on them with our intuitive point-and-click editor. Or if coding's your thing, flex your creative muscles in our HTML builder.
Sounds too good to be true?
See for yourself by signing up for your 14-day free trial.