Email marketing is an incredibly important aspect of running an online business today. And, while it won't have a direct impact on your search engine optimization (SEO), it can have some knock-off effects that will.
SEO involves taking steps to give your website the best possible chance of ranking well on relevant search engine results pages (SERPs). If you rank highly for queries relevant to your work, you'll drive more high-quality traffic to your site and improve your bottom line. 
So, in this article, we're going to outline how email marketing can give you an SEO boost. Let's get started!
It will send qualified traffic to your website 
One of the main benefits of email marketing is that it can send a lot of traffic to your website. And, more specifically, it can send a lot of qualified traffic to your website, meaning you'll get website visits from people who are likely to make a purchase with you. 
One of the best ways to ensure that you drive qualified traffic to your website is by making sure that your email is personalized for your recipients. This is something that consumers tend to expect now, making it even more important that you incorporate an element of personalization into your campaigns.
Here are a few different ways that you can personalize your email marketing:
incorporate the subscriber's name into the email or subject line;

use email segmentation to tailor the content to a particular user's interests;

send out reminder emails after website visitors abandons their carts;

give them tips and tricks to use the products or services they purchased;

suggest products or services relevant to their interests.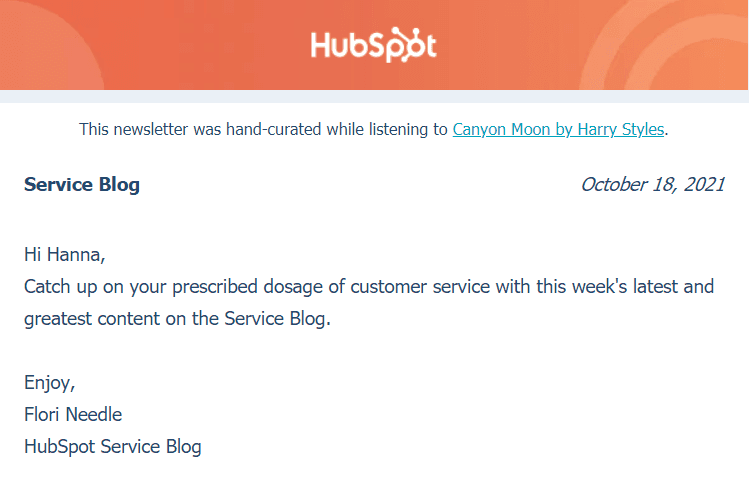 (Source: Email from HubSpot)
Sending qualified traffic to your website can be great for your SEO. This is because drawing the right people to your website will help ensure that these people click around and make purchases — Google will take note of this and give you a boost on related SERPs.
It can improve your on-site engagement 
If you're able to attract people to your website by linking to helpful tools and resources, you can improve your website's engagement rate. When this happens, Google and other search engines will recognize that your website provides value to the user and give you a boost on the SERPs as a result. This means that including helpful tools, interactive content, quizzes, and the like in your email newsletters can help you boost your SEO.
For inspiration, let's look at the example below: A business has helpful and engaging content on its website — linking to similar content in your email newsletters can work to improve your SEO.
(Source: Looka)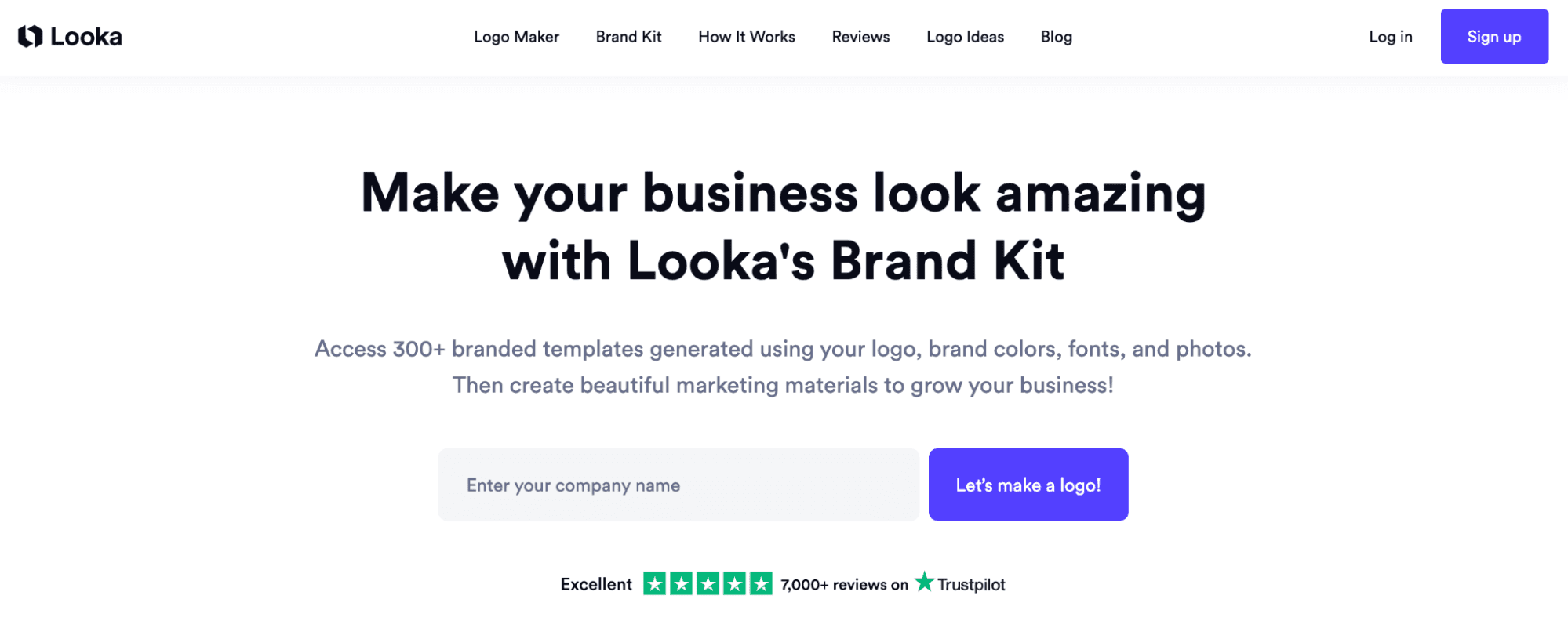 Looka, an online logo maker, has created a brand kit that's great for improving on-site engagement. When users arrive on the website, one simply plugs in their company name and the brand kit designer uses AI technology, as well as industry information, to design the perfect brand and create a logo. It's an entertaining process that works well to keep the website visitor engaged! Looka could promote this tool in their email newsletters in order to draw people interested in this tool to their website. Not only will this help Looka get more potential customers, but it will boost their engagement rate and their SEO.
In your emails, think about what on-site tools/products you can promote. Creating interactive content that will help your customers find solutions to their problems will help you improve your website engagement and raise your SEO.
You can turn your high-performing emails into on-site content 
If you find that some of your marketing emails perform particularly well, you could consider repurposing them as on-site content. 
Content marketing is a huge part of a solid SEO strategy. When you write high-quality and helpful content, not only will you build trust with your target audience, but Google will take note and give you a boost on the SERPs as a result. If people on your email list have enjoyed the content you send them, people using search engines to learn more about your field might be interested in the same information.
When you're deciding what content to repurpose, start by looking at your email data to see which newsletters have been the most successful. Obviously, promo and sales emails won't work as blog content, but take a look at your metrics and see if any informational emails of yours did particularly well or led to website clicks. Step-by-step guides and infographics are a couple of different examples of email marketing that can work well as website content. 
When repurposing your emails for your website, don't be afraid to go into a bit more detail in order to better help your website visitors understand the topics you're writing about.
You can use your email marketing to encourage social shares 
Google has denied that social media shares and interactions directly influence a website or content's rankings on the SERPs. But there is evidence to suggest that there is a correlation. In fact, Hootsuite has even conducted a study outlining how social media impacts SEO. They noted in their results that consistently creating high-quality content and getting it shared can help boost your ranking on the SERPs. 
Here are just a few ways that social shares can have an impact on your search engine rankings:
the more people see your content, the more likely it is that someone will link to it, which directly impacts SEO;

as your brand is mentioned more online, you'll boost your reputation, showing Google that you're authoritative and trustworthy, boosting your SEO;

social shares can increase your brand recognition, building trust with your target audience, and boosting your SEO;

social media posts and shares can increase your organic traffic, which can also improve your SEO.
Encourage people to share your content on their socials through your email marketing. If you're creating good stuff, you'll likely get people to share it organically, but there are ways to help encourage the process, as well. For instance:
partner with influencers to promote your content, adding images of the influencers using your products to your newsletters. Their followers and fans might share your work as a result;

run a contest and advertise it in your newsletter! Enter the names of everyone who shares your work into a prize draw to incentivize them;

simply ask your newsletter subscribers to share your content.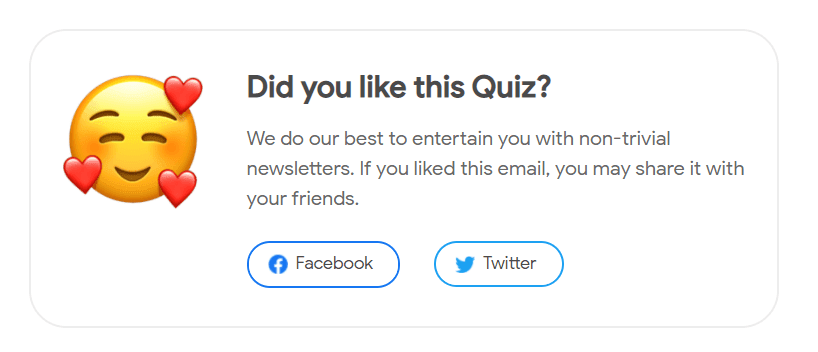 (Source: Email from Stripo)
Implementing these tactics will help you get more social shares, and there's evidence to suggest this could have a positive impact on your SEO.
Want to add the "Share to social media" buttons in your emails? Please, find the manual in the post below:
Final thoughts
In this article, we outlined how email marketing can help improve your SEO, including by helping you get more social shares, helping you promote your high-quality content, improving your on-site engagement, and more. 
Implement these ideas in your emails right away