Email has been and still is the most powerful marketing channel available for marketers. 
However, your success in email marketing depends on many factors, and send time is one of them. 
So, we're gonna show a few ways that will help you determine the best send time so that you reach out to your contacts when they are more likely to open your emails.
How to determine the best send time for your newsletters 
Way 1. Follow the best practices 
Most studies show that sending emails on Tuesday, Wednesday, or Thursday around 11 am is currently the best practice for most businesses. 
We do not recommend sending on Monday, because people are catching up on work from the previous week and on Fridays, people are finishing projects and may ignore emails.
Weekends can be hit or miss since some people do not check their emails over the weekend, while others like to catch up over the weekend. It might be worth trying some sends on the weekend to see how they perform, but results might depend on your industry or type of Business.
Way 2. Consider geographical location
People live in different time zones, so we need to target them based on location. You need to find out your contacts' geographical location and segment your contacts accordingly.
Currently, you can find out the country of residence and time zone of your subscribers with the help of third-party tools or you can ask users about the state of residence in a subscription form.
So as a marketer you need to obtain as much direct data from your subscribers as possible. 
You can also use surveys to gather more information about your subscribers. Simply inform them that the data will help you send better, more relevant information. If needed, incentivize the subscribers to take the survey.
Ways 3 and 4. Try A/B testing or analyze send data
Two other ways to determine when people are likely to open your email would be to use A/B testing and then analyze your send data.
By sending an email to a portion of your list at one day and time and using the same email to send to another portion of your list at a different day and time, you can look to see which one performed better. Of course, all tests are not created equal, so results will vary.
To analyze your send data, use a pivot table to chart when people are engaging with your emails by day, time, or both. By looking at the concentrated opens or clicks on a specific day or time, you can see where the sweet spot might be. Do not forget to look for anomalies in your reports that may help identify other opportunities to send emails!
Way 5. Use artificial intelligence tools
I saved the best strategy for last! To find the best time to send an email to a subscriber, use AI. 
With iContact's Smart Sending feature that is included in workflow automation, your email will be sent to each subscriber based on their previous email engagement!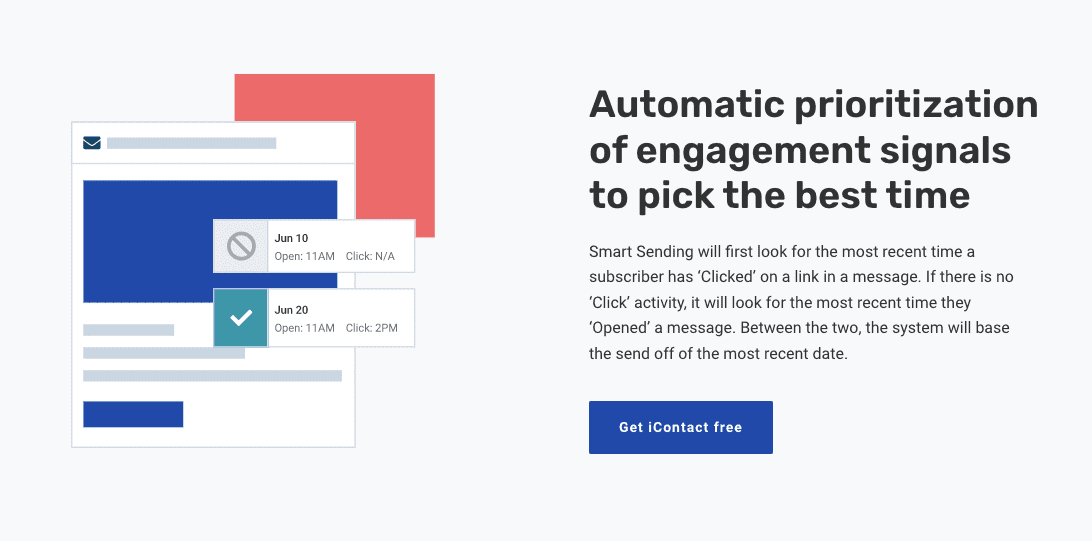 Simply create a workflow and let AI take over. The system will continue to learn the engagement habits of your subscribers and send them when they are more likely to open! 
Wrap up
Either let AI help you, or manually test day and time.
No matter what method you decide to use, make your emails matter by providing value and engaging content to your subscribers.
Build powerful emails with Stripo in no time