Hosting charity events and fundraising are great ways to support those who are in need. Developing an email campaign for such needs requires a special approach. In this article, we will take a closer look at the types of non-profits email and also highlight some examples of charity emails that you can use.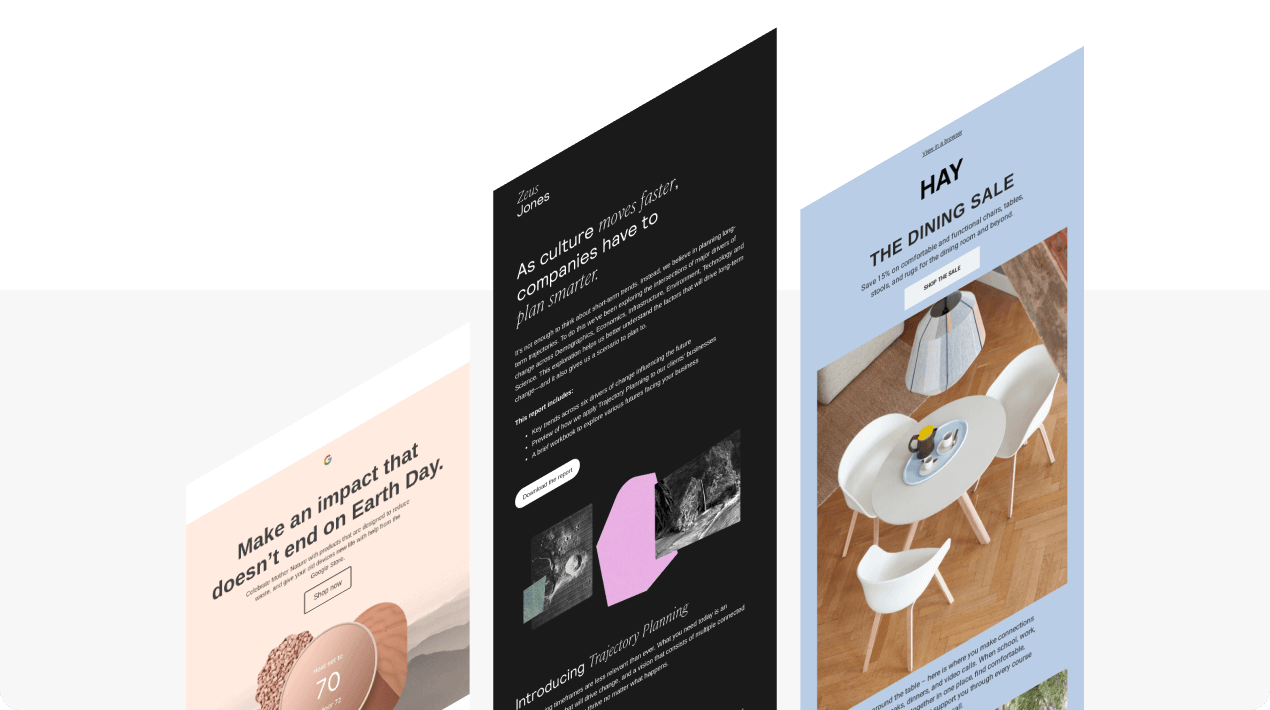 Stripo provides templates for non-profit organizations and charities to leverage your email design process
Seven types of emails for non-profit organizations
There are many charity organizations in the world that operate in various areas of life. However, their newsletters can be one of the 7 different types of emails for non-profit organizations.
Type 1. Welcome emails
Before you ask your audience to donate an amount to charity, you must introduce them to your organization. Tell us about the organization's history, what it does and what it strives for. This way, the recipients will know that they will donate to a real company that solves the pressing problems of the world.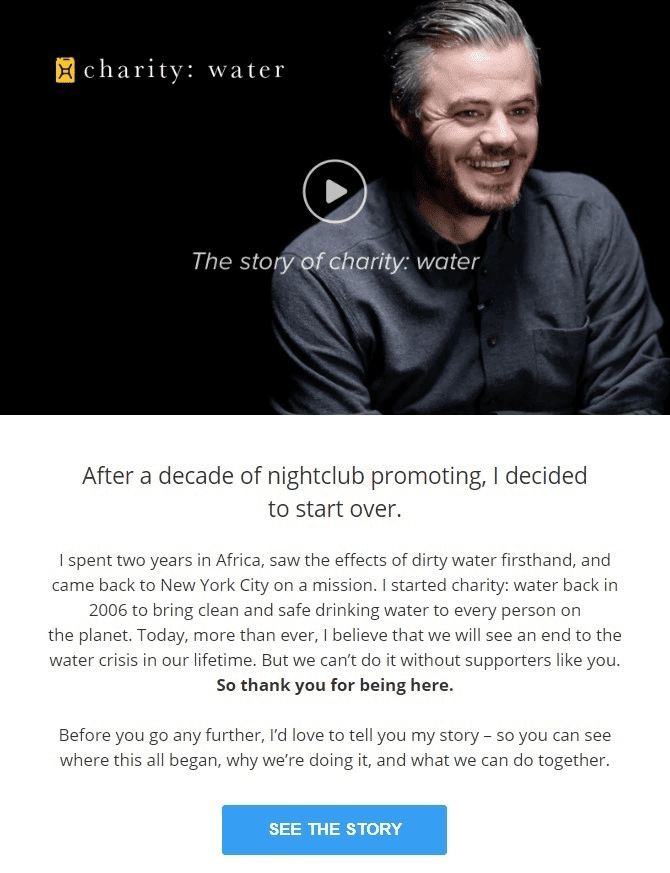 (Source: Email from Charity: Water)
Type 2. Emails to explain the problem to a wider audience
The next type of email that marketers might think of are the good old newsletters designed to highlight a particular issue to as many people as possible.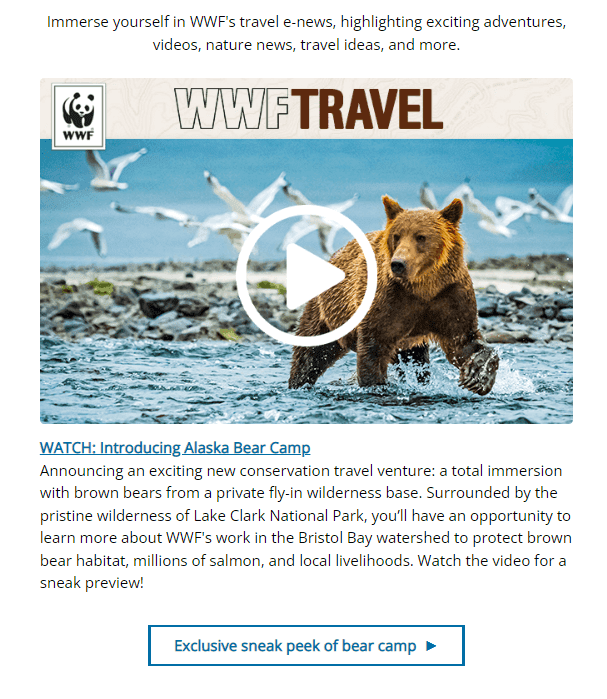 (Source: Email from WWF)
Type 3. Reports
Do you want to surprise your recipients with the numbers and success of your charity? Use this type of email where you can talk about the results of donation collection. Such email reports can be made for any period of time (quarterly, semi-annual, annual, and so on). In addition, you can further push for even more active donations, thanks to calls to double or triple the total amount.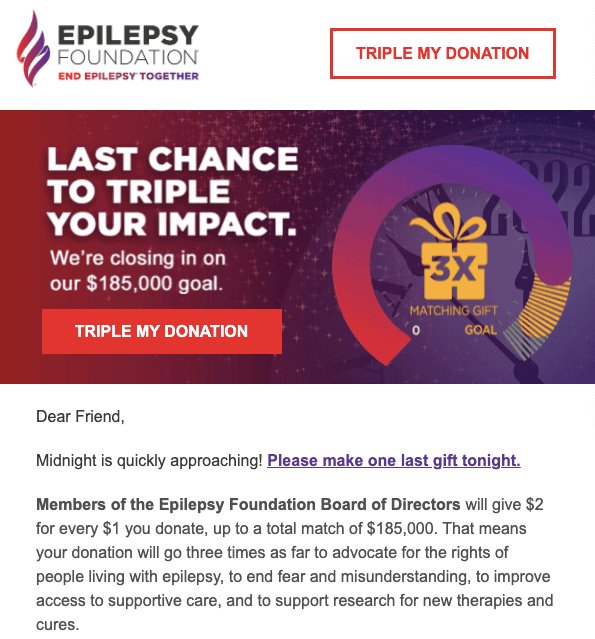 (Source: Email from Epilepsy Foundation)
Type 4. Thank you and update emails
If your non-profit organization is already receiving donations and other support, you should show your gratitude and that every contribution is appreciated and noticed. You can use a similar email format to show those who donate the results of their actions and thereby encourage them to continue to fight the problem through donations and other approaches. A thank you note should be sent immediately after the first donation. You can also come up with different variations of emails depending on the donated amount, how long the person remains a contributor, and much more. This will provide a more personalized approach to every caring person.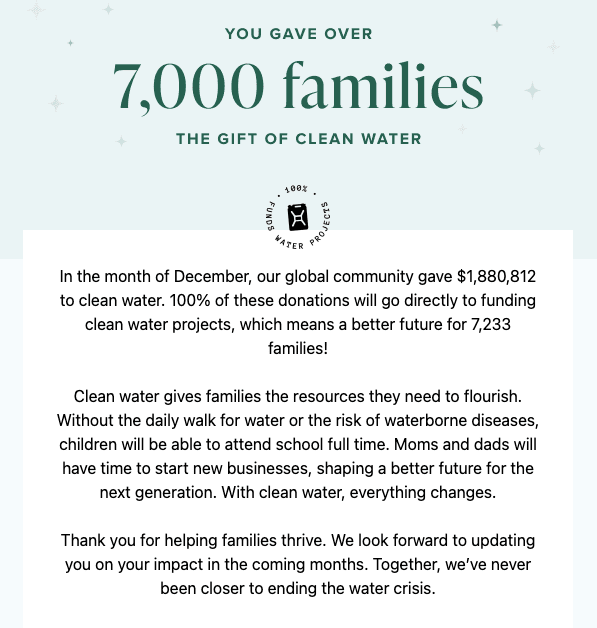 (Source: Email from Funds Water Projects)
Type 5. Surveys
In addition to simply requesting a donation, you can conduct your own survey among your recipients. This will help you better understand your audience, and the recipients themselves will better know the opinion of the majority on a particular issue. For example, you can conduct a survey about your favorite pet: a cat or a dog. After that, you can ask to support these pets with donations to various animal shelters and so on.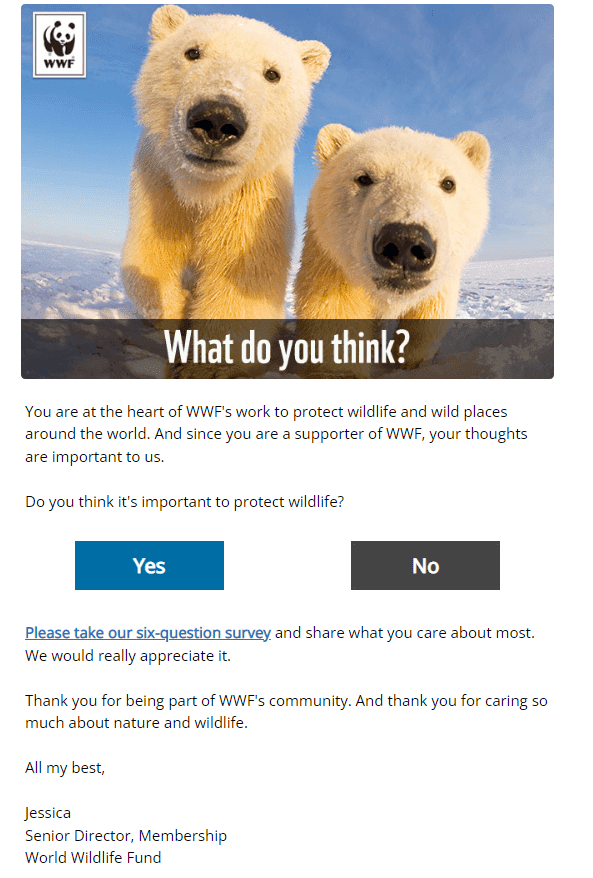 (Source: Email from WWF)
Type 6. Storytelling emails
Another way to involve caring people in solving the problem is to talk about your current successes as well as famous people or companies that already support you. If you are helping some specific individuals, you can take an interview, and the more detailed and inspiring it is, the better. In this way, you will provide recipients of the non-profit email with a clear picture that your non-profit organization affects the lives of real people and changes them for the better. If this is a donor, tell the person's story and why he or she came to you. If this is a beneficiary, describe how your organization has positively influenced this person and so on.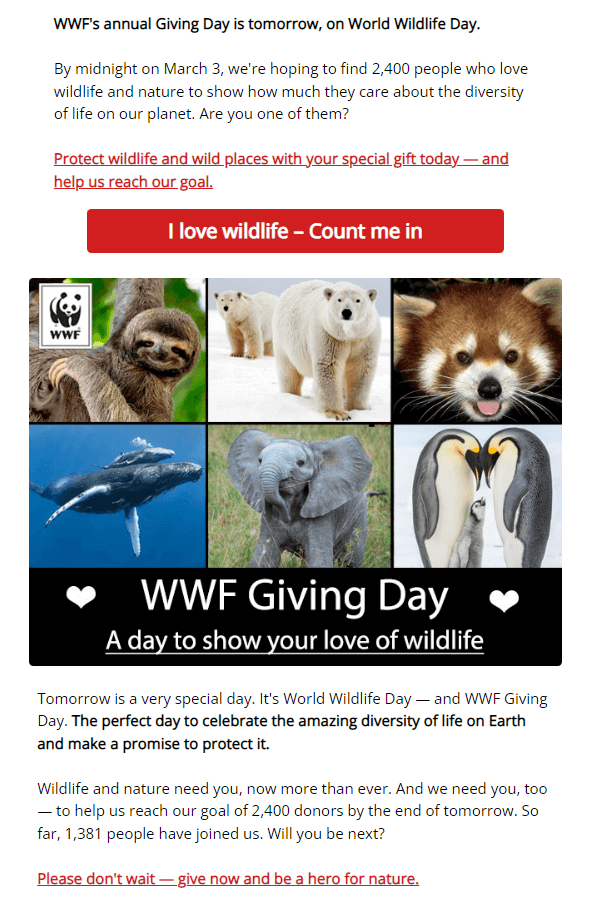 (Source: Email from WWF)
Type 7. Emails for special occasions
The last type of charity email marketing to talk about is an informational newsletter designed to notify recipients of a special day that is relevant to your activity. In the world today, there are many different holidays and special days that can be covered in an email newsletter and which will definitely be associated with the activities of your non-profit organization. Such emails are great for getting your recipients interested in a particular event and drawing attention to your activities. It's also a great idea to collect relevant ways in which recipients will join in the celebration of an event.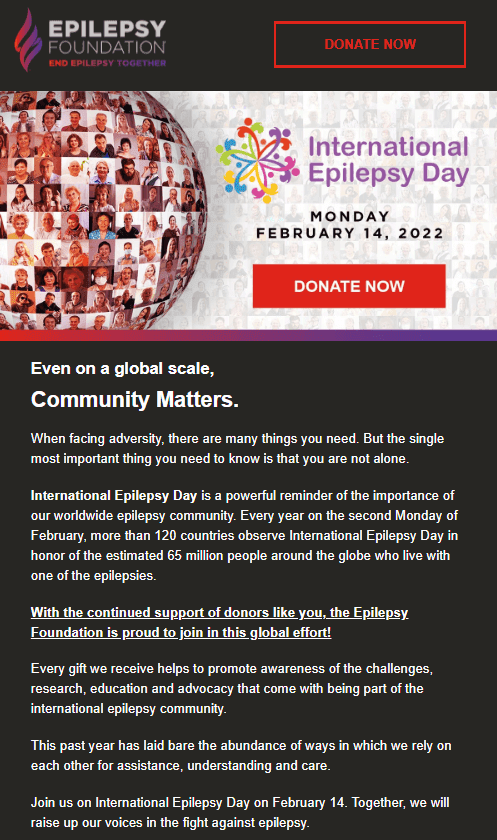 (Source: Email from Epilepsy Foundation)
Charity email examples
So, we have discussed the main types of non-profit HTML email types, and now it's time to look at real examples of such emails from well-known charity and nonprofit organizations.
Care Australia
This non-profit organization is a leader in providing assistance in various ways (humanitarian, medical, and so on). Despite Australia in the name, this organization works all over the world, and its goal is to fight poverty and save lives. Their newsletters created non-profit emails that told recipients about the main achievements over the past year. As we described in one of our tips, this success story directly shows how the organization makes this world a better place and saves the lives of those in need.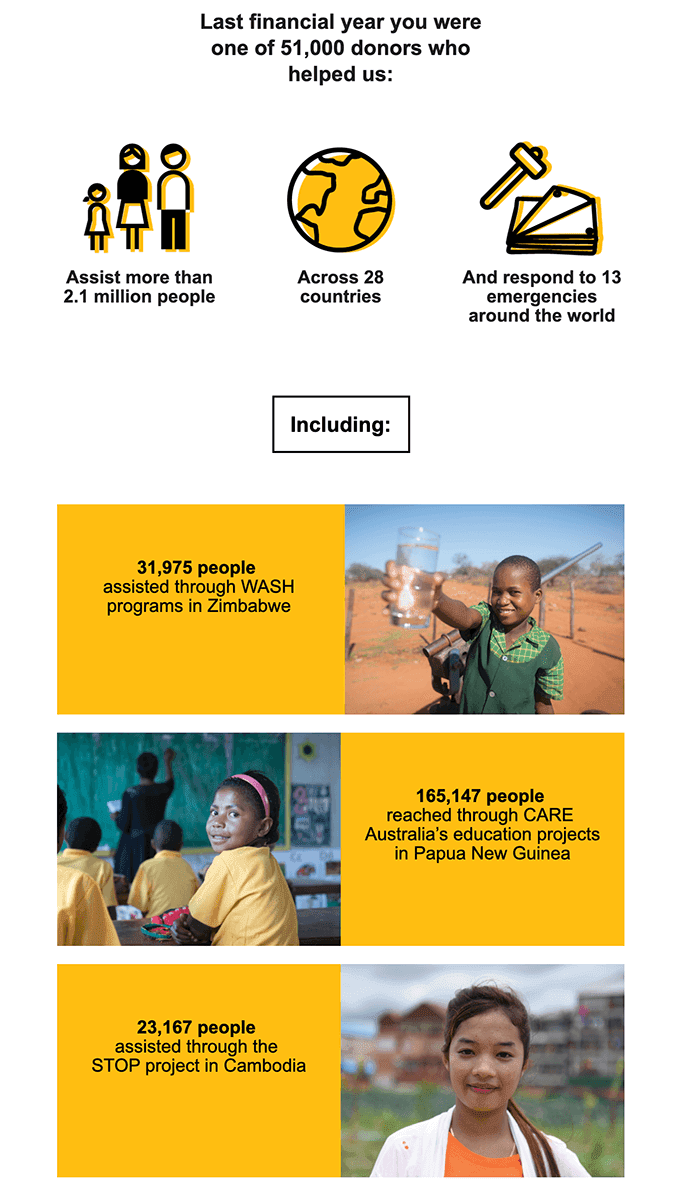 (Source: Really Good Emails)
Help for Heroes
One of the problems of the modern world is the assistance to war veterans and its lack. Help for Heroes is a UK-based charity dedicated to voluntary contributions to disabled veterans, psychological support, and more. The organization often mentions specific individuals they will help in their newsletter and their personal stories. The hero of one of these stories was a veteran of the war in Afghanistan. This is also one of the real examples of informational emails that tell the stories of real people and how this or that chary institution helped them.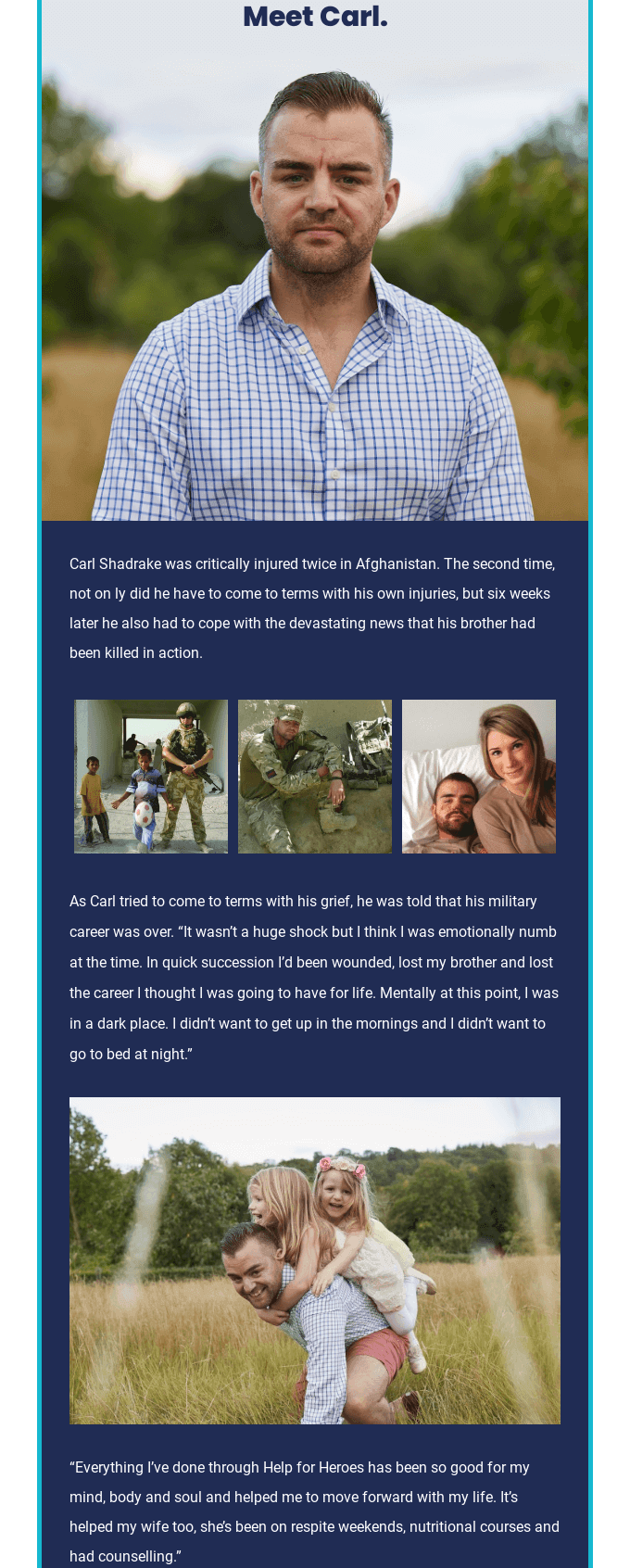 (Source: Really Good Emails)
Creating such emails takes a lot of time. Text writing, visual design, fonts, and more. Email templates are great for saving valuable time. Therefore, we at Stripo have prepared over 40 email charity templates for various non-profit needs, which will help you create unique and beautiful emails for your newsletter. Pick any and customize it according to your current campaign needs. Once you're done, you might want to hire professionals from a writing company to craft your texts.
Charity Water
The lack of fresh water in some regions is a particularly acute problem that many organizations are struggling with. Charity Water is committed to providing clean water to communities in need. In one of their emails, they talked about the celebration of Giving Tuesday — a holiday that unites everyone who wants to participate in a charity of any kind. They told a little more about this holiday and thanked everyone who celebrates this day with good deeds.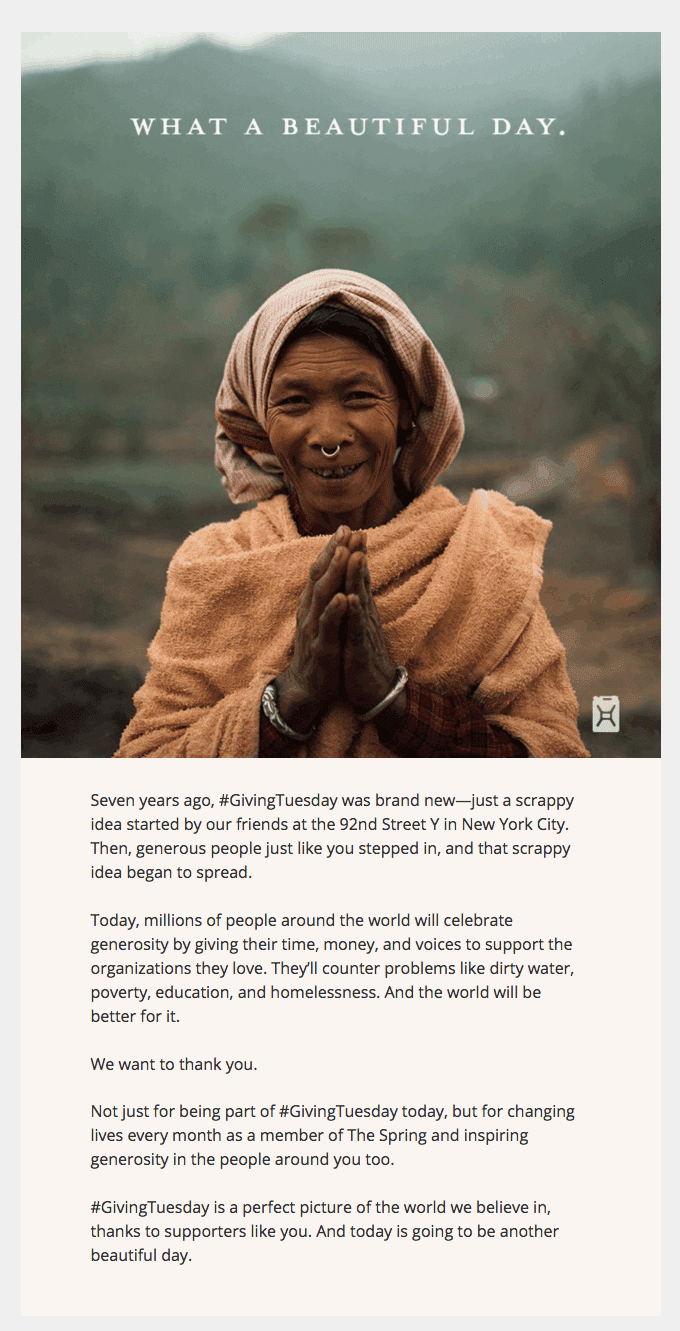 (Source: Really Good Emails)
JustGiving
Remember we talked about success stories? Just Giving, an international fundraising company, shared one of such stories in its email. She collects funds and donations for absolutely any charitable companies and other needs. Their email gave specific figures on the amount of funds raised for various charities, the number of people who were helped, and much more. Such inspiring lines encourage the recipients of the email to also participate in good deeds and change the world for the better.
(Source: Really Good Emails)
Final words
Non-profit email marketing campaigns are a great and effective way to make a problem known to a wide audience and encourage caring people to join in solving it. We hope that this breakdown of real-life examples of the best non-profit emails will help you create a newsletter that will touch the right feelings of your recipients and get as many people as possible to join your charity. And we at Stripo will help you design your emails.
Create your unique emails for charity using Stripo