No one likes being lost. 
Knowing where to look, where to go, and what to do, gives people a level of comfort that's often necessary to simply have the confidence to get things done. 
It's this basic need that led us to create something to support B2B professionals in their quest to continue to level up.
Introducing NetLine Academy

Today, we are pleased to debut NetLine Academy; a collection of self-paced learning modules aimed to support B2B demand generation marketers gain an expert-level understanding of NetLine's Portal. 
Academy will empower professionals to gain confidence with demand gen best practices, improve their knowledgebase, and build a greater community around others who have also become NetLine certified. 
Why We Built NetLine Academy
As the #1 Buyer Engagement Platform, NetLine's reach includes virtually every B2B buyer imaginable. Of these B2B buyers, each professional works in a given industry, with a specific job function, at a certain job level, within a different company size. 
That's a lot of job parameters.
All told, this equates to 37M+ different filtering variations within our Portal—clearly, a resource dedicated to educating our clients, prospects, and peers was sorely missed.
Our hope is that by educating today's B2B marketer more completely, they'll be able to make more effective decisions tomorrow.
What B2B Professionals Will Find in NetLine Academy
Academy will teach B2B demand generation marketers how to leverage each permutation relevant to a given campaign, empowering them to work swiftly and independently. 
This will be accomplished through a core group of foundational certification courses, ranging from NetLine basics to more advanced features of the Portal.
The end of each module will ask users to recall specific elements of the lesson's information. B2B marketers, agencies, and media companies can achieve their first certification, NetLine Cadet, within 30 minutes or less.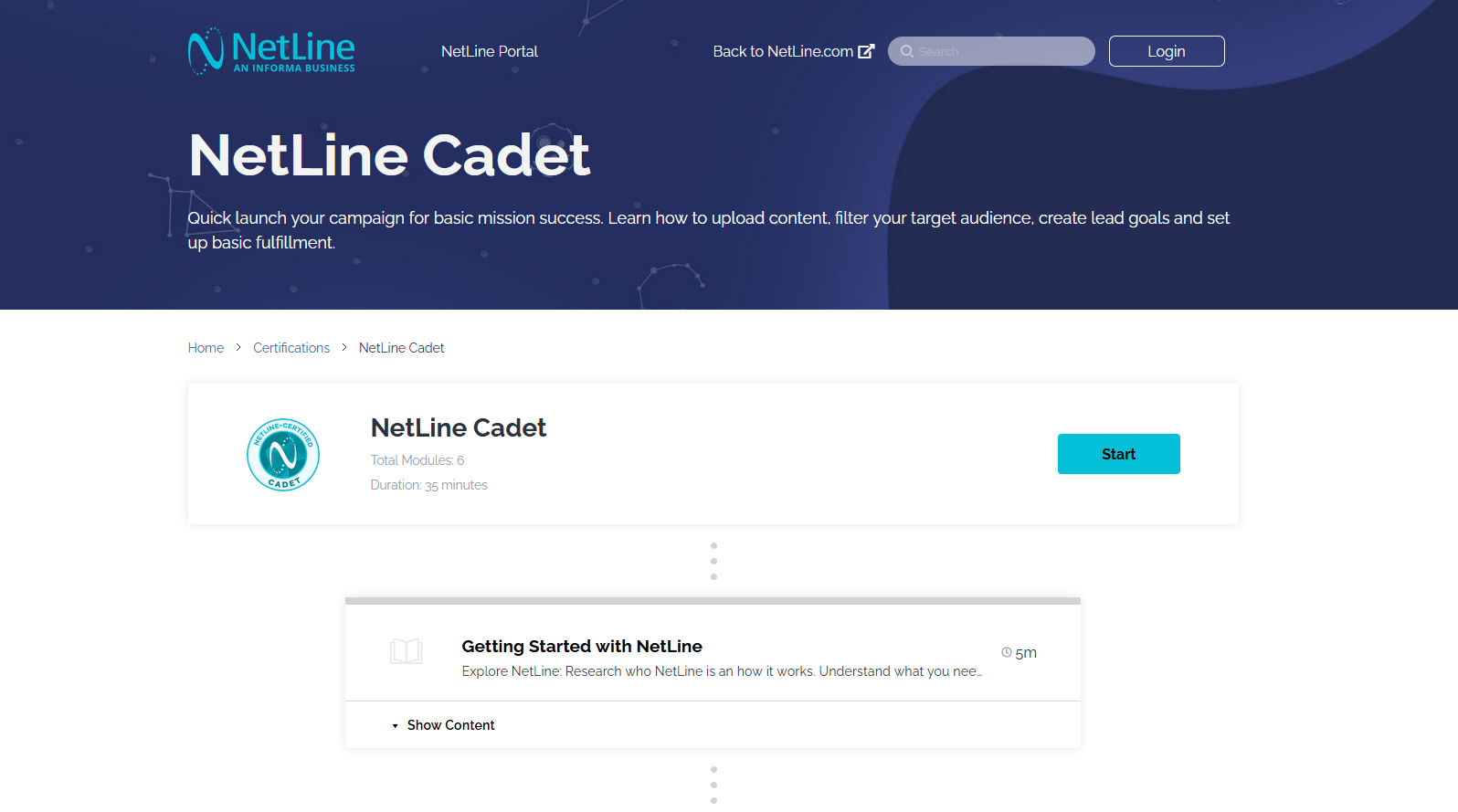 NetLine Academy's content includes a mix of resources, including:
Videos

Flip cards

How-To Guides

Interactive Portal Stills

Quizzes
Who is NetLine Academy Built For?
Academy was designed with B2B marketers, agencies, and media companies in mind.
"NetLine Academy is a tremendous resource for B2B marketers to level up their Portal demand generation campaign execution skills," NetLine Client Services VP Melissa Becht said. "By taking time to learn NetLine through and through, our customers will truly be in the driver's seat when it comes to shaping the outcomes they seek from our platform." 
Essentially, if you're charged with improving your company's demand gen program or simply want to learn how to get the best CPL for your lead generation campaigns, NetLine Academy is the ultimate resource for you. By taking control of your knowledge, demand generation professionals like you can position themselves for success, enabling greater efficiencies in less time. 
The NetLine Portal offers many options to our users, which can admittedly be quite a lot to first-time, or heck, even long-time users. Knowing this, NetLine Academy equips users with the tools necessary to become a NetLine Portal expert. 
Why You Should Become NetLine Certified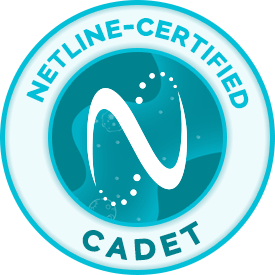 By becoming a NetLine Certified Lead Generation Expert, you'll gain:
Foundational content syndication skills 

Expertise in building, managing, and optimizing campaigns within the NetLine Portal

Marketing professional upskills (by adding NetLine to your toolbelt)
Upon completion, users earn a NetLine Cadet certificate and companion badge, which can be added to LinkedIn profiles. Certifications are available on an individual and/or team-wide basis. 
You don't need to be a current customer to receive the benefits of being certified. In fact, NetLine Academy has been designed to offer foundational demand generation skills regardless of a user's knowledge or adoption of the NetLine Portal.   
Become NetLine Certified Today!
Given the breadth of NetLine's offerings, we expect Academy to play a pivotal role in shaping the performance of our client's knowledge base and campaign executions moving forward.
NetLine is committed to continuing investment in training for its customers. The company intends to release additional modules, courses, and resources for the Academy later in Q2 2023. Additionally, NetLine expects to release additional certifications geared towards more advanced topics throughout the year.  
Ready to become Cadet certified? Academy is waiting for you!