Are you looking for the best CRM for small business?
As your business grows, manual processes become increasingly inefficient and costly. If you're not careful, it could easily cost you customers and sales.
A CRM helps you manage customers and potential customers, freeing up your time and energy to focus on growing your business.
But, what is a CRM, what can you expect of a CRM software, and how do you pick the best small business CRM software?
Lucky for you, we're here to help you out. Keep reading for everything you need to know about CRM, how CRM systems can help, and how to choose the best CRM for small business.
Plus, we share details on the twelve best CRMs for small businesses so you can start off right.
Before diving into the list, though, let's get clear on what CRM software is and how to select the right one for your small business.
What Is CRM Software?
CRM, or Customer Relationship Management software, is a technology solution designed to help businesses manage and optimize customer interactions and relationships. It is a centralized platform that enables businesses to store, organize, and access customer data, providing valuable insights and tools for effective customer management.
To give more perspective, CRM is an all-in-one tool to manage customer information, add notes, send emails, manage customer experiences/satisfaction, and more. And you can do it all without leaving the CRM software platform.
CRM for small businesses helps keep everyone in your company on the same page, bringing marketing, sales, and customer support together with all the data they need to succeed in their roles.
Benefits of CRM Software for Small Business
Implementing a CRM system brings several benefits for SMBs (small businesses):
Centralized customer data management: A CRM system allows businesses to consolidate customer information in one place, providing a comprehensive view of their interactions, preferences, and purchase history.
Improved customer communication and engagement: CRM software enables businesses to communicate with customers through various channels, such as email, social media, and live chat, ensuring personalized and timely interactions.
Enhanced sales and lead management: CRM systems help track leads, manage sales pipelines, and automate follow-ups, increasing efficiency and closing deals faster.
Automation of repetitive tasks: CRM software automates routine tasks like data entry, scheduling appointments, and generating reports, freeing up time for business owners and employees to focus on high-value activities.
Efficient team collaboration: CRM platforms enable collaboration by allowing teams to share customer information, assign tasks, and track progress, promoting a unified and customer-centric approach.
Factors To Consider When Choosing the Best CRM for Small Business
When selecting a CRM system for your small business, it's essential to consider the following factors:
Scalability and Flexibility: Small businesses often experience growth, so choosing a CRM that can scale with your business process is crucial. Look for CRM solutions that offer flexible plans and customization options to adapt to your evolving business needs.
Ease of Use: You may have limited technical expertise as a small business owner. Opt for a CRM with an intuitive user interface and user-friendly navigation to ensure a smooth onboarding process, user experience, and minimal training requirements.
Integration Capabilities: Evaluate the CRM's integration capabilities with other tools and software you currently use, such as email marketing platforms, accounting software, or project management tools. Seamless integration eliminates data silos and streamlines workflows.
Cost and Pricing Structure: Consider the total cost of ownership, including upfront setup costs, subscription fees, and any additional charges. Compare pricing models, such as per-user or subscription-based, and determine which offers the best value for your business.
Now that we know what you're looking for, let's look at the top choices of CRMs for small business.
Best CRM for Small Business
Before diving into the list of the best CRM software for small businesses, there's one thing we need to mention: to use a customer relationship management tool, you first need to start the relationship with actual customers.
For that, there's no better tool than OptinMonster: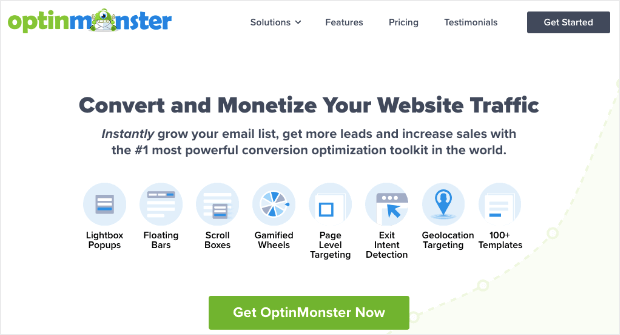 OptinMonster is hands down the best way to generate new leads for your CRM.
That's because it lets you build optin campaigns like popups, floating bars, fullscreen welcome mats, and more–even if you have zero coding experience or "tech skills."
Everything starts with selecting one of OptinMonster's pre-made templates: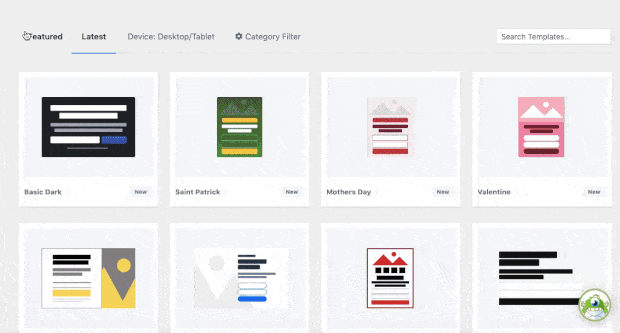 These save you time, energy, and headaches in the campaign creation process. From there, making modifications to your campaign is easy.
To change any of your campaign's text, for example, you can use OptinMonster's inline editor: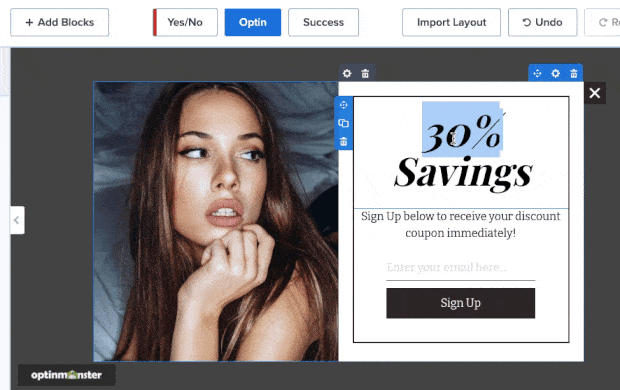 Or you could add a new feature to your campaign, like an image, video, chatbot, or more. You can easily do so with a drag and a drop: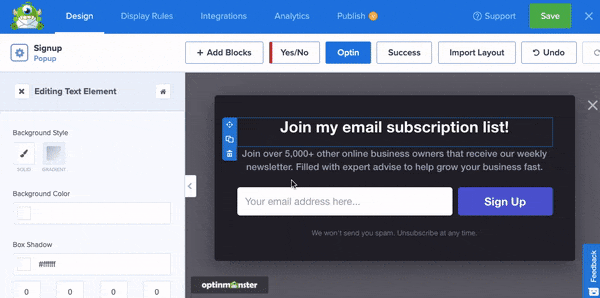 But building the perfect optin campaign is only half the battle. What's the other half?
Showing it to the right people, in the right places, and at just the right time in their customer journey. 
For that, you can use OptinMonster's powerful targeting rules. Some of the most popular rules include:
Exit-Intent® Technology: Display popups to re-engage users who are actively leaving your website.
OnSite Retargeting®: Show fresh campaigns to returning visitors to prevent "popup fatigue."
Geolocation Targeting: Make your campaigns appear to users based on their location.
These are just a few examples of OptinMonster's targeting rules, though there are many others.
And now you may be wondering, "This is all great… but does OptinMonster really help get new leads?
In short, YES.
Just check out some of these success stories shared by real OptinMonster customers:
You can achieve the same massive results by clicking below to start your 100% risk-FREE OptinMonster account today:
Sign Up For OptinMonster Today!
BONUS: Done-For-You Campaign Setup ($297 value)
Our conversion experts will design 1 free campaign for you to get maximum results – absolutely FREE!
Click here to get started →
With that in mind, let's dive into our list of the best CRMs for small businesses.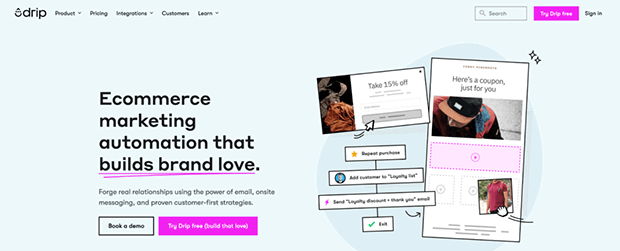 Drip is the leading eCommerce CRM, but it's also great for small businesses. It's powerful, has a beautiful interface, and is very easy to use for any business.
This CRM makes it easy to build automation workflows and email campaigns. You have the functionality to build your email with a visual builder or text builder. And either option is really easy.
Drip offers easy list segmentation, conversion tracking, content customization, purchase intent marketing, and more. You can learn and track everything you need about your customers' stories with tags, events, and custom fields.
This makes it an excellent customer database software that helps you manage your contacts in a profitable way.
It's designed to increase your bottom line and help you generate leads, manage contacts, and turn them into lifelong customers.
Drip is loaded with features including marketing automation, advanced contact management, actionable reports, email campaigns, one-on-one conversations, eCommerce user tracking, and more.
You can easily integrate Drip with all of the best 3rd-party services like email services, lead generation software, WooCommerce, Shopify, and many more. There are even workflows for Facebook and Instagram lead generation.
Key Features:
Marketing automation workflows
Advanced contact management using tags, custom fields, and events
Native integrations with popular 3rd-party services
Actionable reports
Easy email list segmentation
Content customization
eCommerce user tracking
Custom conversion tracking
Purchase intent marketing
Automatic revenue attribution
Pricing:
Plans start at $39/month for up to 2500 active contacts, unlimited email sends, and 24/7 chat & email support. You can try Drip-free for 14 days.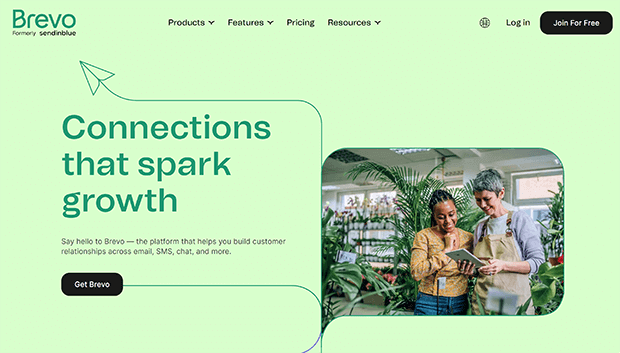 Brevo is a powerful email marketing service with all the features you need to serve as a complete CRM.
Brevo is a great option for any size business because you can get started for free and upgrade as your business grows. They offer reliable email delivery, email marketing, automation, transactional emails for eCommerce, smart segmentation, and more.
Unlike many other CRMs, they also have SMS marketing and chat. SMS marketing is a powerful tactic that can instantly boost sales and engagement. Their live chat solution allows you to connect with customers and leads in real-time.
Brevo comes with a top-tier support team and detailed documentation, so it's easy to get started.
Key Features:
Easy segmentation and personalization
Powerful marketing automation tools
Transactional emails with reliable delivery
Landing page and signup form builder
Easy Facebook ads and retargeting
Detailed and actionable analytics
Automatic send-time optimization
A/B testing
SMS and Chat marketing tools
Pricing:
Get started for free! Click here to try Brevo free today.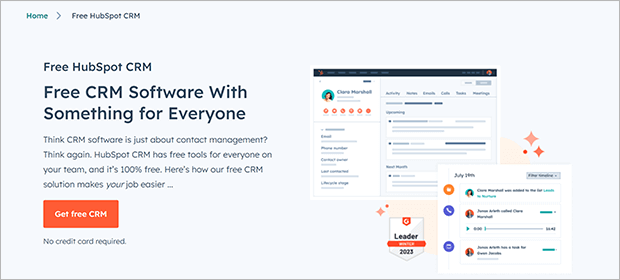 HubSpot is hands down the best CRM for small business looking for a cost-effective solution when they start. It's a great customer database software for managing new leads.
HubSpot is an easy solution to use and offers a wide range of CRM tools to manage the customer journey. It can be classified as a free CRM as it offers forever-free plans with limited features for its CRM, Marketing, Sales, and Service Hubs.
The CRM has a nice interface, letting you see your entire sales pipeline right on your dashboard. If you want more data (and who doesn't?), you can view all contact and sales activity, detailed reports, and performance on a user or team basis.
With a clever marketer, you can turn your emails into instant sales reps to increase your bottom line.
HubSpot has a mobile app for iPhone and Android, email templates, real-time notifications, email tracking, scheduling, phone calls, and more.
It also integrates with over 300 apps and services like WordPress, email marketing companies, lead generation software like OptinMonster, and so on. You can also connect HubSpot to Gmail or Outlook to log activity automatically, capturing every single email.
Key Features:
Personalize email sequences for leads and existing customers
Place phone calls right from the CRM
Get real-time notifications about lead behavior
Integrate with popular tools like Salesforce, Shopify, and Microsoft Dynamics
Store unlimited users, customer data, and up to a million contacts
Integrate 300+ apps
Create custom filters to sort contacts
Schedule emails and tasks and create tickets
Pricing:
The core CRM software is free, but for more powerful features, you can upgrade to a paid plan for Marketing, Sales, or Service hubs (starting at $30/month).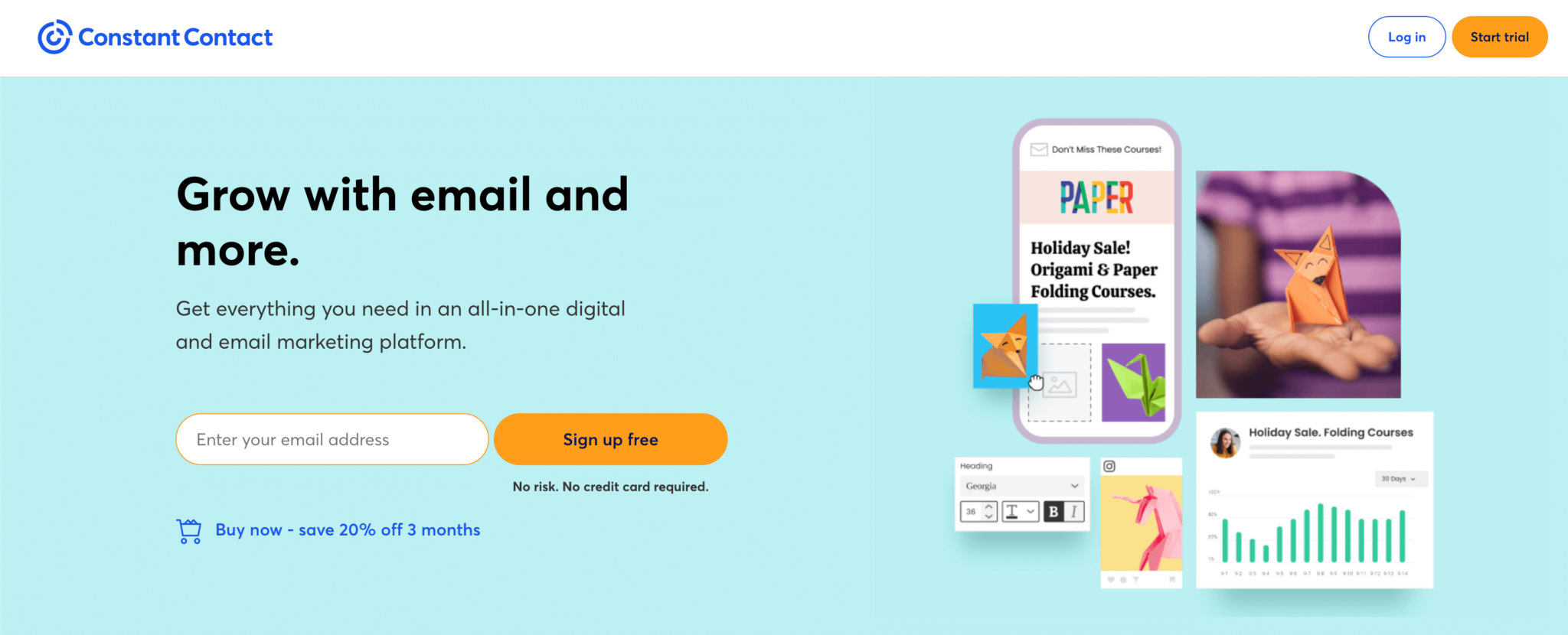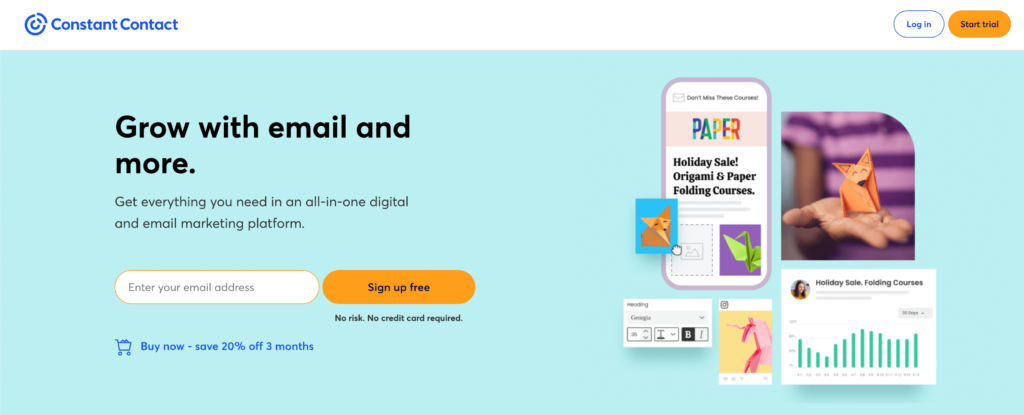 Constant Contact is a wildly popular email marketing service, but you can also use it as a CRM. It's great for small businesses, with a simple and easy-to-use dashboard, marketing automation, reporting, sales funnels, and a useful drag-and-drop tool for creating emails.
You can also store contacts, manage customer information and add 3rd-party integrations (including eCommerce integrations) from Constant Contact's huge marketplace. The number of integrations makes building just the right platform for your business easy.
Key Features:
Email Scheduling
Easy list segmentation and list cleaning
Marketing automation to make lead nurturing a breeze
Drag and drop builder to easily create stunning emails
100+ email templates
Easy integration with eCommerce platforms
Run Facebook and Instagram ads to grow your email list
Pricing:
The Lite plan starts at $12/month, but you'll want to go for Standard (starting at $35) to get all the features that will make this an easy CRM software option.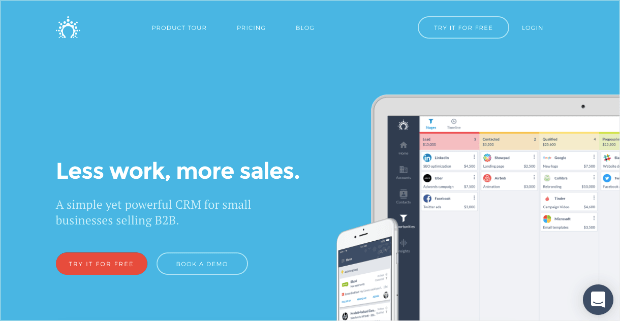 Salesflare is another popular CRM you should consider, and their tagline says it all: less work, more sales.
That's because Salesflare is a CRM that allows you to connect with customers–not to mention all of your favorite marketing tools. You can get started in just a few clicks and generate more sales even if you have little data starting out.
This software gathers your leads' contact information from social profiles, email signatures, and other public sources. Plus, all of your meetings and phone calls are automatically logged, so you don't have to worry about forgetting tedious data entries.
Key Features
Contact information is gathered and automatically updated from public sources
Meetings and calls are recorded and filed to keep you organized
Files exchanged with customers are automatically sorted and tracked
Sales opportunities are placed in an easy-to-read dashboard
Notifications are sent telling you who messaged you and from which channel
To-do lists are automatically generated to help you stay productive
Pricing
Plans start at $29/month when billed annually. From there, pricing jumps to $49/month for the Pro plan and $99/month for the Enterprise plan.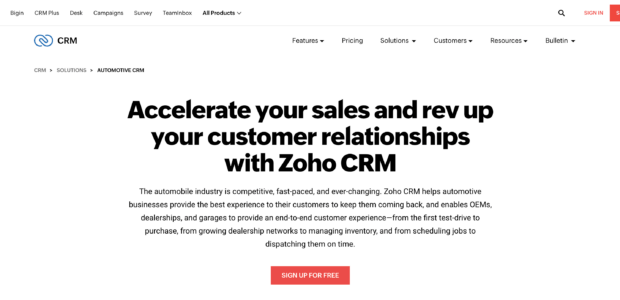 Zoho, best for startups, is a cloud-based software suite built to give you all you need to run your small business easily. With SaaS apps and online productivity tools, you'll get powerful marketing and sales features.
This easy CRM software helps small businesses organize contacts, market their brand, manage sales processes, provide customer support, and a lot more.
You can use Zoho CRM to integrate with the other marketing tools you already use, capture leads through social media, segment visitors, and offer support using built-in live chat.
Key Features:
Multichannel contact management (email, phone, live chat, and social media)
AI voice assistant for creating intelligent dashboards and forecasting business trends
Sales lead management (with lead scoring) so you can prioritize leads and convert them faster
Detailed analytics reports so you can make data-driven decisions
Mobile apps to keep everyone on the same page, even on the go
Team collaboration tools and team roles
IT management for monitoring websites and handling support tickets
Built-in security measures to keep your data safe
Pricing:
Zoho has a free plan for up to 3 users, but the really good features are in the paid plans. Those start at $14/month per user (billed annually).


Pipedrive is a ridiculously user-friendly sales CRM software that's designed to be simple and fast. Using their pipeline management feature you get an overview of your entire sales management process and can stay in control of it the whole way.
In addition to pipeline management with a clear, visual interface, you'll also get email integration, sales reporting and forecasting, and mobile apps so you can access your CRM from anywhere.
Pipedrive doesn't offer any segmentation, but it's simple enough to make identifying leads and maintaining relationships really easy.
Key Features:
Mobile alerts and email reminders
Easy integration with Google Apps, Trello, Zapier, and more
API for easy integration with any software
Email integrations to keep your sales communication in one place
Email templates
iOS and Android mobile apps
Sales forecasting and trend analysis
Backups and encryption to keep your data secure
Drag and drop tasks as customers follow the sales funnel
Pricing:
Plans start at $9.90/month per user (billed annually).

Salesforce is a giant in the CRM field and one of the best CRM for small business. You can use Salesforce to take leads through a personalized customer journey and use the intelligent marketing platform to drive more sales through emails, SMS messaging, social media, and digital advertising.
Since Salesforce has been around forever, it includes many advanced features and solutions for everything you could need: sales, marketing, commerce, customer service and engagement, team productivity, and even more.
Key Features:
Guided onboarding
Custom dashboards and reports
Automatically track emails and meetings
Social media and email support
Enterprise-level security and ongoing support
Pricing:
Plans for small businesses start at $25/month per user (billed annually).


Freshsales, now known as Freshworks, is a popular CRM software that's great for all business sizes. It's easy to use and offers a sales-oriented approach with all the features you need to maximize conversions.
It has an excellent dashboard that gives you immediate access to contact management, reports, emails, phone calls, and more. And, if the intuitive, web-based interface wasn't enough, there are also mobile apps so you can make sales wherever you go.
Freshsales use AI-powered lead scoring to help you easily prioritize the leads that are more likely to convert. You can also set up custom workflow automation, get actionable insights into conversations, track events, and use the 360-degree customer view to see all the most important info from a single screen.
It does have native integrations for some popular 3rd-party services and apps, but the number of integrations is a bit limited.
Key Features:
360-degree access to customer profiles, complete with customer touchpoints
AI-powered lead scoring for prioritizing leads and boosting sales
Sales team grouping and automatic lead assignments
Visual sales pipeline with a drag-and-drop navigation
Mobile app integration for managing your business processes on the go
Automatic contact profile updates
Appointment booking and phone calls right from the platform
Pricing:
Pricing starts at $15/month per user (billed annually).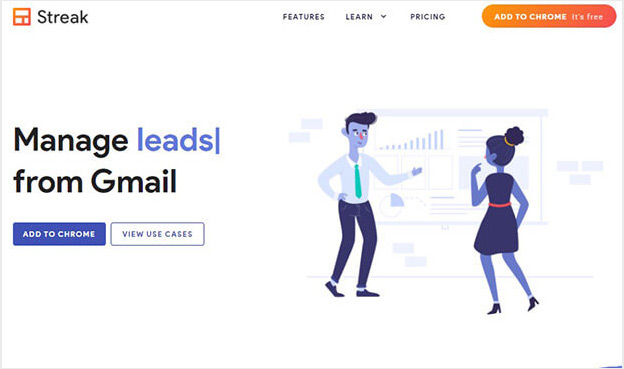 Streak CRM works with G Suite and free Gmail accounts and lets you track customer emails and leads, manage contacts, and stay on top of your sales funnels. This may be the best CRM software if you already use Gmail or G Suite.
You can automatically capture leads from your contacts, add tasks and reminders, schedule emails, create custom pipelines/funnels, add tags and notes, and more.
Streak CRM has workflow management features like hiring, project management, sales, support, and more, but they are also customizable as per your needs. Since it's built straight into Gmail, it's easy to use, even for beginners.
This easy CRM software comes as a browser addon or mobile app for iOS and Android. Plus, it supports 3rd-party integrations through Gmail and Zapier.
Key Features:
Track all your contacts in a pipeline (with custom views)
Track and share customer interactions with your team members
Easily import and export data
Mobile apps help you stay connected, track calls, and take notes from anywhere
Mail merge to send mass emails easily
Easy third-party integration with hundreds of platforms
Pricing:
Streak CRM has a free plan with limited features. For businesses, you'll want one of the paid plans starting at $49/month per user (billed annually).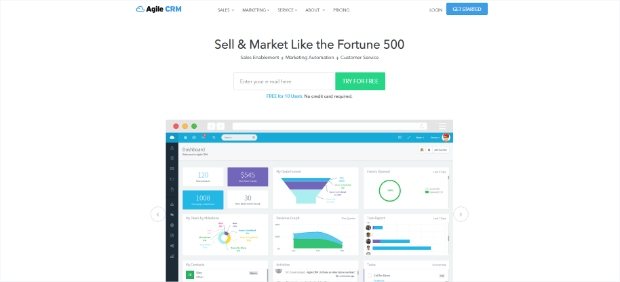 Agile CRM is one of the best all-in-one CRM software around. You get contact management, sales, marketing, and customer service in one dashboard. Plus, it's easy to use!
With this customer database software, you get a 360-degree contact view, project management, and gamification for your salespeople to inspire fun competitions, events, calendars, timelines, and more. In addition to the available detailed reports, you can also access quick reports that you can drill down in to get a closer look at what's happening.
Agile CRM includes single-page contact management, 1-click calling, appointment scheduling, and the marketing tools you need to generate and capture leads. And you can create email newsletters, landing pages and send out emails.
As if all that weren't enough, Agile CRM features support ticketing, helpdesk, and more.
They offer single-page contact management, deal tracking, 1-click calling, voicemail automation, appointment scheduling, project management, and much more… and that's just for sales. They also have marketing features like a landing page builder, email tracking, and a social suite. Service features include helpdesk, ticketing, and more
Key Features:
Single-page contact management
1-click calling, call scripts, and automated voicemail
Fully integrated marketing automation (create landing pages and web forms)
Multichannel campaigns created and managed with a drag-and-drop interface
Advanced lead tracking and reporting
Built-in live chat windows
Pricing:
Agile CRM offers a limited free version. Paid plans start at $14.99/month. There's also an option to pre-pay for 2 years for a discount. The enterprise plan is $79.99.


Keap is a powerful and easy CRM and sales/marketing platform. Its goal is simple: to help you cut through the noise and focus on getting more sales.
Keap has been around for over 20 years, and sometimes there's simply no substitute for experience. This software uses automation tools to help you:
Collect more leads
Convert more clients
Create more fans
It's a CRM that's incredibly easy to use, which makes it tempting for small business owners who don't consider themselves "tech-savvy."
Keap offers many pre-written email templates to save time while contacting new leads more efficiently. You'll also get status updates and reminders about following up with contacts to help you guide them down your sales funnel.
Key Features
User-friendly dashboard and UI
Integrations for email providers like Gmail or Outlook
Email tracking helps you optimize your email marketing campaigns
Automated process for sending messages to new leads
Pre-written emails save you time
Internal forms help you gather crucial data about your new leads
Pricing: Paid plans start at $149/month to manage up to 1500 contacts.
And that's it for now! These have been 12 of the best CRMs for small businesses.
We hope you enjoyed this article. If so, you might enjoy these resources:
You now know the best customer relationship management tool to manage your customer relationships.