Every marketer who creates an email for the mailing list wants this email to reach every mailbox of the audience. However, this is almost impossible to achieve, and the bounce rate is an integral part of email marketing.
But not everything is so grim because the bounce rate can be lowered significantly if you follow some of the tips we want to tell you about in this article. So, without further ado, let's get started.
What is the bounce rate in email marketing?
The bounce rate is the percentage of subscribers who didn't receive an email because the mail servers returned them. This happens when emails cannot be delivered to the specified address. A high bounce rate harms the sender's reputation and nullifies all the efforts of marketers. The worse your reputation, the more likely your emails will go straight to the dreaded spam folder — even for recipients who actively open your emails and interact with you.
A good bounce rate is anything that is less than 2%. Anything above 2% is worthy of your attention. ESPs usually have a bounce rate limit, and if the sender exceeds it, they will be warned or blocked.
There are two types of bounce rates:
soft bounce — it can happen if the recipient's inbox is full, the email is too large, or there are failures on the recipient's server. In short, this type of bounce will be an isolated case or can happen from time to time;

hard bounce — such bounces indicate unrecoverable causes on the recipient's side. It occurs if the recipient's email address or domain does not exist or the recipient's server blocks delivery. As a result, emails will be constantly bounced from such addresses, and there is no way you can influence this.
To avoid such cases, you should carefully monitor the bounce rate since the success of email newsletters and your brand's reputation depend on it.
Tips to reduce the bounce rate of your email newsletter
So, you've audited your email campaign and noticed an unsatisfactory bounce rate. It's time to use valuable tips to help your emails reach your audience's inboxes.
Double opt-ins are a must
Double opt-in is a type of subscription that involves additional confirmation of the email address for receiving further newsletters. Such a two-stage system allows you not to clog the database with non-working mailboxes and reduces the risk of emails getting into the Spam folder.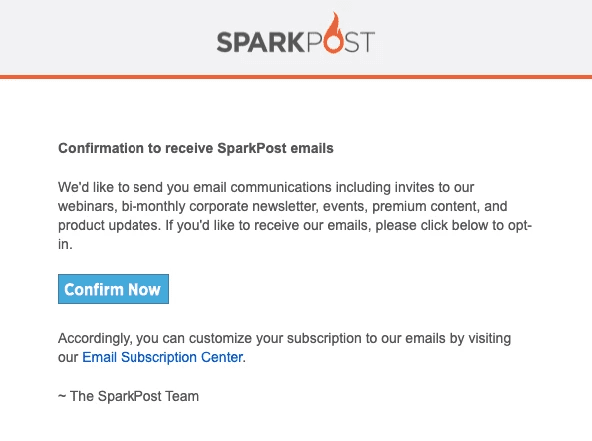 (Source: Email from Sparkpost)
Double opt-in emails should be sent to all new users so that they can confirm their desire to receive email newsletters from you. Without this approach, your bounce rate will noticeably increase because users may have subscribed to you by mistake or do not want to receive email newsletters at all.
Keep your email list clean
No matter how much love and care you put into your list of email addresses, inactive or problematic ones will always appear in it over time. And since this can't be avoided, you surely can keep your list clean to protect your emails from hitting such addresses.
Regularly auditing and cleaning your email list will help keep it healthy and fresh. Start by getting rid of inactive users and people who haven't opened your emails in a while. The fastest and most convenient solution is to use special email list cleaning services. We wrote a dedicated article where we talked about the top ten email list cleaning services you should pay attention to.
In addition, you can also run an email campaign on your contacts by asking them if they still want to receive your emails. They may not have bothered to unsubscribe, but you can do it for them if they don't re-verify.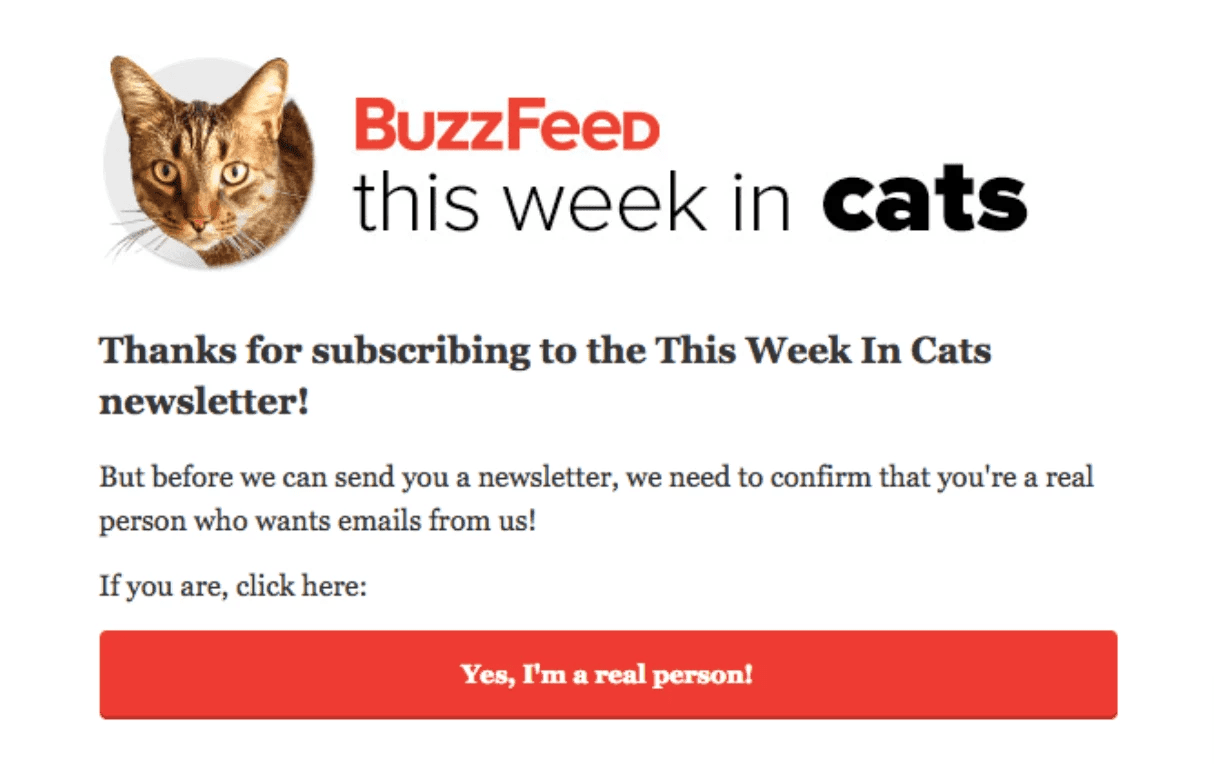 (Source: Email from BuzzFeed)
Don't send spammy emails
If we turn to the statistics, it will be disappointing because 85% of all emails sent are spam. If you don't want to be included in this statistic, then you should carefully check your emails for spam traits.
Audit your email design so that you don't use either too large or too small images. Also, check your email copy and subject line. They should not contain words and phrases that will cause the spam filter to put your email in the Spam folder. You should avoid phrases such as:
100% more;

100% free;

100% satisfied;

additional income;

act now;

apply now;

become a member;

call now;

click below;

not spam;

certified;

cheap and many others.
Well, we think you've got the point. Besides that, follow these anti-spam rules to lower your bounce rate:
don't use deceptive subject lines;

identify the message as an ad (if it is);

tell your recipient of your location;

provide an unsubscribe link;

don't use misleading header information;

always indicate that the recipient sees the email because they are subscribed to your newsletter. 
Segment your mailing list
Email list segmentation is the process of separating your email list into several groups based on shared characteristics or behaviors. This allows you to send targeted and personalized emails to each segment rather than a one-size-fits-all approach. With this approach, each part of the audience receives an email newsletter that is interesting to them and thereby reducing your bounce rate.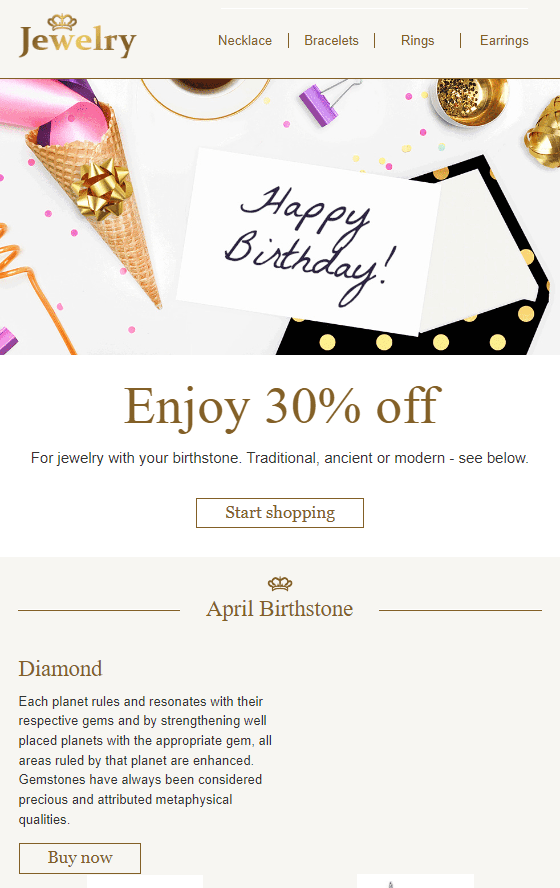 (Source: Stripo template)
Choose the criteria by which you will segment your audience, create an email newsletter with interesting content for them, and test the approach. We talked in more detail about audience segmentation in our special article.
Regularity is a key
A good way to reduce the bounce rate is to regularly appear in the inboxes of your subscribers. We all had occasions when we received an email from a company that had not sent anything for a long time, and we had already forgotten that we had once subscribed to them.
Regularity is the key to your audience remembering you and your content and interacting with it more often, which is great not only for your bounce rate but also for other important email marketing metrics.
Authenticate your sending domain
Email authentication is a practice that implies validating a sender's email address to confirm that it is authorized to send emails from a particular domain. It also helps confirm that the domain belongs to a certain Mail Transfer Agent (MTA) authorized to transfer an email. In simple terms, authentication confirms to your recipient and ISP that you are you, your emails are not hiding intruders, and your email newsletter can be trusted.
This method alone can significantly reduce your bounce rate and increase the effectiveness of your email campaign. Learn more about email authentication from our dedicated article.
Avoid a free domain send-from address 
One of the main reasons for the high email bounce rate is using a free domain address to send emails. Marketing emails from a free domain address do not comply with Gmail and Yahoo's DMARC policies. As such, you will face a hard bounce if you continue to send emails from the free domain.
Purchase a dedicated domain for your business, preferably a .com domain, and enable all email authentications. Alternatively, you can buy a Google G-suite account from Google Domains. The benefit of buying a G-Suite is that it comes with email security and Gmail features already included.
Ask your subscribers for updates
Changing email addresses by users is quite common. According to surveys, one in three people changes their email addresses once a year due to changing ESPs, switching jobs, or just trying to outrun the spammers. However, this practice makes life hard for marketing firms or others relying on their database to drive their business.
To make sure your list is populated with active email accounts, you can create a custom email update where you ask your subscribers to let you know if anything changes, such as when they get a new job and, therefore, a new email address or whether they update their data in any way.
Keep an eye on your results
Email marketing can't do without constant results monitoring. Analyzing the results allows you to track your email bounce rate and take steps to improve your email deliverability.
By constantly monitoring your email bounce rate, you can take timely steps to improve your bounce rate and keep your email marketing campaigns from falling flat.
Wrapping up
Lowering and keeping the bounce rate at an acceptable level is an ongoing process all email marketers must work with. However, we hope our tips will help you simplify the bounce rate control process. In addition, we can help you with the creation of emails.
Start making your emails with Stripo