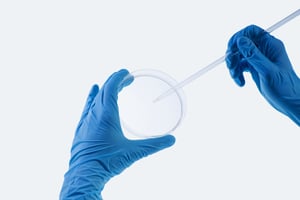 The cell therapy technologies market size is expected to grow from $3.53 billion in 2022 to $4.24 billion in 2023 at a compound annual growth rate (CAGR) of 20%, according to The Business Research Company's report Cell Therapy Technologies Global Market Report 2023.
The cell therapy technologies market size is then expected to grow to $7.39 billion in 2027 at a CAGR of 14.9%. The market is further expected to grow to $14.7 billion in 2032.
The consistent growth in the market is attributed to the following drivers: rising aging population, increasing prevalence of cancer, increasing research and development spending in pharmaceutical sector, and advancements in cell therapies.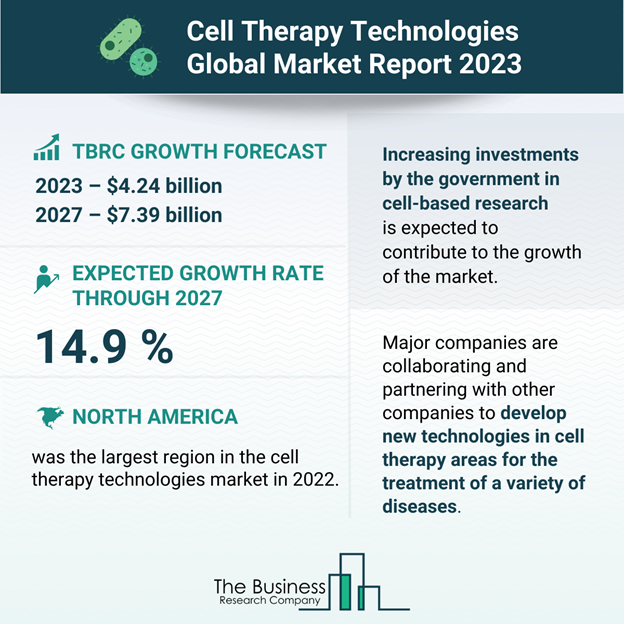 Strategies of Cell Therapy Technologies Companies
Due to a consistent demand, major companies in the cell therapy technologies market are developing innovative cell therapies to strengthen their position in the market. For instance, in June 2022, The University of Texas MD Anderson Cancer Centre, a US-based comprehensive cancer center, and National Resilience Inc., a US-based biotechnology company, announced the launch of a joint venture, the Cell Therapy Manufacturing Center (CTMC), to accelerate the development and manufacturing of innovative cell therapies for patients with cancer. The joint venture combines MD Anderson's expertise in immunotherapy and cell therapies and a leading clinical trials infrastructure, with Resilience's innovative biomanufacturing technologies, advanced analytics, and a national network for developing and producing cell therapies.
Furthermore, in September 2022, denovoMATRIX GmbH, a Germany-based innovator in cell and gene therapy manufacturing, announced the launch of its animal component-free cell culture product lines at cell therapy grade (CTG). The new product lines will include documentation and traceability information for compliance with industry regulatory standards and are designed for the stem cell therapy manufacturing market. 
Top Cell Therapy Technologies Market Segments
The global cell therapy technologies market is segmented as follows:
By Product: Consumables, Equipment, Systems & Software
By Cell Type: T-cells, Stem Cells, Other Cells
By Process: Cell Processing, Cell Preservation, Distribution, and Handling, Process Monitoring and Quality Control
By End User: Life Science Companies, Research Institutes
The top opportunities in the cell therapy technologies market segmented by product will arise in the consumables segment, by cell type will arise in the T-cells segment, by end user will arise in the life sciences companies' segment, by process will arise in the cell processing segment.
To capitalize on these top cell therapy market segments, the key players in the cell therapy technologies market are focusing on securing regulatory approvals, launching advanced products and new solutions, and focusing on strategic acquisitions, collaborations, and partnerships to expand their product portfolio.
Read the full report by The Business Research Company to understand more about the growth trajectory of the cell therapy technologies market and the top opportunities that companies can leverage.
About The Business Research Company
The Business Research Company is a market intelligence firm that excels in company, market, and consumer research. Located globally, it has specialist consultants in a wide range of industries including manufacturing, healthcare, financial services, chemicals, and technology. Find the company on LinkedIn, Twitter, Facebook, or YouTube for more.