Did you know that email countdown timers revenue by 9%? Luckily, you can now embed them in emails with Stripo in literally no time! They render correctly on all devices and in all email clients. The Stripo dynamic timers are totally customizable. Without further ado, let's get started.
How to add a countdown timer to email with Stripo
As we said, with Stripo, you can create custom countdown timers for emails.
Set the font, its color, and a background color, and choose what your customers will see once time has run out: zeros or an image.
Adding countdown timers in emails with Stripo
to create an email-safe countdown timer for an email marketing campaign, you need to select the basic "Timer" block;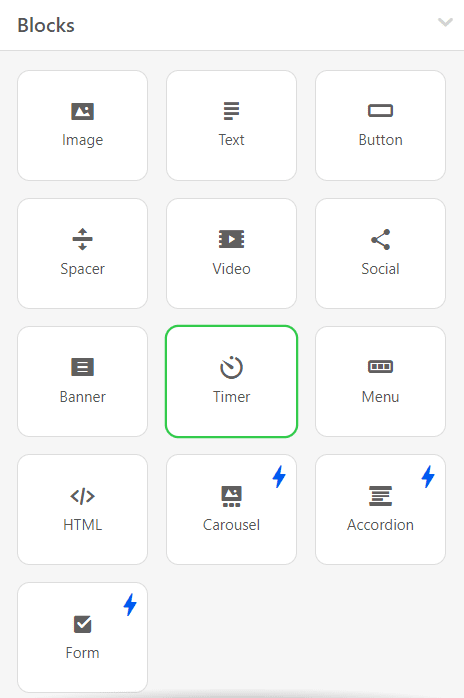 pull it into your email template;

the next thing you have to do is to set the date;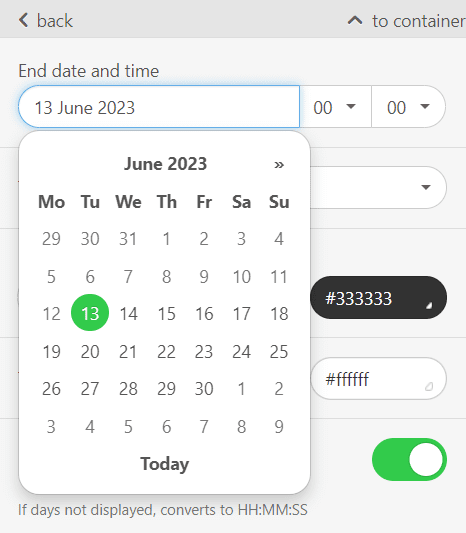 specify the time when the sale ends and a preferable time zone;

now proceed to the basic settings like fonts, their color, and size. One of the best elements of Stripo countdown timers is that you choose the "separator" between the numbers. It depends on you what your customers will see — a dash "-" or a colon ":";

it is totally within your discretion whether your customers will see the number of days or only hours. For example, it can be 1 day 12 hours;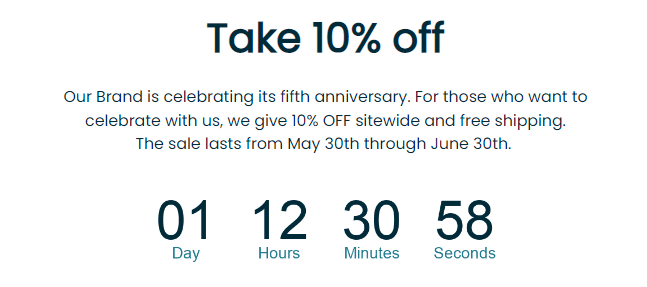 if you do not want customers to see days in your email countdown timer but only hours, then you toggle this button off;

Your customers will see "143 hours, 28 minutes" instead.
It is also up to you whether the numbers' labels will be displayed below the numbers or not.
What do customers see when day X passes?
Most of all, I loved the "Expired timer image" option. You may insert a static image or an animated GIF image that your customers will see in their inboxes once the sale is over. They no longer have to guess why they cannot use their coupons.
to add one, you need to toggle the "Expired timer Image";

and it's done, you are amazing.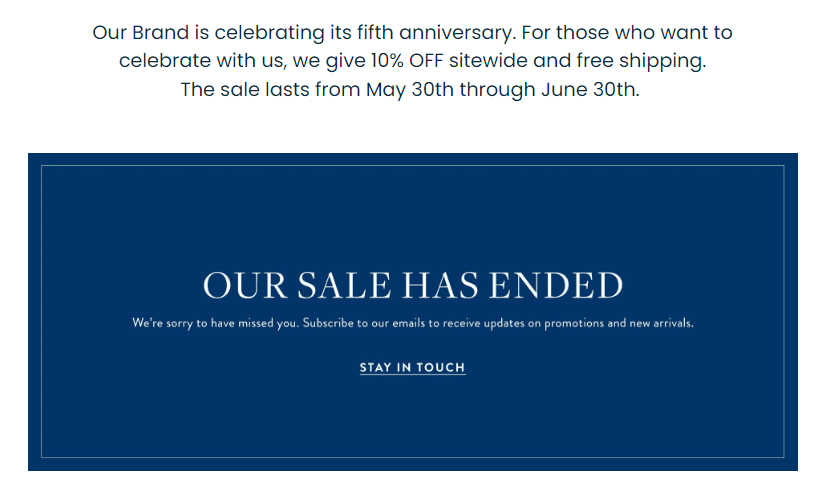 You can also use a photo of a sad puppy, say something like "Boohoo, you're late again," or just show the day when the sale ended just to inform customers that their coupons are no longer valid.
Countdown timers in emails: best examples
Timers, first of all, are meant to urge your recipients to act ASAP. When done properly, they complement the email campaign mission.
1. MacPaw countdown timer
What do you associate spring with? With the awakening of nature, warm days, and flowers, right? But another integral part of spring is spring cleaning, and software developer MacPaw brought this to customers' attention with a countdown timer in its email template. A cleaning promotional campaign was sent to active users, connecting cleaning their homes with cleaning their Mac devices using a special cleaning tool developed by MacPaw.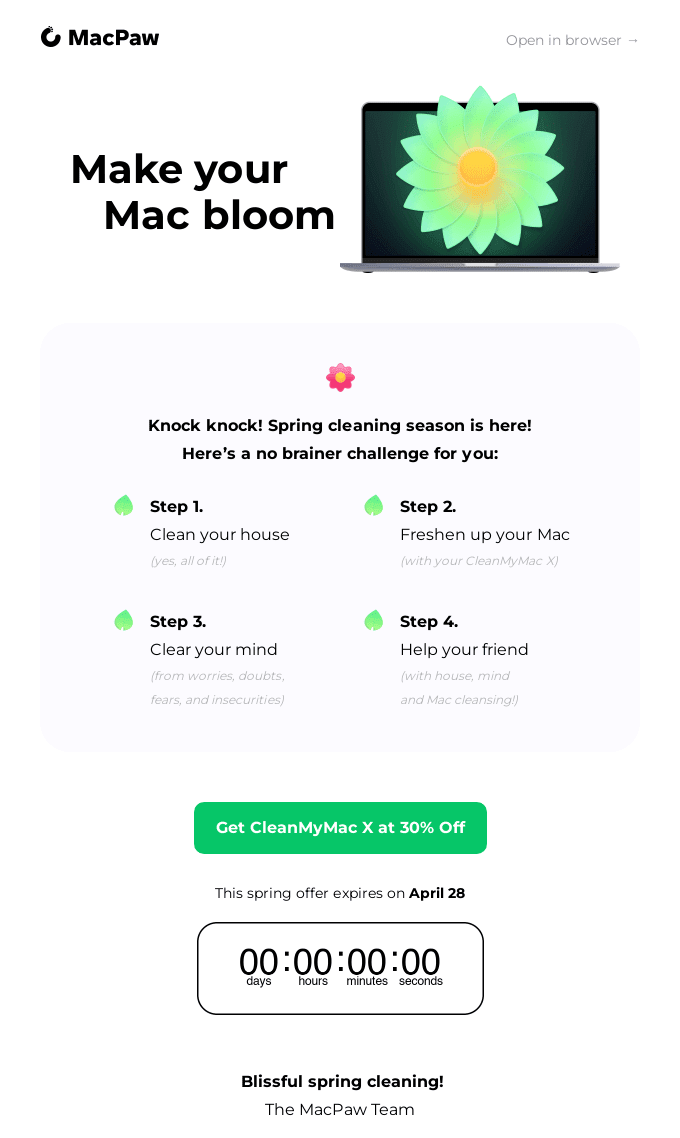 (Source: Really Good Emails)
2. Restream countdown timer
Discounts and countdown timers are a match made in heaven. The streaming platform Restream thought the same way and offered its users a limited-time discount to upgrade their plans. Its countdown timer was bright and eye-catching, which is a great practice that you should follow in your email marketing campaign.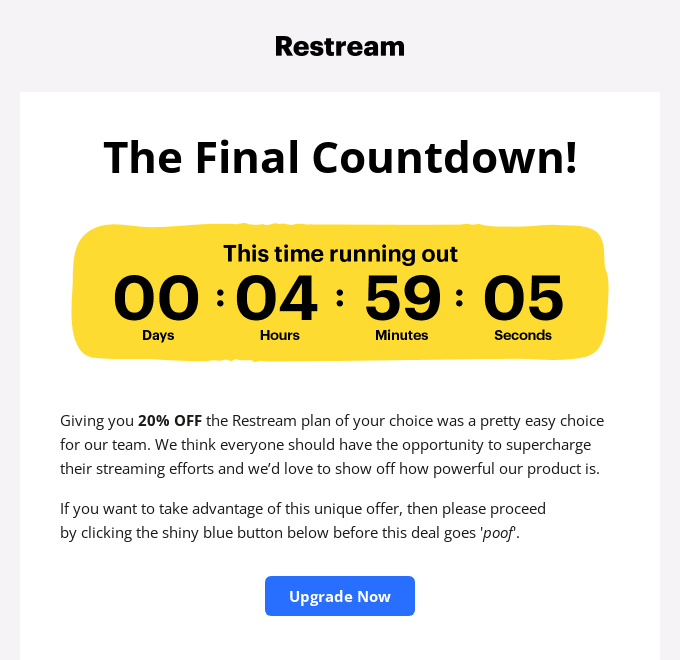 (Source: Really Good Emails)
3. Monica Vinader's email countdown timer
If your coupon applies to all the items on your website but you want to make your email pretty concise, then this example is exactly what you need. It's not overloaded with images. It just says how soon the sale ends.
Note: if they mentioned that the coupon was sitewide that would be more convenient to users.
4. ATD Attractions countdown timer
If you want to offer a sneak peek at an event or a future promotion, email countdown timers are a great tool for generating buzz. ATD Attractions announced a special live event with prize winners using a rather bright countdown timer. Each number was in a separate frame, which made the countdown timer easily readable and eye-catching.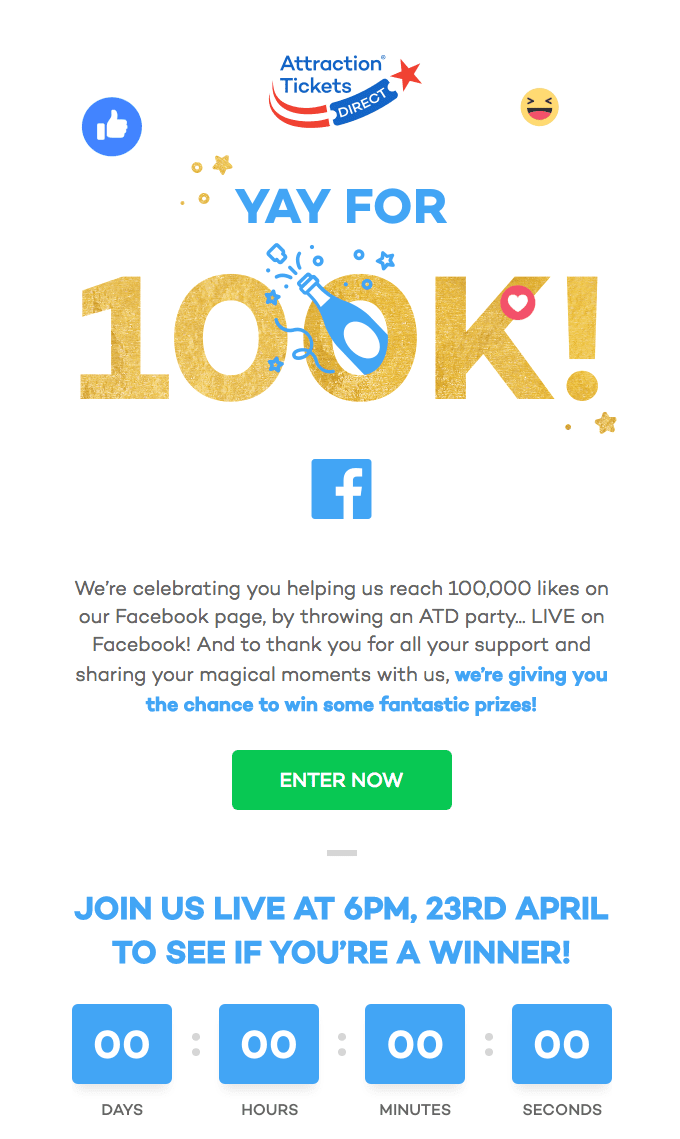 (Source: Really Good Emails)
5. Gap email countdown timer
In a few previous emails, Gap announced a Long Weekend Event. Once it got started, Gap rushed to notify recipients of it. Without a countdown timer, this email might have been somewhat confusing—hard to understand when exactly the event ended.
With this email countdown timer, Gap specified how long recipients had to make a purchase.
Tip: You may also specify a time zone. This is preferable for international online stores and big countries spanning several time zones.
6. Purina email countdown timer
Once you decide to run a competition, remember to embed countdown timers in your newsletter emails to inform contestants of the end date.
This is an effective idea for social contests. Persuading copy to encourage subscribers to participate and a countdown timer to urge them will bring you good results.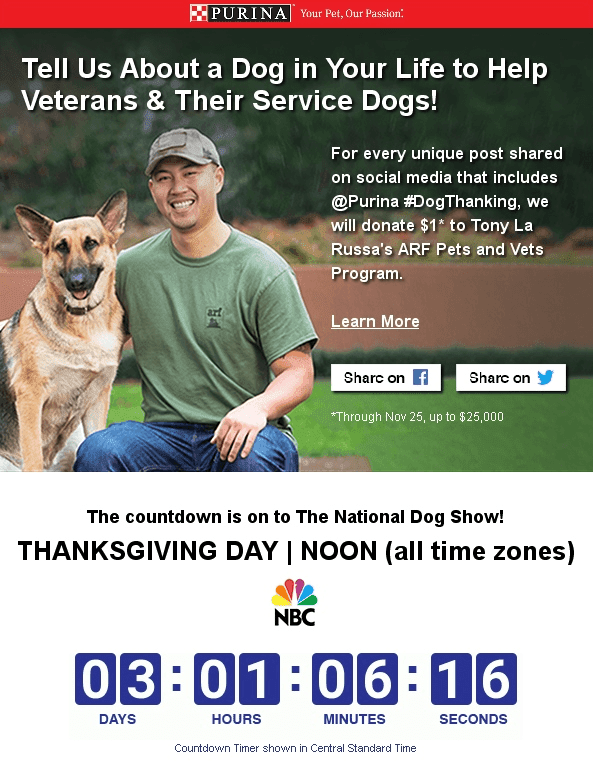 Many of us keep dogs, and we probably have funny stories to share about them. And, of course, we cherish, respect, and feel gratitude to our defenders for what they do for us.
Tip: Purina also specified the time zone, which makes email even more informative. 
7. Ned's email countdown timer
While some women get crazy over sales, especially at apparel stores, some men are mad about sports and sports games. Most Americans wouldn't miss the start of a baseball season for the world, just like Europeans wouldn't miss a Champions League match.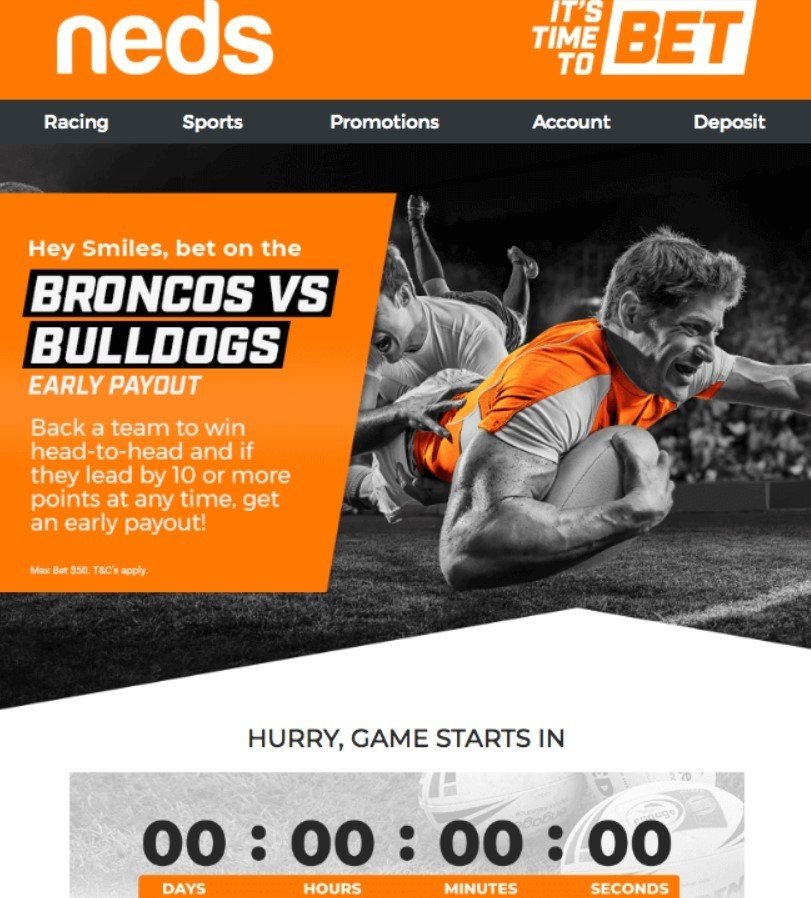 Whether you sell sports gear or promote a paid TV channel that broadcasts boxing fights, remind sports fans how soon a game/match/season starts. They will appreciate it.
8. Zales Outlet email countdown timer
Normally, coupons are dedicated to special occasions, be it St. Valentine's Day, a birthday, or even President's Day. But customers should be informed how long their coupons will be valid.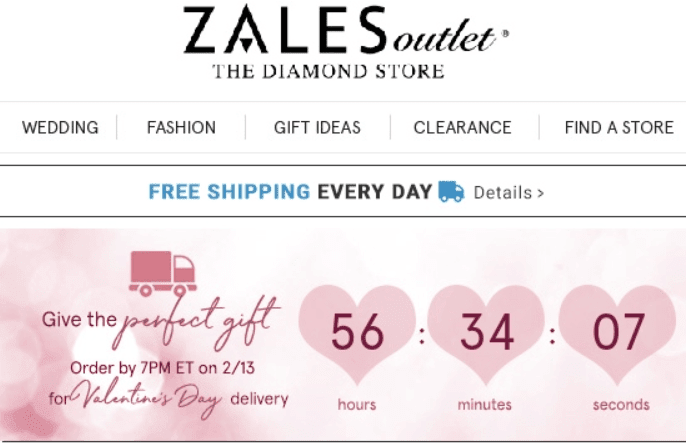 Why? Don't coupons normally expire at the end of a holiday? Here's why: restaurants, for example, give a week before and a week after a birthday to use a personal discount, while electronics and gadget stores normally give just three days. Customers should not have to guess. They need to know for sure how much time they have left.
Once recipients look at the email countdown timer, they will see how much time they have.
9. Miro Community email countdown timer
Emails with countdown timers are a must for webinars and conferences. Such events always have a clear date and time, and you definitely want the maximum number of people to come to your event. Miro Community often hosts webinars, and its marketers often add countdown timers to its email newsletters.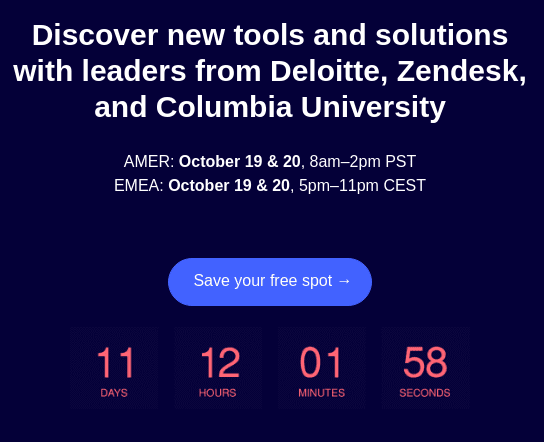 (Source: Really Good Emails)
It should be noted that the timer's background may not match the email body's color, which can be noticeable on some screens. To avoid this, set a background color for your countdown timer that matches the email design and a number font color that contrasts with the chosen background. You can easily do this with Stripo, and you don't need any third-party tools.

10. Casper email countdown timer
If you want your promotional codes to bring sales, just add a countdown timer to them, limiting the time they can be used. Take advantage of FOMO… Bed linen manufacturer Casper used this advice in an email marketing campaign and made promo codes temporary. Note the slightly unusual location of the email countdown timer in the design: at the very top, almost in the header. In this way, even the most inattentive or hasty recipients could see that their precious discount codes expired after a few days or hours.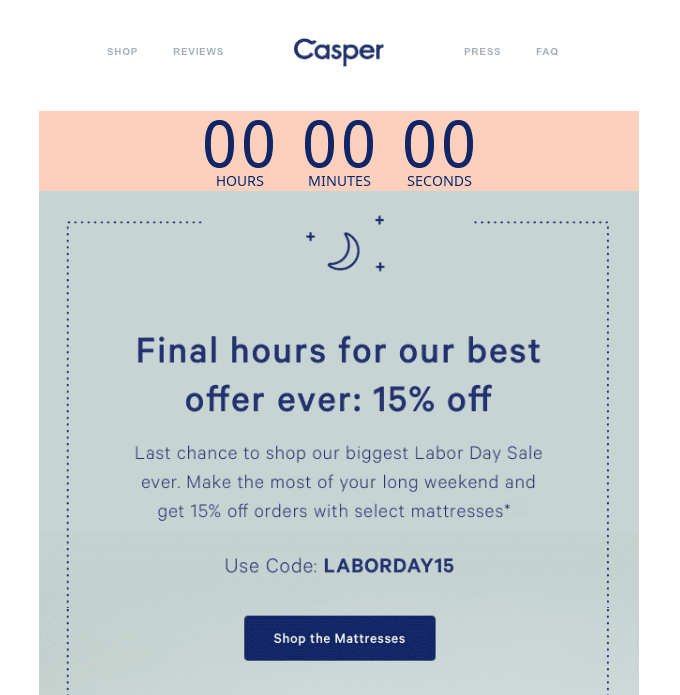 (Source: Really Good Emails)
11. Wix email countdown timer
Cloud service providers also run temporary promotions, and Wix's temporary promotion is a great example of this. Its email had an excellent design, well embedded in an original countdown timer that showed the time until the end of the special offer not only in numbers but also in the degree of a circle being filled around each number. An elegant solution worth adopting.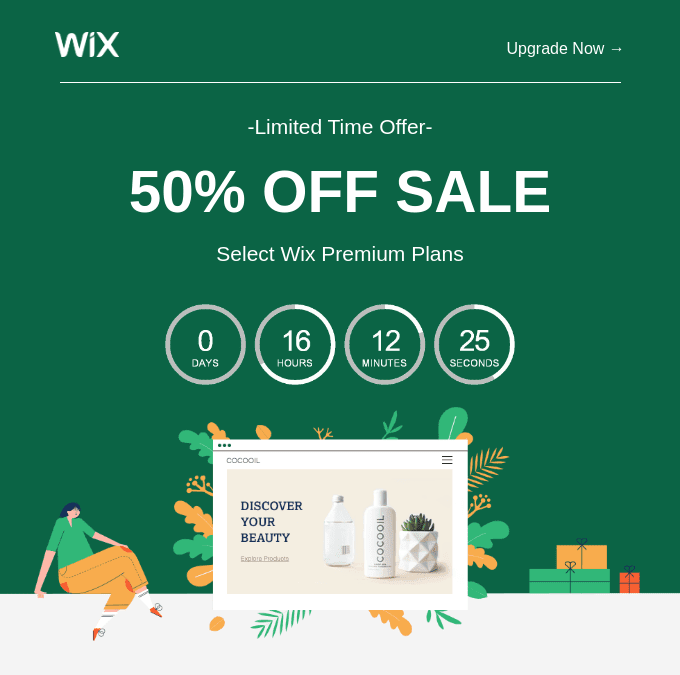 (Source: Really Good Emails)
Top elements emails with countdown timers should include
1. Informative subject line
We have already said that all emails start with a subject line, and about 65% of the recipients decide whether the email is worth opening just by the subject line.
When it comes to email countdown timers, it is probably a good idea to insert a clock emoji into the subject line.

Email on Acid warned recipients that it was their last chance to register for free using a clock emoji and the words "last chance."
Adidas even mentioned how much time was left to make a purchase: little time left; the offer ended soon.

If you wish, you may even create a sequence of such emails, just like the restaurant D'Artagnan did:


A day left, 12 hours left, 5 hours left… Oh my, I might miss it! With this sequence and perfect subject lines, they created a sense of urgency. Nice trick!
2. Specific time
You have embedded an email countdown timer, and your customers see the clock. Tick tack, tick tack… Still, it would be preferable to specify the exact hours—from Hour X to Hour Y.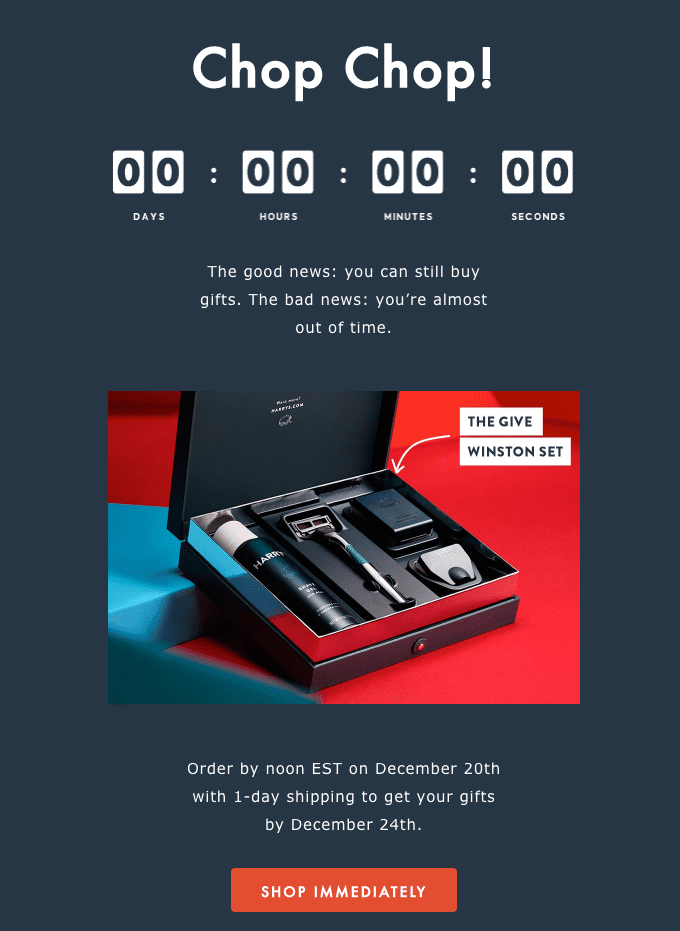 (Source: Really Good Emails)
3. Specific dates
You should also set specific start and end dates. For example, for President's Day, it could be February 15 to February 18. Always be specific to allow recipients to manage their time or hurry in case the offer ends in a few hours.
4. Fallback image
Normally, when an offer is over, your recipients see just zeros on an email countdown timer. This is no good. Inform them that the sale is over by adding a fallback image to your email timer template.
Why not have it show an image saying that the flash sale ended on Day X? This will make recipients anticipate and participate in your next sale.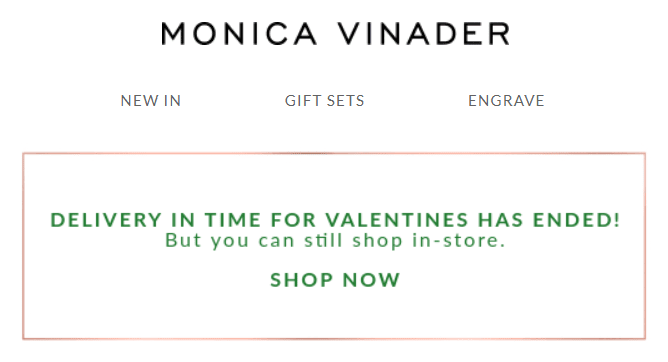 Alternatives to countdown timers in emails
If your email editor does not allow you to build a countdown clock, you may try the following alternatives:
1. Setting the dates
Specify when exactly the offer starts and ends. If your customers know a particular time, they are more likely to manage their time and explore your offer.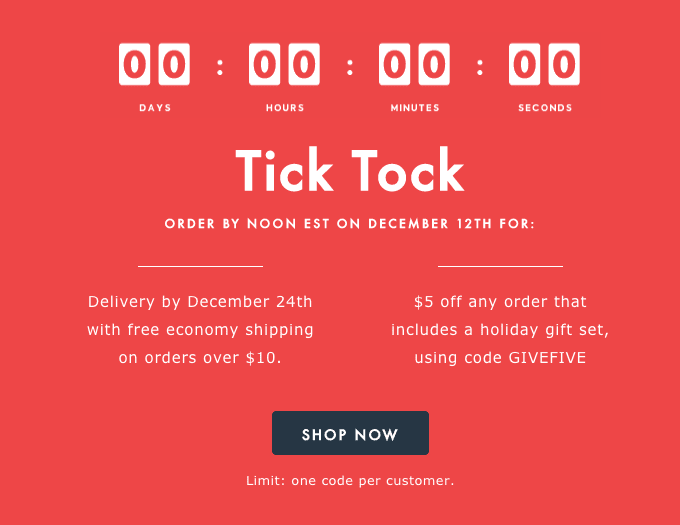 (Source: Really Good Emails)
2. Setting dates and inserting clock images
Create a sense of urgency by inserting images of clocks.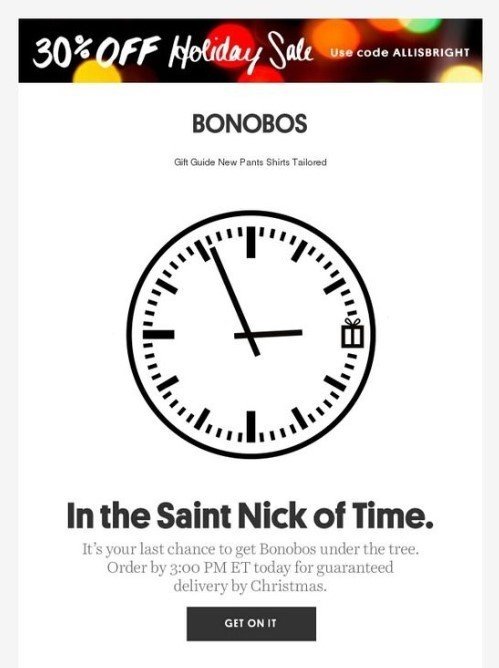 3. GIF animations of ticking clocks
The trick implemented here is an animated GIF image of a clock with its hands moving counterclockwise, as if time were running out. Gif countdown timers can be easily implemented in no time.
Wrapping up
All these alternatives are good and perform well. But our countdown clocks can be implemented in just 2 minutes and are totally email-safe, so you don't have to worry whether they will be correctly displayed on recipients' devices. You can use our email countdown timer tool to your email marketing advantage.
Make your email campaigns more effective and drive higher ROI and conversion rates.
Create countdown timers with Stripo