Listening to marketing podcasts can help you get insights into the latest marketing trends, tactics, and strategies. Basically, to stay informed about what's currently working in the marketing industry and how to leverage it for your own business.
Through these raw conversations between industry experts and business owners who have built an online brand by selling what their customers needed and desired, you get a chance to learn from their experiences, understand what works, and what should clearly be avoided.
Plus, some marketing podcasts have a strong community and offer plenty of opportunities to network with other marketers. You can connect with like-minded professionals, ask questions, and get feedback on your marketing ideas before you implement them.
So, I decided to compile a list of the seven best marketing podcasts that you just cannot miss in 2023. 
This will save you hours of searching, and give you quick access to the resources you must get your ears on today.
Let's jump right in!
Best Marketing Podcasts (You Can't Miss In 2023) — A Quick Glance
The 7 Best Marketing Podcasts (You Can't Miss In 2023)
1. Beyond The Inbox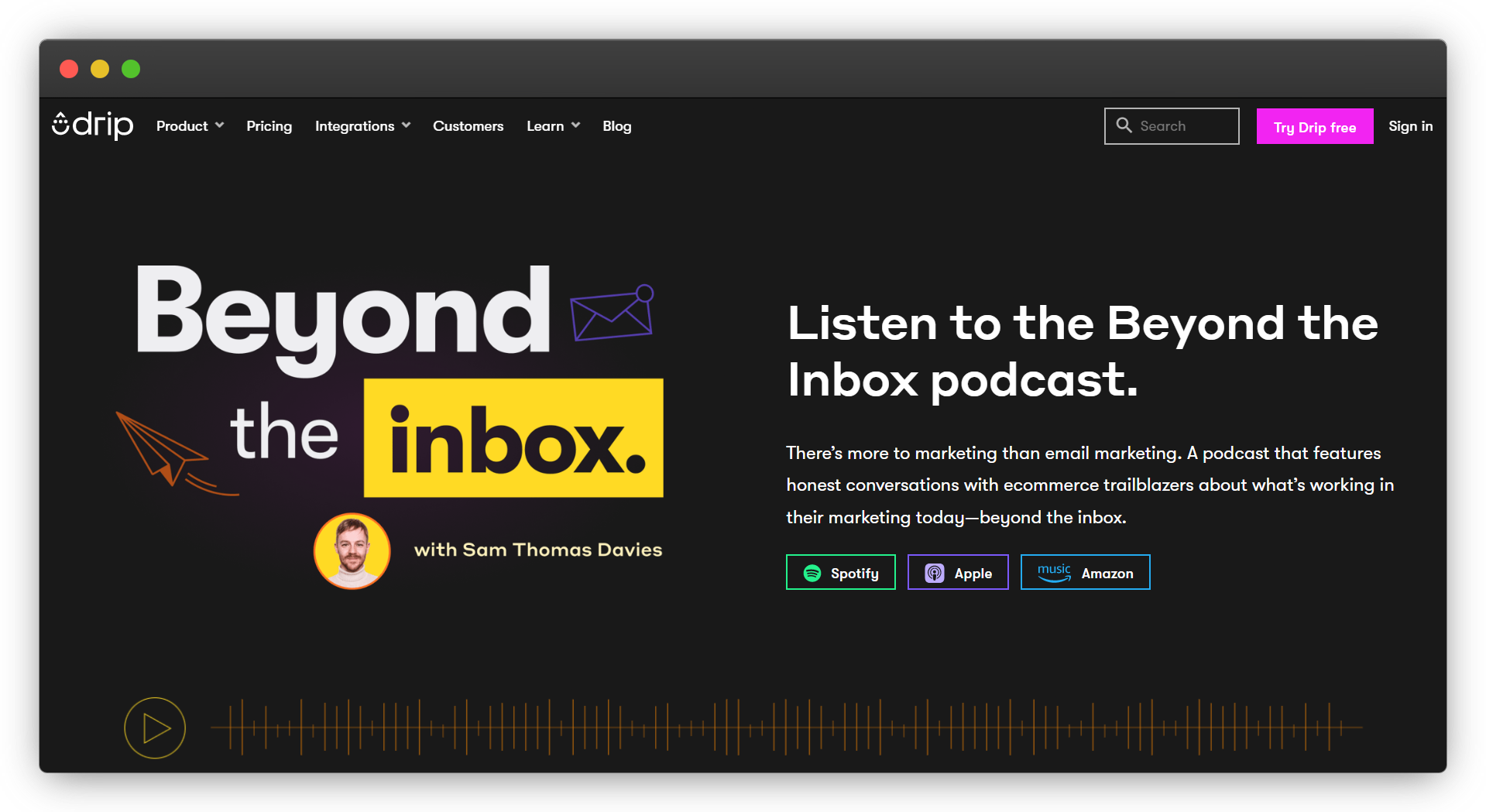 Sam Thomas Davies (Growth Marketer at Drip) hosts the Beyond The Inbox podcast.
He boldly claims that there's more to marketing than just email marketing, which is typically the primary 
focus of most ecommerce businesses.
The podcast features honest and uninhibited conversations with the ecommerce trailblazers to unearth the marketing channels and strategies that worked well for them when they decided to go beyond the inbox.
These conversations draw attention to a broad range of topics like:
How to build a community-based ecommerce brand

The importance of timing the market right

Personal branding

Creating something people need and genuinely desire

Customer lifecycle
In a nutshell, you gain access to the strategies that high-revenue ecommerce brands leveraged to build a business around customers and served them so well that they became brand evangelists.
Each episode is usually 30 minutes long and is designed to be a perfect companion for your daily rides.
By getting a bird's eye view of guests' successes and failures along their journey, you also get to learn the business values required to build a queue of customers who keep buying from you once they discover your brand.
Our Favorite Episode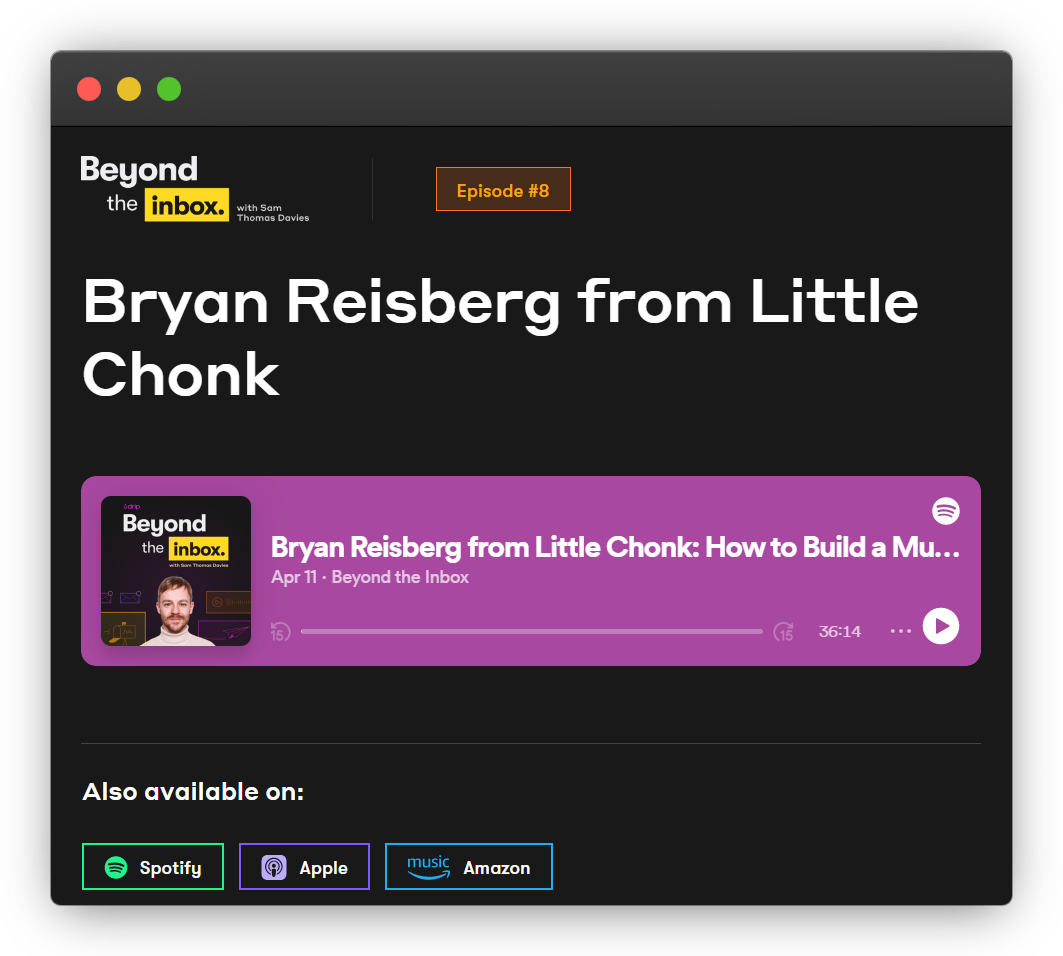 Our Verdict
Beyond The Inbox is an ideal podcast choice for ecommerce business owners as it's designed specifically to expand the horizon of ecommerce marketing by going beyond email marketing. 
Regardless of your marketing knowledge and skills, you can learn from the raw conversations of the founders of some of the top ecommerce brands in the market today. These tried-and-tested strategies eliminate the haunting guesswork and lay down a clear path for building a profitable ecommerce company loved by its customers.
2. Perpetual Traffic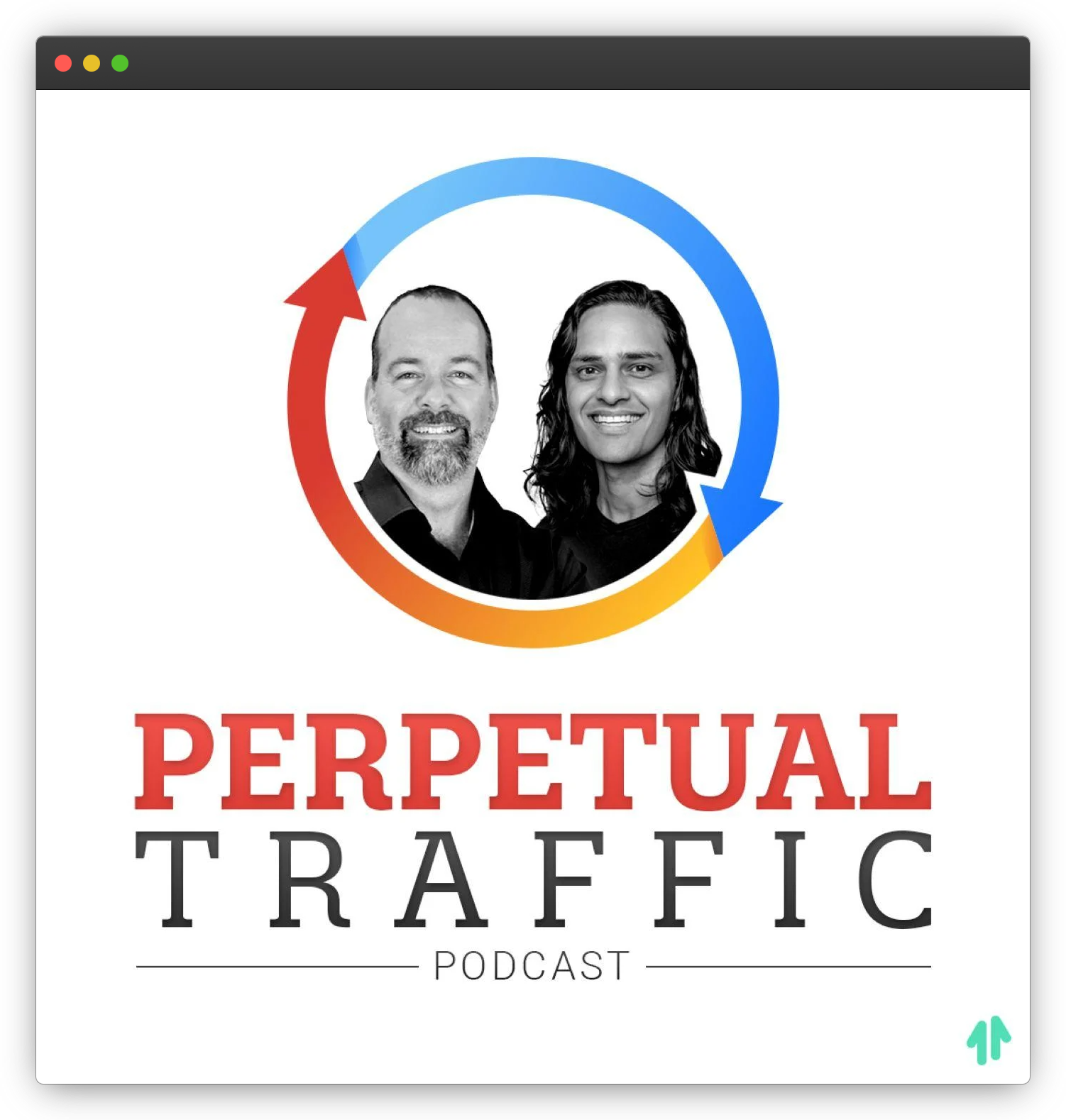 Ralph Burns (Founder and CEO of Tier 11) and Kasim Aslam (Founder and CEO of Solutions 8) host this weekly podcast to emphasize that businesses don't need more traffic but customers. They believe that paid traffic can make this possible regardless of the continual changes in the marketing landscape.
They look at paid traffic differently:
"Paid traffic is the act of putting your product, service, or message in front of your target audience… it's the act of acquiring customers online while also building goodwill, and is the lifeline of any business."
Launched almost eight years ago, they have published 495 episodes to this day and boast 36,000 weekly downloads. 
Perpetual Traffic features real-life stories and interviews with business owners who not only have overcome their struggles with digital marketing but also significantly grew their loyal customer base using paid ads. 
The hosts explore various topics lending listeners actionable strategies that can be applied today: The 1 Secret To Lowering Your CPAs By 60% On Meta, How To Satisfy Consumer Desires And Boost Sales, and more. 
Our Favorite Episode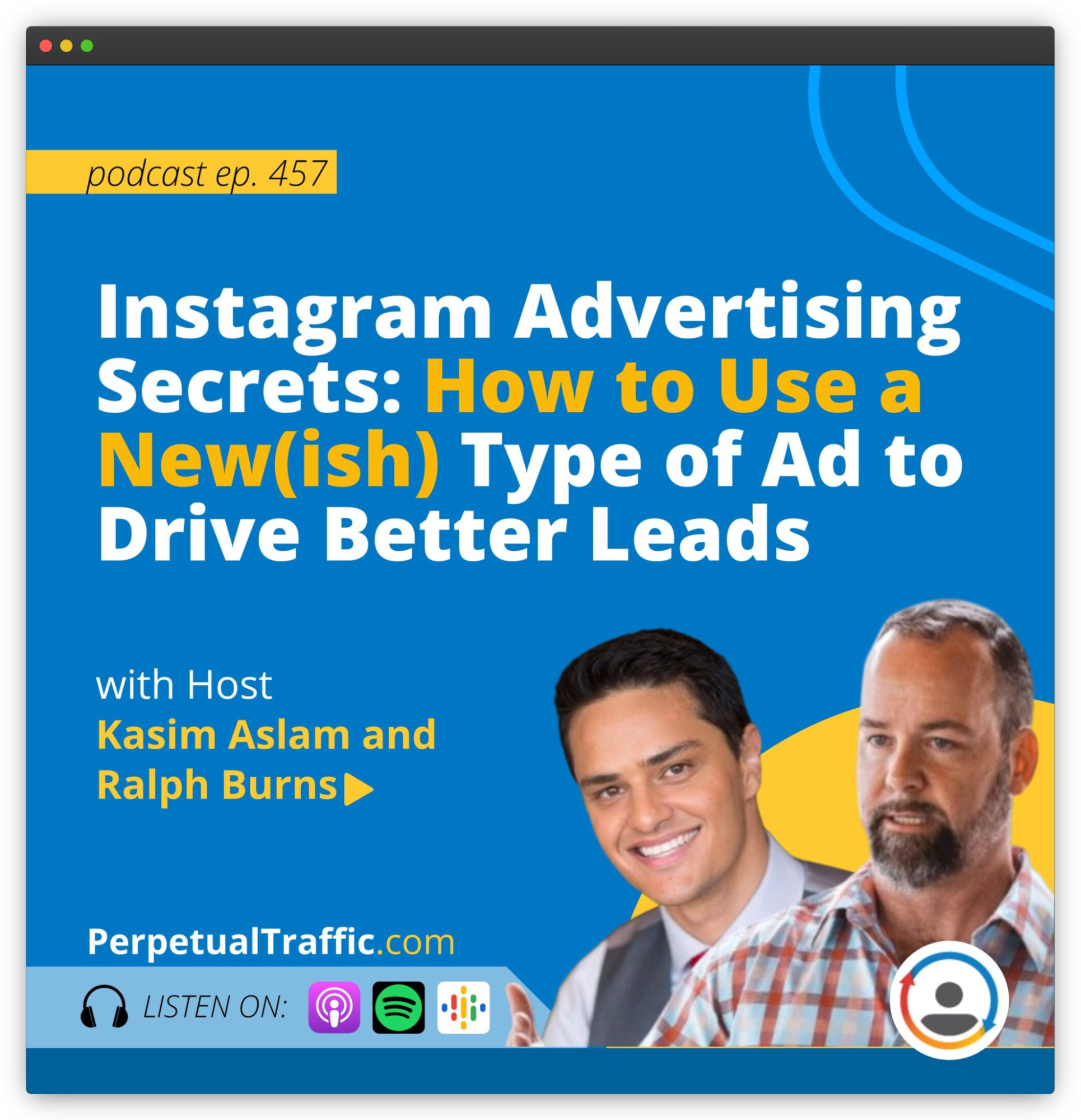 Our Verdict
Perpetual Traffic is a great podcast choice for anyone looking to seriously up their paid advertising game on any platform(s) befitting their business, whether it's Facebook or LinkedIn, or Google AdWords.
3. The Digital Marketing Podcast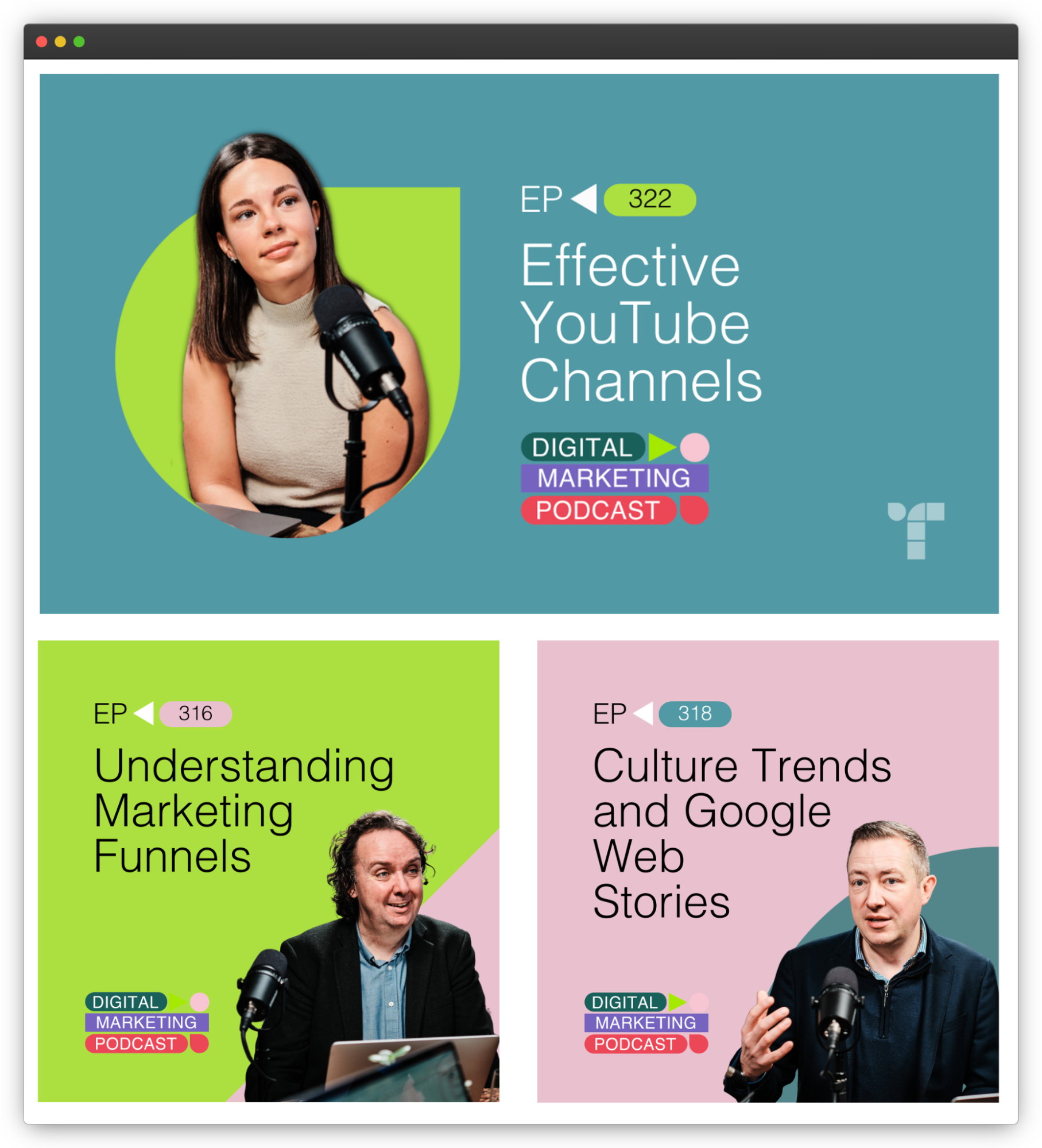 The Digital Marketing Podcast (produced by Target Internet) is an ad-free weekly podcast that aims to provide high-quality digital marketing education to marketers and businesses in 190+ countries worldwide. 
This fun and informative podcast is hosted by Ciaran Rogers, Daniel Rowles, and Louise Crossley. They feature expert guests who provide no-BS actionable tips and strategies on various digital marketing topics like:
Marketing Funnels

Building tight-knit and engaging online communities

Digital Marketing and AI trends

Paid advertising 

Email marketing

Customer data privacy
Each episode (usually < 20 minutes) laser focuses on a specific digital marketing subject to provide their listeners with insights and practical advice that can help them increase their marketing ROI while reducing the spend(s).
Plus, they discuss current trends, industry news, and best practices for digital marketing, to help marketers stay up-to-date on the latest developments. The hosts also arm business owners with the nuanced challenges and opportunities to help them effectively navigate this dynamic landscape. 
Our Favorite Episode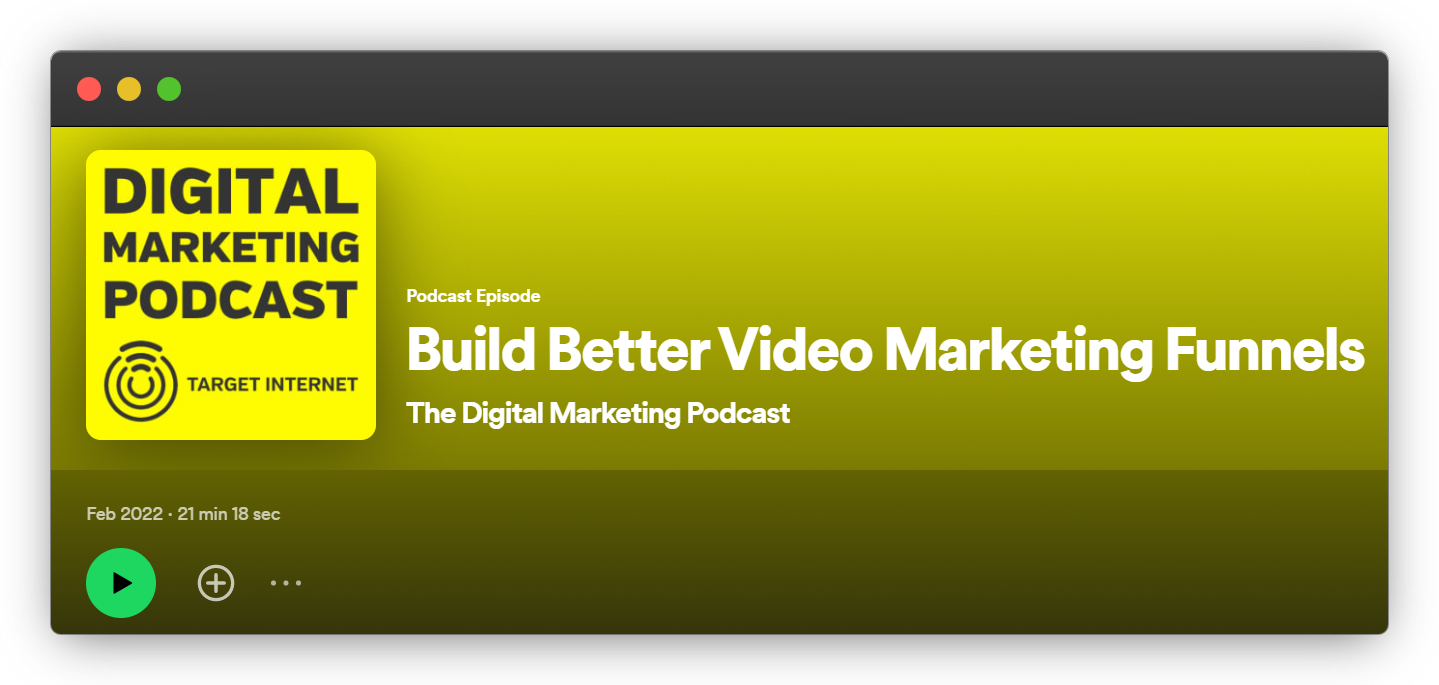 Our Verdict
The Digital Marketing Podcast could be a great starting point for marketing amateurs looking to gather enough digital marketing practical knowledge and skills to be a valuable asset for any company. Plus, it can be a regular choice of podcast for seasoned marketers and business owners looking to always stay updated with industry developments and trends.
4. My First Million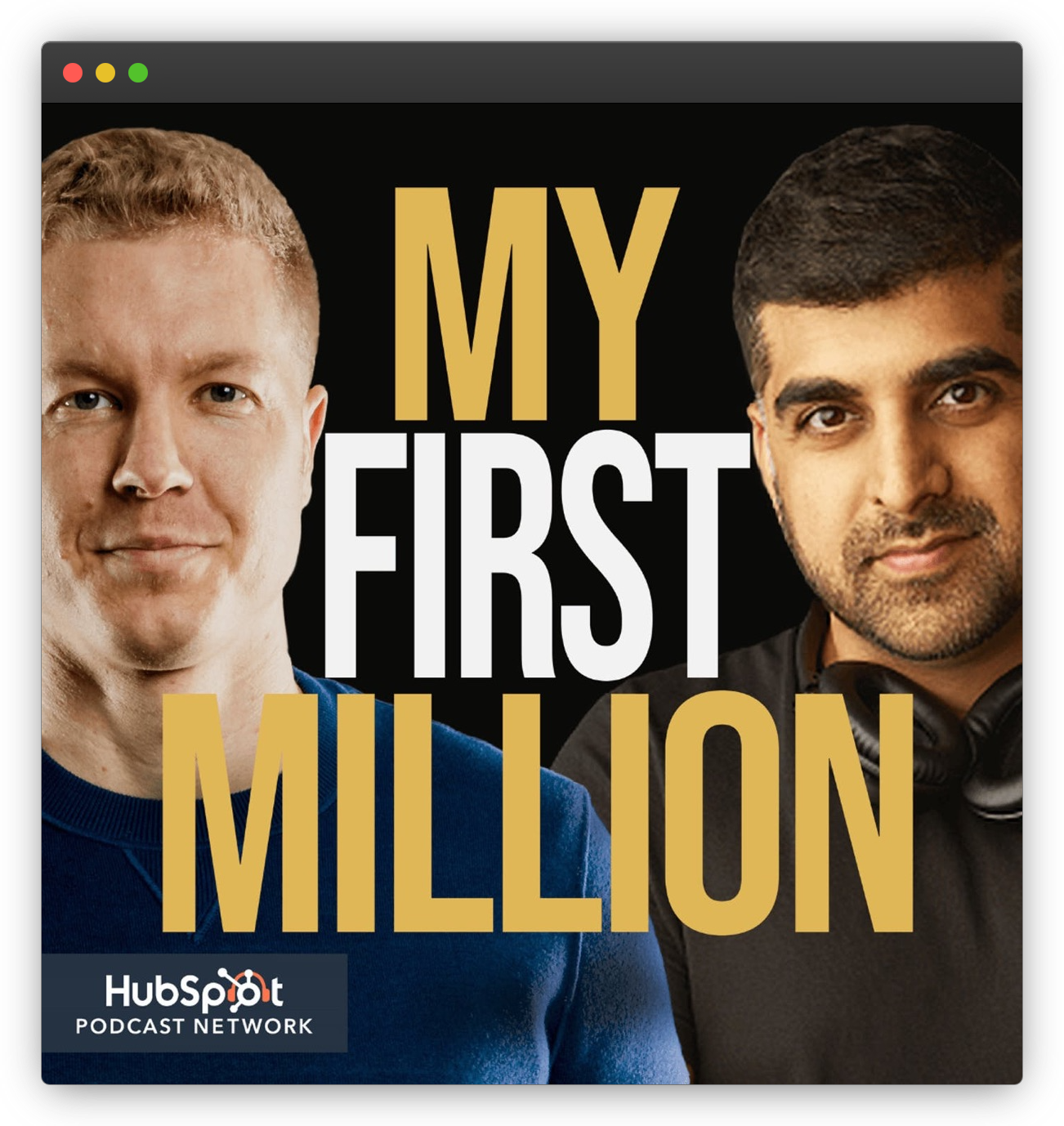 My First Million is a popular podcast hosted by Sam Parr (ex-owner of The Hustle) and Shaan Puri (Founder of Milk Road) that focuses on entrepreneurship, business, and investing. 
Each episode features the hosts discussing how to start and grow successful businesses, as well as interviewing entrepreneurs and investors who have achieved notable success — like Dharmesh Shah (Founder of HubSpot).
The podcast covers a wide range of industries and topics, from ecommerce and SaaS to real estate and cryptocurrency. 
Much of their focus is on exploring how to ideate and build a sustainable cash-flowing business instead of trying to make it big on top of VC money. So, they celebrate the founders who bootstrapped their way to money in the bank.
Sam and Shaan share hardcore practical strategies that simply work based on their first-hand experience as successful entrepreneurs and investors.
One of the most special aspects of the My First Million podcast is its focus on idea generation with the hosts frequently brainstorming and discussing new business ideas and potential opportunities in different markets. This makes the podcast particularly valuable for entrepreneurs who are looking for inspiration and guidance on how to identify and capitalize on emerging trends.
The ones who prefer watching to listening can catch up on the video episodes on their YouTube channel.
Our Favorite Episode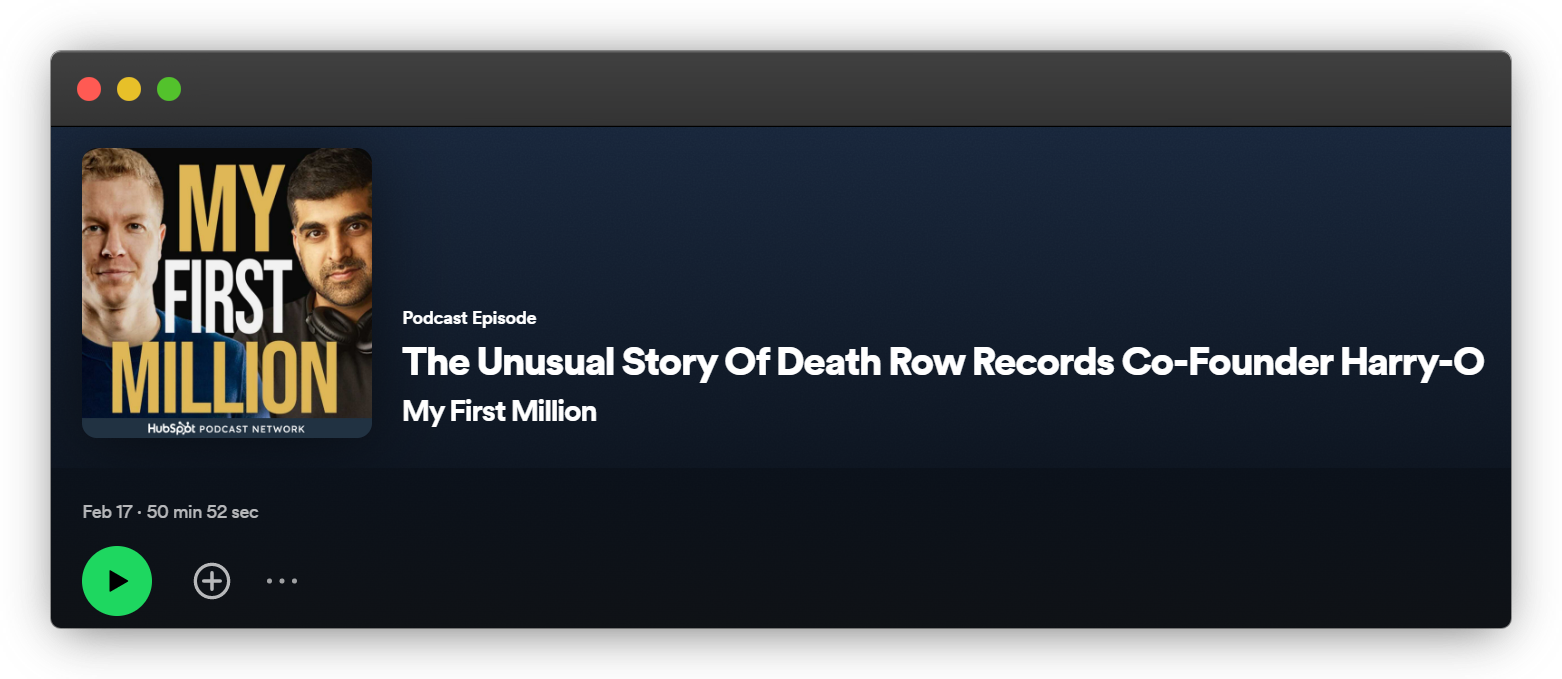 Our Verdict
My First Million is an entertaining and info-packed podcast for anyone interested in learning strategies to build a profitable business on top of hot, emerging trends and ideas. Every episode offers a mix of practical advice, industry insights, and engaging interviews with the entrepreneurs who have made it.
5. Happy Market Research Podcast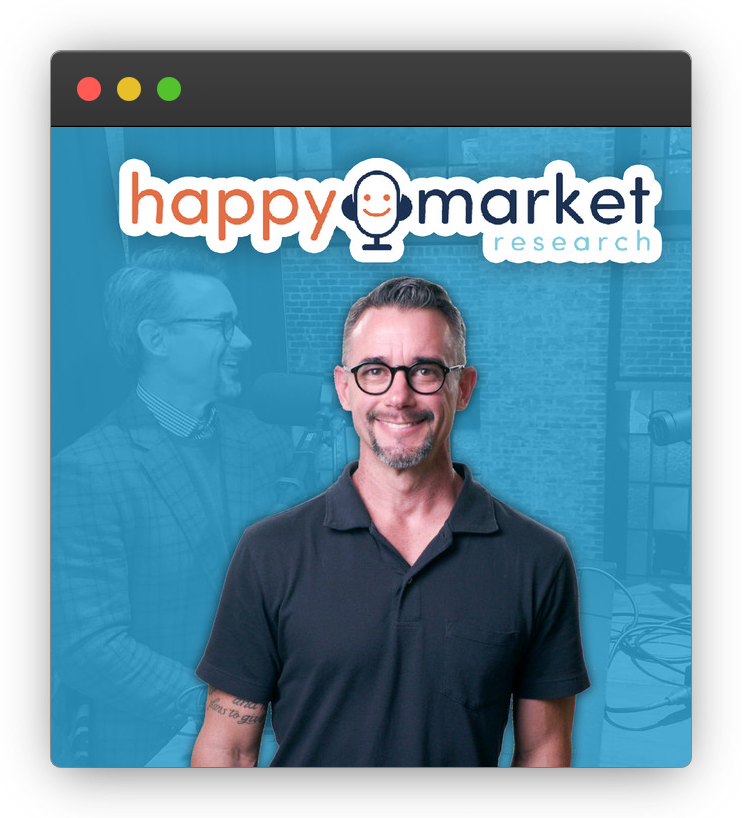 Jamin Brazil (Founder of Voxpopme) hosts the Happy Market Research Podcast.
He interviews market research professionals, experts, and thought leaders who share their insights, experiences, and best practices in the field of market research.
The host propagates his philosophy that since you live only once, you must love what you build, who you build for, and most importantly the people you walk the journey with.
He encourages his listeners to use the same philosophy to build a successful life as well as careers for themselves.
Through the podcast, Jamin introduces business owners to the latest trends and innovations that are shaping the way market research is conducted. 
Plus, the episodes also cover topics such as consumer behavior, data analysis, how neuroscience influences shopping patterns, and the role of market research in driving profitable business decisions.
One of the USPs of the Happy Market Research Podcast is its emphasis on the human side of market research. Jamin often asks his guests about their personal backgrounds and career paths, as well as their insights on the role of empathy and emotional intelligence in conducting effective research before making any business changes.
Our Favorite Episode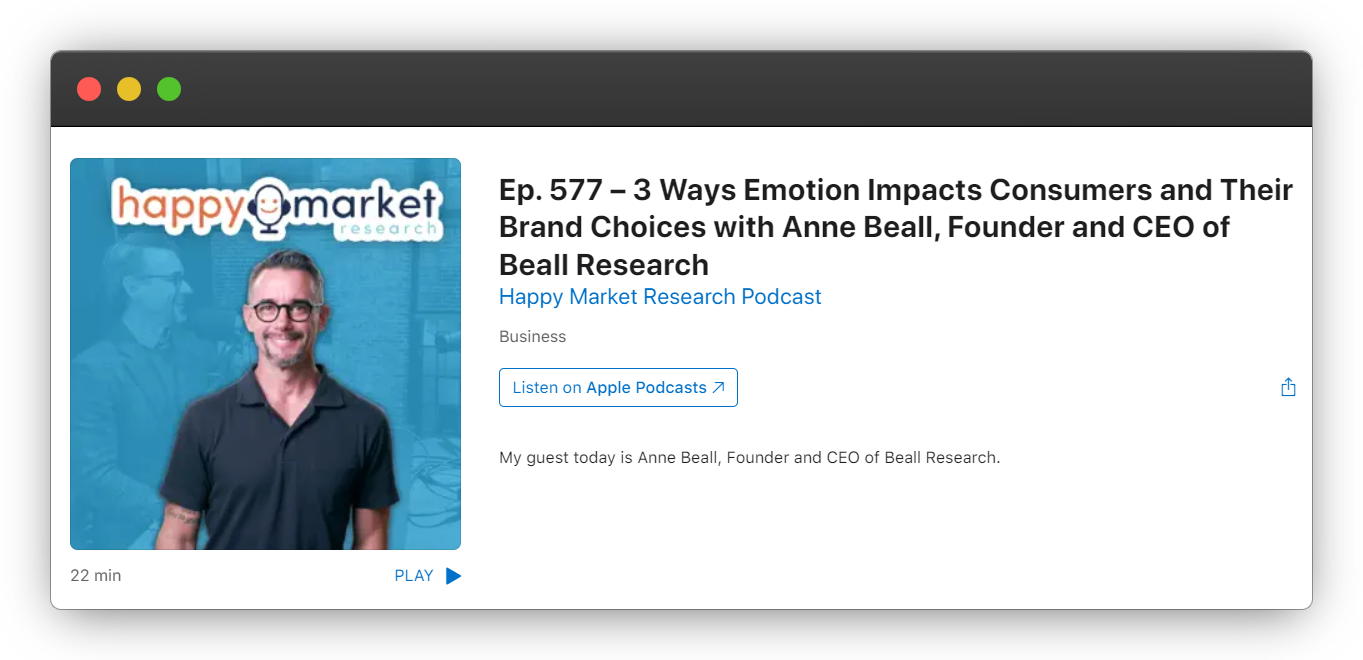 Our Verdict
The Happy Market Research Podcast is a great resource for market research professionals, data analysts, marketing executives, and business owners who want to steer their businesses toward profitability with data-backed decisions. It can also be helpful if you are interested in understanding how and why consumers behave the way they do, and how to leverage it to increase your loyal customer base.
6. MarTech Podcast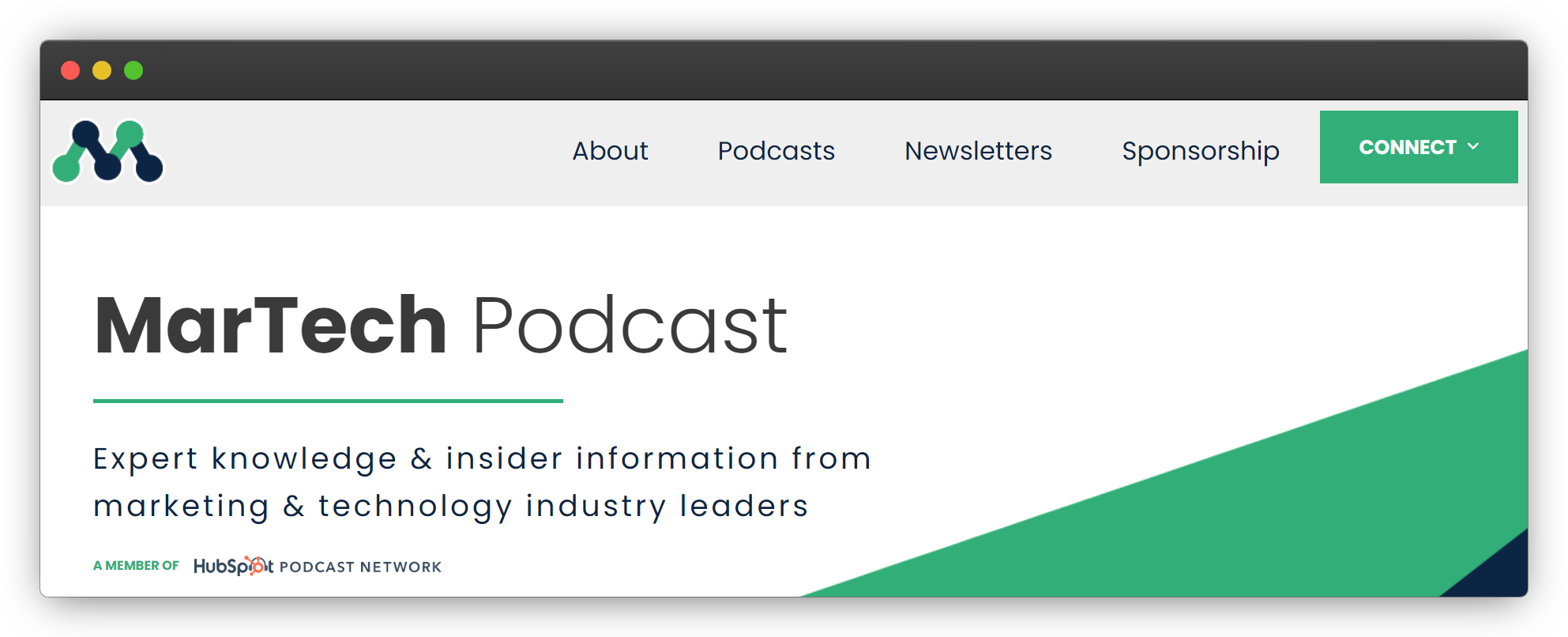 The MarTech Podcast, hosted by Benjamin Shapiro, targets the intersection of marketing and technology. 
The podcast explores the latest trends, tools, and techniques in the field of marketing technology, covering topics such as customer data analytics, AI, ecommerce marketing, and trust signals.
Innovative marketers are invited as guests on each episode to detail their marketing careers, current role, and the challenges they faced while climbing the corporate ladder.
The discussions are designed to help listeners:
stay up-to-date with the latest tools that continue to rapidly change the marketing arena

learn about the strategies that these industry experts devised while cracking the profitability game

get access to practical advice on how to leverage technology to improve their marketing efforts 
Benjamin's interviewing style is engaging and insightful, and he asks his guests thoughtful questions that draw out their expertise and insights. 
He is also known for helping companies, especially growth-stage ones, to build a high-converting marketing strategy that leverages the convergence of brand identity and customer needs.
Our Favorite Episode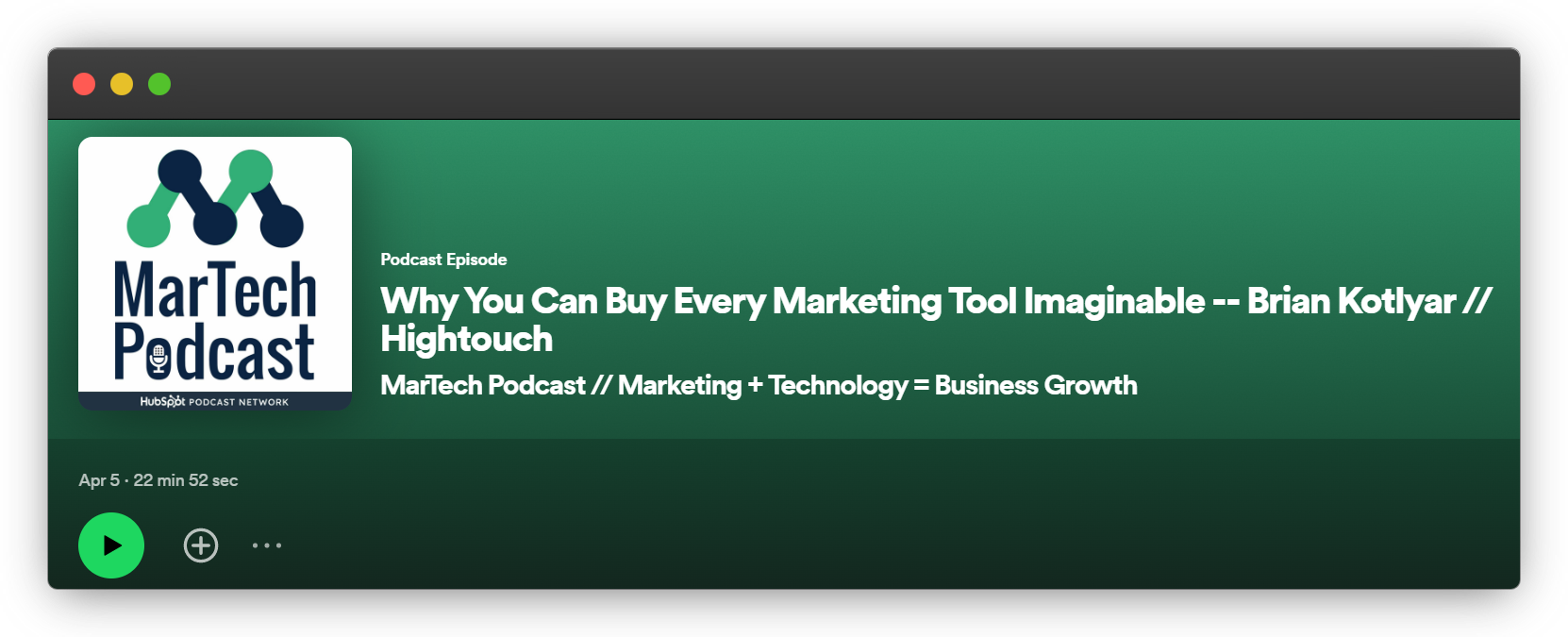 Our Verdict
The MarTech Podcast is perfect for marketing professionals, business owners, and anyone interested in getting easy access to the secret concoction that world-class marketers used to build their career path(s). This podcast is worth a listen if you want to break away from the marketing rat race by learning how to leverage the latest tools and techniques to run effective marketing campaigns.
7. Online Marketing Made Easy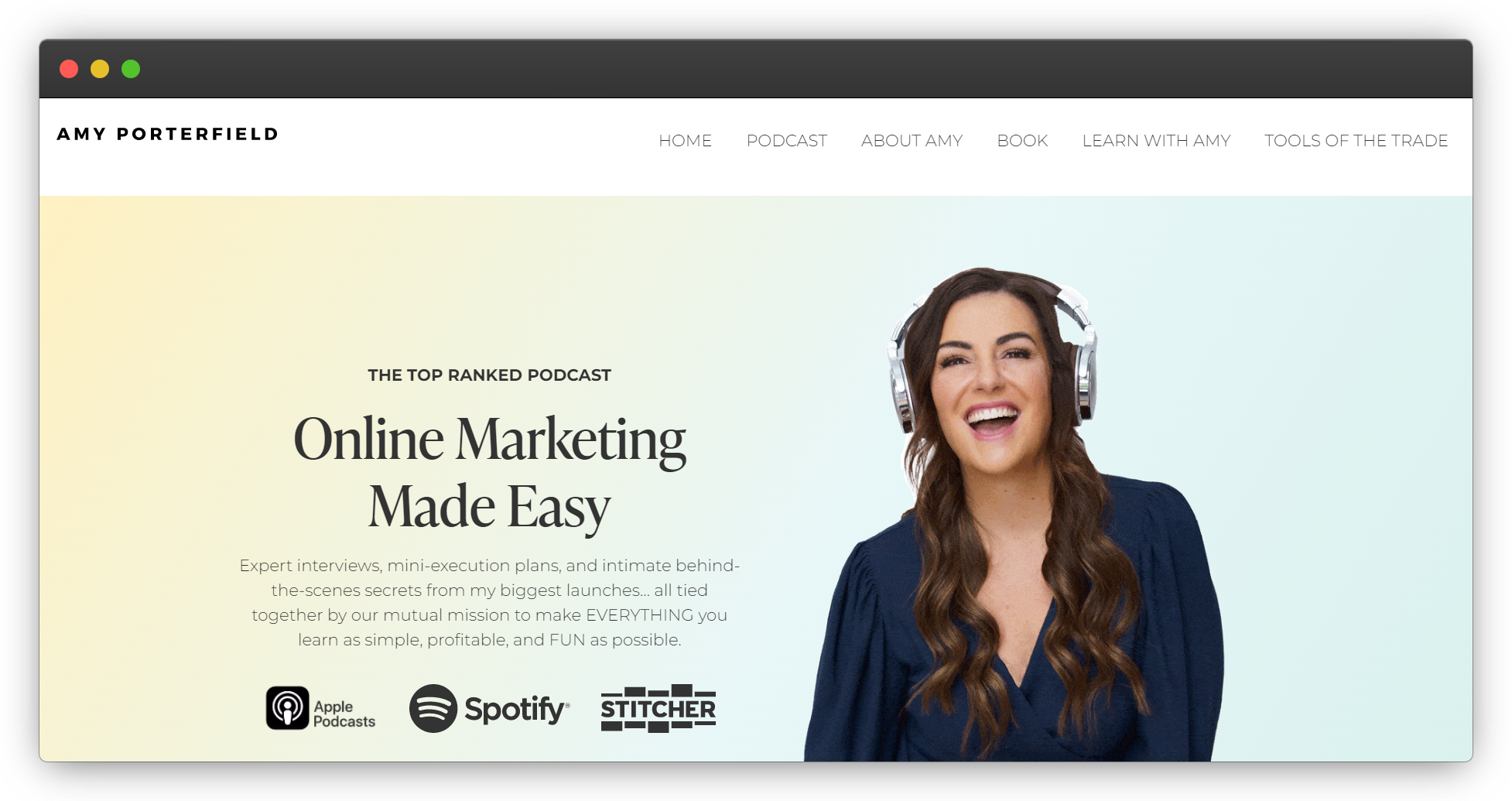 [Source]
The Online Marketing Made Easy podcast by Amy Porterfield helps entrepreneurs and small business owners grow their online presence and increase their revenue consistently. 
Amy believes in the work-life balance and urges her listeners to be their own bosses to watch how it changes their life completely.
With over 500 episodes, this podcast covers a wide range of topics related to building brand voice guides, webinar selling strategies, list building, course creation, self-trust before anything else, and more.
Each episode is around 30-45 minutes long in which Amy shares her hands-on expertise and insights on a specific topic, often with the help of guest experts. 
She breaks down commonly misunderstood and complex concepts into actionable steps. Plus, she provides business-building and scaling plans that listeners can use to grow their businesses quickly and sustainably.
Our Favorite Episode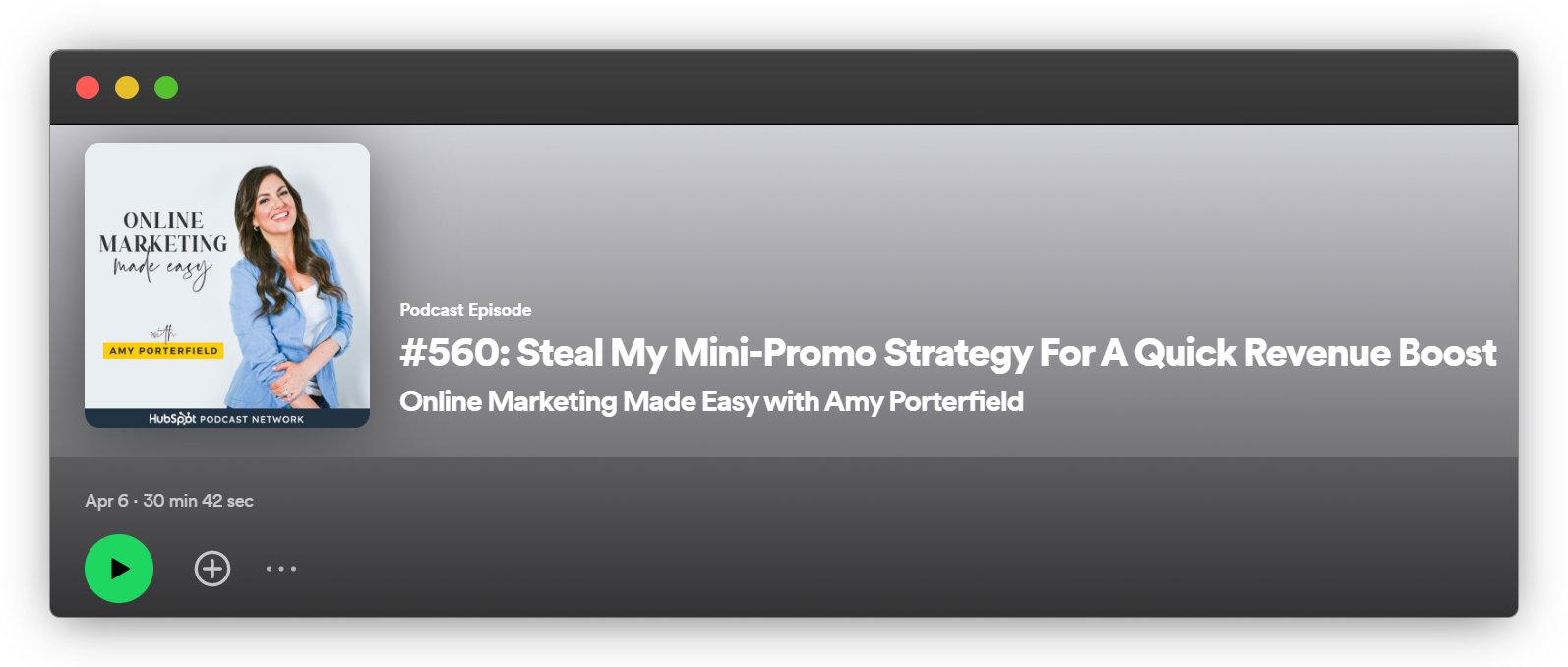 Our Verdict
In an engaging and conversational tone, this podcast provides practical and mini-execution marketing plans to the listeners. The Online Marketing Made Easy podcast is a great choice for beginners or even experienced marketers looking to either scale their businesses or build lifestyle businesses that support the idea of living a fulfilled life.
Wrapping Up
It can be hard to choose a new podcast — especially when you're in it to learn something new. 
Here's a quick way how you can narrow down your options:
Consider the topics that are relevant to your interests and goals.

 

Do you want to learn more about email marketing, paid ads, or marketing research?
The host of a podcast can have a big impact on the tone and the style of a show. So,

 

look for hosts that you enjoy listening to and have a style that resonates with you.
Take into account how much time you've available to listen and look for shows that fit into your schedule.

 

Would you like to tune during your daily commute or prefer to chalk out a separate hour to upskill?
Look for podcasts produced by reputable individuals or companies with a solid track record in the marketing industry.

 

Like,

 

Beyond The Inbox

 

is produced by

 

Drip

 

—

 

the

 

ecommerce marketing automation software that

 

helps you build a better relationship with your customer.
We understand that choosing a marketing podcast worth your time can be difficult as there are just too many options.
But the ones that we've included in this list all at least deserve a listen.